HTC Google Nexus One Reviewed
Introduction or The Beginning, but of Course
The Nexus One, Google's flagship phone is an amazing one just as long as you don't look at it's sales. It is a super fast smartphone running the latest version of Google's Android operating system. The phone is aimed at pretty well everybody. The Nexus One is advertised all over the internet, especially if you are on a website that has anything to do with Google. They want to sell it. Google even decided that the phone would be opened up to any cell phone provider that wanted to carry it. It is a great idea, but one that would work better if they would allow the Nexus to be sold in stores. As of right now that is not reality and you may only purchase a Nexus One online through Google.
The Design of the Nexus One (5 out of 5)
The Nexus One is by far the sleekest looking phone that HTC has put out to date. It is similar in shape to its predecessor the MyTouch, but much more elegant. There are less buttons on the front, and a very nice looking two-tone color scheme. The lighter color wraps around near the middle of the back and is engravable when you order the phone. The darker color actually has a nice rubbery feel to it to for better grip (Woohoo less "dropped calls").
As far as the front of the phone goes, there are five basic inputs or six if you count the touchscreen. There are four haptic buttons along the bottom of the screen and the track ball below that. The buttons are for quick access to the home screen, to go back, to open up the menu or to do a quick search. The track ball probably won't get used as much as it could, but thats because of the seamlessness of the touch experience on the Nexus One. Basically the trackball will be used for your notifications, you can change the color for different notifications, and for playing games. Other than that it isn't really needed. The 3.7 inch widescreen WVGA AMOLED touchscreen supports an amazing resolution of 800 x 480 pixels.
Around the edge of Google's Nexus there are the standard volume control buttons, the power button, a 3.5 mm headphone jack and another LED to let you know if the phone is charging and for notifications as well.
All in all, this is a great looking phone that has the grace that the Motorola Droid lacks, as well as being slimmer than it, and the muscle under the beauty to make it superb.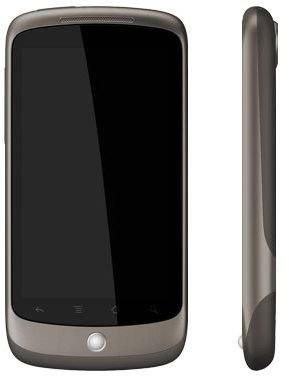 User Interface (4 out of 5)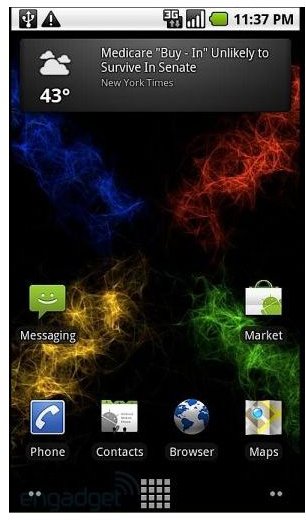 Android 2.1! Hooray! Right? Google has called Android 2.1 the 'real' Android experience, and it is definitely very pretty. They spent a lot of time adding beauty to everything and a slight speed improvement. Some noticeable changes in this version from other versions are:
No longer an app 'drawer' instead there is an app icon that pulls the apps onto your current screen for you to browse. The apps also look as though they are scrolling onto the screen
The gallery apps respond to how you tilt the phone now
Live wallpapers for the background. They don't serve much purpose other than to be pretty although one does change with the time of day and another acts as a clock.
Google upped the number of home screens from three to five.
Android is a great experience though, and in my opinion preferable to the strict guidelines of Apple iPhone OS. It is extremely customizable, versatile and now pretty. With the five home screens it makes setting favorite apps/widgets a breeze. Instant access to Google search comes in handy many times over. Being able to store everything on your SD card and make your computer see the phone like a jump drive is helpful as well. The gallery is great and there are numerous ways of viewing your pictures. It would be nice to see a built in way to hide pictures though. Playing music is easy and there are plenty of shuffle/repeat options. The music app is probably the least pretty of everything, but definitely one of the most convenient.
So the bottom line is that Android allows you to change a lot of features, and with the marketplace growing by the minute, there are even more ways to change the look of your phone. There are themes, custom texting services, games, roms and applications that make Android a fun, useful and exciting experience.
So, What's This Baby Packing Under the Hood? (5 out of 5)
The specs on this phone are fantastic. Only now, a couple months after it's release, are there phones with similar specs to the Nexus One. So then, some of the specs are:
1 GHz Snapdragon processor!
5 megapixel camera with LED flash, also capable of being used as a camcorder
2 microphones to cancel out excessive noise
3.7 inch beautiful AMOLED screen (800x480)
3G/WiFi/Bluetooth
Access to the internet
1400 mAh battery, which allows 7 hours of video, or 20 hours of audio, or 7 hours of 3G talk time
Accelerometer
Digital Compass
GPS
This phone is VERY fast and will not disappoint you with its hardware specs. To top it off, Google isn't even fully utilizing the hardware that the Nexus One is capable of harnessing. Hopefully we will see some really amazing things in the near future, but for now this phone is definitely very cool. The only downside that some could see is the fact that it does not have a physical keyboard. I felt that way for a bit before I got used to the soft touch keyboard. It's really not bad once you get used to it, especially with Nexus' capacitive touch screen and the improvements that Android 2.1 brought to the soft touch keyboard. There is really nothing to complain about with the hardware on the Nexus One.
Performance (5 out of 5)
The Nexus One performs admirably under almost every circumstance. It does a superb job at multi tasking. There are only a few things that can slow it down. The only other thing to worry about taking a few minutes is the initial startup if the phone has been turned off. If there are a lot of pictures on the phone it may take a second to refresh all of them from your SD card, same with opening up the apps menu.
Some people have complained about 3G connectivity issues as well, stating that they will randomly drop from 3G to Edge network.
Those are really the only snags that I have encountered. The only other performance related issue would be the fact that the browser lacks Flash lite still, so that makes using anything Flash out of the question.
The Bottom Line (5 out of 5)
The Nexus One is by far the best Android phone on the market currently. A lot of that probably has to do with the fact that it is Google's baby and their vision for what an Android phone should be. It is a smooth and beautiful phone with a large vibrant screen and a powerhouse of a processor. This phone is enough to keep anyone content for awhile, especially with it supporting up to a 32GB SD card. That's a lot of media plus everything that the Nexus One is already capable of doing! There are a few tweaks that could be done to make the experience even better, but there is still plenty of time. The biggest thing that should be done with the Nexus One is to allow it to be sold in stores. That would allow customers to interact with it before they buy it so that they are able to see how capable a phone the Nexus One is. I highly recommend this being your next phone.
Also, the technical specifications all came directly from Google's website.