HTC Rezound Review: Another Android Superphone on Verizon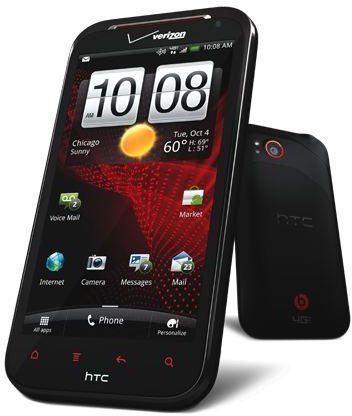 A few of HTC's recent releases have been accused of being underpowered compared to the high-end Android smartphones offered by competitors; most notably Samsung. The HTC Rezound seeks to redress the balance with an amazing 720p display and support for Beats Audio which is designed to enhance audio quality for music fans. This is a cutting edge smartphone all the way and that includes the price tag which is $299.99 with a two year contract at Verizon. So is it worth it?
Design (4 out of 5)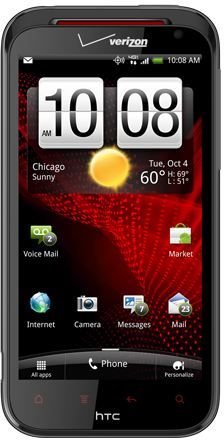 The Rezound sports the standard candy bar design and it's not the most compact of smartphones. It measures 5.08 x 2.58 x 0.54 inches. It is fairly bulky and it feels quite heavy too. The display is 4.3 inches and it's a Super LCD offering an excellent resolution of 720 x 1280 pixels. This is a level of detail that trumps the iPhone's Retina display with a pixel density of 342 ppi compared to the iPhone's 326 ppi.
Beneath the screen you'll find the four standard Android keys, Home, Menu, Back and Search, which are touch sensitive and highlighted in red. You'll also find those red highlights on the earpiece and the camera lens as well and they add something to the overall look, although they are reminiscent of the Droid Incredible.
Up top there's the power/lock key and the 3.5 mm headphone jack. The left spine is home to the microUSB port which can double as HDMI out with the right connector. The right spine has the volume rocker. On the back there's the camera lens and dual LED flash and you'll also see the red Beats Audio logo. The Rezound also ships with a high quality set of earbud headphones with a matching red cable.
The soft touch plastic backing has a textured finish for good grip and inside the device is translucent red. It's a comfortable phone to hold and it looks nice, if a little familiar.
User Interface (4 out of 5)
The touch screen is incredibly responsive as you'd expect of a phone with a 1.5 GHz dual-core processor. It runs Android 2.3.4 Gingerbread and it has the latest HTC Sense 3.5 on top. This is the most stylish and polished version of HTC's interface ever, and since Sense was already the best manufacturer overlay for Android, you know you're in for a treat. It is very easy to use, intuitive and packed with customization options and pretty animations.
The HTC Rezound should be getting the Ice Cream Sandwich, Android 4.0 update, but there's no word on when.
Features (5 out of 5)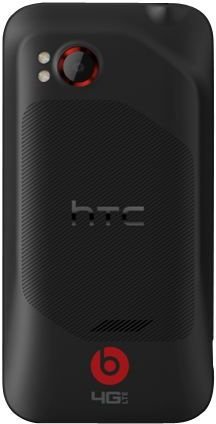 This is a really powerful smartphone. The 1.5 GHz dual-core Qualcomm MSM8660 processor is backed up by 1 GB of RAM and an Adreno 220 GPU. It has 16 GB of built-in storage and there's a microSD card slot so you can boost that by up to 32 GB (it actually ships with a 16 GB card too).
The camera is rated at 8 megapixels and it has a dual LED flash. It is also capable of capturing 1080p video at 30 FPS or 720p video at 60 FPS. There's a 2 megapixel front facing camera for video calls. HTC generally gets criticised for poor camera performance but the Rezound does well. Shots in good light turn out great, and as usual there is some noise in low light conditions. On the whole it is a good camera and there are plenty of options in the camera app to tweak your settings and access different shooting modes and visual effects.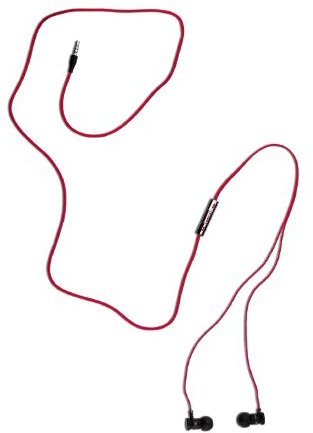 Thanks to HTC's partnership with Monster Beats you get a high quality set of earbud headphones and they have controls on the cable and a microphone so they can handle calls as well. There is also Beats audio enhancement on the phone for all your audio which basically boosts the volume, improves the bass and offers a better quality of sound. Your music, and also your game and movie audio, will benefit from this boost in quality. There's also a built in stereo FM radio with RDS.
This is a 4G LTE phone so you get potentially super-fast download speeds, which makes for a great web browsing experience. There's also Bluetooth 3.0, Wi-Fi 802.11 a,b,g,n, A-GPS and DLNA support. With the right connector you can hook your Rezound up to an HDTV and it will also support 5.1 surround sound and SRS Wow HD surround.
In terms of pre-installed apps the Rezound has plenty. All of the usual Google services are very welcome, but Verizon's inclusions aren't so great. There are also apps from HTC including the HTC Watch service for streaming TV shows and movies. You are stuck with all these apps so it helps that the phone has 32 GB of storage out of the box.
Performance (4 out of 5)
The call quality is extremely good and the speakerphone is very usable too. If you are in the right area to enjoy the Verizon 4G LTE network then you are in for some awesome data speeds.
The battery is rated at 1620 mAh. With normal use you're going to be charging it every night. The 4G definitely puts an extra drain on the battery so you can spin it out a bit if you turn 4G off when you don't need it, but then the same applies to most of the features. If you use your phone a lot then it might struggle to reach the end of the day.
Verdict (4 out of 5)
The HTC Rezound is a top quality Android smartphone. Going up against the Droid RAZR and the Galaxy Nexus it will struggle to stand out in terms of style. This is the chubby cousin to those two super slim Android releases, but it does compare favourably when you look at the specs. It is being sold on the audio feature, but the screen quality and speed are well worth highlighting. Apart from the typically disappointing battery life (which is a common problem) there's no reason not to consider this as your next phone.
References