HTC Rhyme Review: Android Smartphone with a Feminine Twist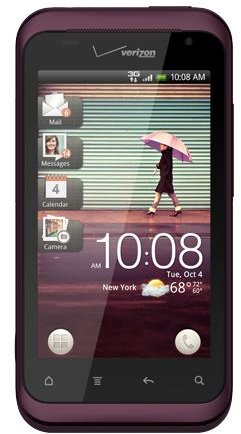 There have been a handful of attempts over the years to target specific segments of the smartphone market with a particular handset. The HTC Rhyme makes no secret of the fact that it is a fashion-conscious device intended to tempt the female of the species. I can't help thinking that phones shouldn't be gender-specific but this approach does give HTC a new angle to differentiate their product in a market that is filled with samey devices. It does seem a little patronizing that the Rhyme's nod to women is to be plum colored and have a bunch of matching accessories, but it will no doubt appeal to some.
Let's take a closer look and see how it measures up.
Design (4 out of 5)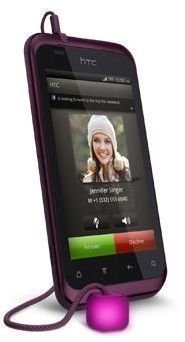 The Rhyme has a completely standard candy bar design and typically high build quality. Like most HTC releases it features an aluminium body with soft-touch plastic and it feels very comfortable in the hand. The most obvious design deviation is the choice of plum as a color. Images on the HTC website also show a grey and light blue version but it looks like Verizon are only offering the purple one.
The phone measures 4.69 x 2.39 x 0.43 inches and it weighs in at 4.77 ounces. It has a 3.7 inch Super LCD capacitive touch screen with a resolution of 480 x 800 pixels. Below the display you've got touch sensitive controls for home, menu, back and search. On the left there's the micro USB port, on the right there's the volume rocker and up top you'll find the power/lock button and the 3.5 mm headphone jack. There's also a front facing camera and on the back you'll find the main 5 MP camera and LED flash.
It ships with a few nifty accessories. First of all there's the charm. You plug it into the headphone port and it lights up when you have a new message or a call. It's basically a plum colored cube and it's intended to be used when you put your phone in a bag – the idea being that you can have the charm hanging out so you'll see it flashing. You also get a docking station that is ideal if you want to use the Rhyme as a bedside alarm clock. Even the earphones that come with the Rhyme are plum and they feature a tangle-free flat wire design so they don't get tangled up in your bag.
There are also a bunch of matching optional accessories you can buy including a Bluetooth headset, speaker visor for the car and an armband to hold your phone when you're working out.
It's a well-designed smartphone and the matching accessory set is an interesting idea.
User Interface (4 out of 5)
The HTC Sense UI that comes on HTC Android smartphones is an excellent addition to Android and they keep improving it. The Rhyme actually has HTC Sense 3.5 and it is simply packed with time-saving features and customization options. There are over 30 widgets to choose from, you can choose a lock screen style, and the default home screen offers quick access to mail, messages, calendar and camera. The animations when you swipe left or right through your seven home screens are stylish and it has the carousel effect so you can keep swiping round in either direction.
It is very easy to get to grips with so it will suit smartphone newbies and seasoned users alike.
Features (3 out of 5)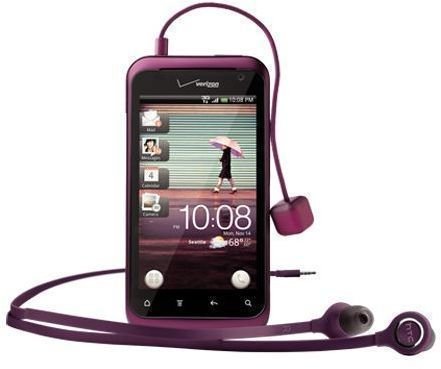 The HTC Rhyme isn't a top of the line release because it only has a single core 1 GHz processor, but it is backed up by 768 MB of RAM. It also has 4 GB of built in memory and it ships with an 8 GB microSD card which you can switch out for a 32 GB version if you need more space. It's also only a 3G phone so you won't be able to enjoy the speedy new 4G networks.
The main 5 megapixel camera has a bunch of nice features including 14 different effects to tweak. You can also capture 720p video. The results you'll get are typical for a smartphone camera – outside in the sunshine you can capture great shots, whenever the lighting isn't as great your photos will look grainy and the flash isn't the best. The front facing VGA camera is typically poor quality and you probably won't use it much.
As usual, the phone ships with a few pre-installed apps that you can't get rid of. If you're a fan of Verizon's services then you'll be pleased, if not the V Cast and VZ Navigator options will just be a waste of space. You've got the usual Google integration which includes Voice Search and Google Maps. There's also the HTC Watch app for renting and buying movies and TV shows. It's a great idea but you won't find much to choose from right now.
Other features include A-GPS, Bluetooth 3.0, Wi-Fi 802.11 b, g or n and there's a built in compass and accelerometer. The web browser is fast and supports Flash. You also get plenty of multimedia support for video and audio files.
Performance (3 out of 5)

The Rhyme has a single core Qualcomm MSM8655 processor clocked at 1 GHz and it is sufficient for the most part. The addition of 768 MB of RAM definitely helps the performance. It isn't as fast as the latest Android releases, but it can handle Android 2.3.4 and HTC Sense 3.5 without minimal lag.
You shouldn't encounter any problems with call quality. It is clear on both ends and there are no obvious signal problems.
There is a 1600 mAh battery which is pretty good for this kind of phone and you should get 7 hours of talk time out of it. If you're a heavy user then you're probably still stuck with daily charging, but average or light users might get a couple of days out of it.
Verdict (3 out of 5)
Honestly speaking the HTC Rhyme is not a smartphone I would ever consider as a guy. It is deliberately feminine, you're paying extra for accessories that you might not want and the specs are below par. In particular I'd be looking for a faster processor and if you are in an area that has coverage you're going to want 4G support too.
Considering the HTC Rhyme costs $199.99 on a two year contract at Verizon I think there are better options out there, but then I'm not the target audience. If you like the look of it and you're attracted by the accessories then it's a decent smartphone and it should serve you well.
References