Facebook Button on Your Mobile: HTC Status Facebook Phone
Android with QWERTY Keyboard and Facebook Button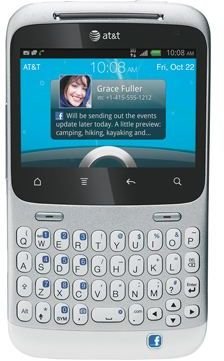 The popularity of the Status is largely due to its dedicated Facebook share button, but it also has some other features to attract a new crowd. Currently BlackBerry is the leader of the QWERTY keyboard messaging smartphone devices, but there are people who are looking to make a change from the BlackBerry OS to Android. Most previous HTC Android phones are generally touch screen only and as such this new mobile is getting a lot of attention from our generation's young messengers.
Design (4 out of 5)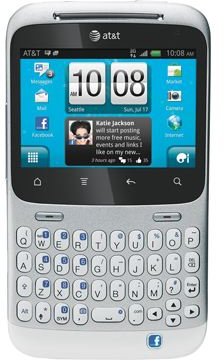 I like the look of this handset mainly because it reminds of my BlackBerry Curve, but it has its own unique features that further add to its allure. The Status is lightweight and has reasonable dimensions, measuring less than 5 inches in height and less than 3 inches in width. It is also less than half an inch in depth and weighs less than 5 ounces. The touch screen is rather small at 2.6 inches and some websites are actually rendered sideways rather than vertical because it has a landscape view normally. There are 4 touch buttons just below the screen which includes a menu button and an escape key. Additionally, there are two physical buttons below the screen, but above the keyboard. The one on the left opens your contacts and the one on the right opens the screen options menu.
The buttons on the QWERTY keyboard are nicely spaced so even fat fingered people can have less typos in their messages and Facebook status updates. So far I have only seen it in white with a metal silver plate running across a small section of the back with HTC written on it. The phone has a slight convex design that reminds me of a house phone, but makes it easier and more comfortable to hold at the side of your face.
The Facebook button is located at the lower right hand corner of the screen and is represented by a blue button with the unmistakable Facebook 'F' in white. Aside from its 5 MP camera, there is also a VGA front camera that is situated in the upper right hand corner of the mobile. All in all, the design of the Status is unique, interesting and has been well received.
Features (4 out of 5)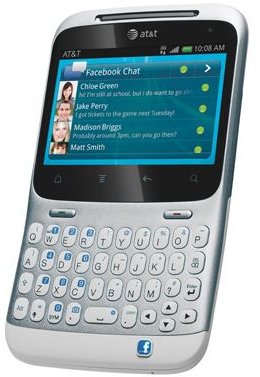 Oddly enough, I have already mentioned many of the HTC Status's features while pointing out its physical layout. Its spacious keyboard is a big asset and allows for easy texting and messenger services. Its biggest feature, which is its Facebook button, allows you to instantly share your pictures and videos with all your Facebook friends by posting them to your Facebook account. The Facebook app and button is not without its faults but I will discuss that later in the review.
I have a BlackBerry Curve with active BlackBerry service and currently if I have a contact saved who also has their number on their Facebook account, their Facebook profile picture will pop up whenever I am calling them or they are calling me because my phone downloads their picture from their profiles. The Status does something very similar, but has taken it a step further, because not only will it show you their pics, it will also alert you if your contact has a birthday soon and give you their current status update.
This HTC phone has 2 cameras – front and back. The front camera can be used to take pictures of yourself or add make-up or simply look at your face, while the back camera is the main 5 megapixel camera that actually takes good pictures. You can also spice up your pics by adding filters and other options.
When the phone is locked a semi-circle is created at the bottom centre of the LCD screen, but you can still utilize some of your features without unlocking the camera. The feature icons are situated on the screen above the ring and all you have to do is drag the icon inside the ring and the app will open. The Status runs on Android 2.3 Gingerbread along with HTC Sense, and has 512 MB for both RAM and ROM.
User Interface (4 out of 5)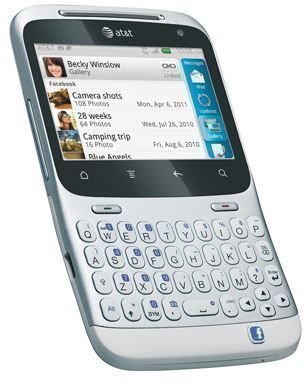 The HTC Status is pretty simple to use if you have had any previous experience with any smartphone. Even if this is your first smartphone, you will still be able to manipulate it in no time. The apps are easy to find and open, especially the Facebook app which has its dedicated key right on the main base of the phone – it even glows blue once you have taken a picture or recorded a video or anything at all that can be shared on Facebook.
The touch screen and touch buttons at the bottom of the screen respond quickly and all the standard items of a smartphone can be found within the menu. When the menu is loaded, a simple glide to the left or the right will slide the page across to reveal a new option and a simple touch will select.
Performance (4 out of 5)
Ok, I do not have my usual problem with this touch screen where my sweaty fingers would render it useless. This time I was actually able to slide around pretty easily. However, the fact that the screen is so small did cause a few browsing problems, both for the Internet and the phone itself. In using the Facebook app, you will find that updating your status or making a comment can be annoying if your status or comment is too long. It will push a part of your writing straight off the screen and so you cannot read over for mistakes or typos.
The phone has an 800 MHz CPU, so do not expect it to operate like your computer or most other expensive smartphones, but I find that it responds quickly enough to not be frustrating. In regards to the Internet speed, I was using high speed Wi-Fi, so I cannot comment on the network connection speed, but all in all I would say that it was ok.
The camera is good at 5 megapixels, but then again that is compared to my 3 megapixel BlackBerry Curve camera. Pictures taken outside in the daytime are great looking with vibrant colors, when taken indoors they may or may not be a little noisy depending on the inside lighting.
In regards to call quality, I have to admit that I cannot give a personal account but most users say that the call quality is ok and is what is expected on the AT&T network, while others say that the sound does not come across as clear as they expected, but everyone has their own opinions.
Verdict (4 out of 5)
The HTC Status is great smartphone that has great features and functionality for its price. At $49.99 from AT&T this is a budget phone that has all the latest features including the most popular social networking app – Facebook. Aside from the fact that the screen is just a little too small and it is very hard to access the memory card, the phone is actually quite good and is worth its price. However, some people may not agree with the $399.99 price tag for the non commitment, contract-free option.
The HTC Status is also known as the HTC ChaCha in the UK.
References