What Does the HTC Salsa Have to Offer?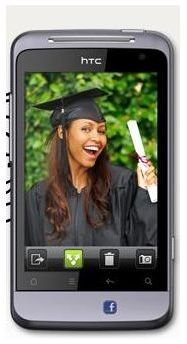 What's so special about the HTC Salsa then? Well, it allows users to upload entries to their Facebook wall with just the touch of a button. It is an innovative and efficient social networking smartphone, as well as a useful mobile device. This mid-range Android release should appeal to a wide spread of consumers. It not only offers great social networking tools, it also has much more to offer to the public. Let's take a closer look.
Design (4 out of 5)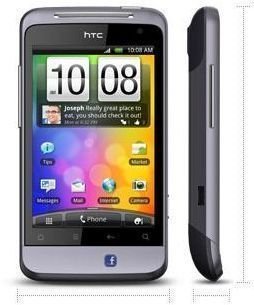 The HTC Salsa is an attractively designed phone, which is one of its more captivating features. It isn't a chunky phone made completely of plastic, but instead features a mixture of materials like previous releases such as the HTC Desire S and the HTC Hero. It features an ergonomic and curvy design, although the phone is a bit thick and heavy.
The Salsa boasts a large 3.4 inch screen which features HVGA 480 x 320 pixel resolution and HTC's newest LCD technology. The display is vivid and bright, but it falls short of Samsung's Super AMOLED displays. This capacitive display also features great viewing angles.
Directly below the Salsa's display are the four standard Android buttons – Home, Menu, Back and Search. On the spine of the device is the volume rocker, USB port and dedicated camera key. On the back of the smartphone is the 5 megapixel camera, loudspeaker and an LED flash. On the top is the audio jack and power button. Lastly, located below the display is the Facebook button, off centered and blue. This is the most important aspect of the Salsa phone and is its main selling point.
User Interface (4 out of 5)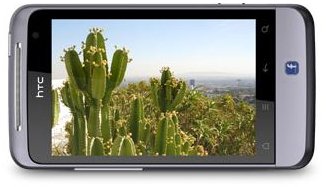 The HTC Salsa features the new and improved Sense 3.0 user interface. The Sense UI has been the best Android overlay to date and the latest version pushes it further. This is a slick and stylish interface that is extremely easy to navigate. There are plenty of great customization options and widgets to use.
Additionally, the Salsa features full Facebook integration just like the recently released HTC ChaCha. This means posting anything to Facebook is super easy and you also have a branded, dedicated Facebook button beneath the usual Android controls.
Features (5 out of 5)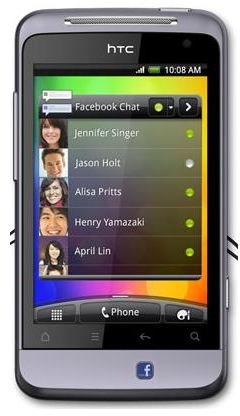 The Facebook button works with a simple click which brings users to the home screen where they are able to update their status and location, upload images, tag their friends and apply a caption.
The button also integrates well with other applications. For instance, if listening to a music track or using the camera, a simple click of the button will bring up special Facebook upload or share screens. This enables users to send pictures and video directly from their camera module to their Facebook profile. Sadly, the button only interacts with just a few native apps and will not be very useful with other downloads. Along with the Facebook button there is the already pre-installed chat application which takes the form of a widget. The HTC Salsa also features an on screen keyboard which is more user-friendly than previous HTC releases such as the one on the Wildfire S.
The camera on the Salsa is great. It offers good levels of saturation and detail. Generally pictures come out very sharp. The autofocus feature and LED flash also accentuate the camera function and they are handy for close up shots and lighting dark shots, respectively. Video capture is also possible at a 720 x 480 pixel resolution which does not translate well in terms of high quality. There's even a front facing camera for video calls.
A music player is pre-installed within the HTC Salsa and is very functional when coupled with the Facebook button. Other features include Wi-Fi, Bluetooth and 3G connectivity. These allow users to be able to constantly stay integrated with Facebook as much as possible. The native web browser is sub-par but does offer quick loading and browsing and you can always switch it for another Android web browser instead.
Performance (4 out of 5)
The HTC Salsa is a reasonably fast phone thanks to the inclusion of an 800 MHz processor, which is a good upgrade from the Wildfire's 600 MHz chipset. This makes web browsing and the Facebook integration app quick to load. The battery can last for up to 2 days on normal usage. With heavy usage you're probably looking at more like a day's worth of power.
Call quality and reception are decent with clear call quality reported on both ends of a conversation. Background noise may be an annoying factor in busy areas but for the most part the HTC Salsa does offer a decent call experience.
Verdict (4 out of 5)
Overall the HTC Salsa is a great social media smartphone which is perfect for connecting users across Facebook while on the go. This phone's primary function is its Facebook integration, for those looking for a business type device or a great gaming experience – this is definitely not the first pick. With its decent size and bulk, and nice camera features, this smartphone can become a beloved teen and social network savvy individual's companion.
HTC made a smart choice with this device as Facebook is the largest social network in the world and everyone wants to be able to update and access it as quickly as possible.
References
HTC website, https://www.htc.com/www/product/salsa/overview.html