HTC ChaCha Review: Dedicated Facebook Phone
HTC has been enjoying tremendous success of late with a raft of Android devices. The HTC ChaCha represents a change of direction from their usual candy bar style touch screen phones. It is a chunky slab style phone with a full QWERTY keyboard, a 2.6 inch display and dedicated Facebook support. Obviously aimed at texting and Facebook addicts, the ChaCha also sports a decent processor and Android 2.3, so there should be enough here to attract a young audience. This is an impressive entry-level phone, even if it does have a silly name.
Design (4 out of 5)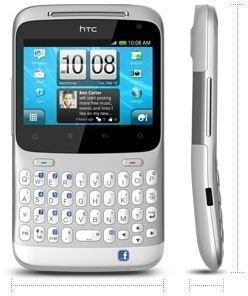 The HTC ChaCha is a solid feeling device with a good quality, full QWERTY keyboard. It measures 4.5 x 2.54 x 0.42 inches (114.4 x 64.6 x 10.7 mm) and it weighs in at 4.37 ounces (124 g). It is a fairly chunky device and has a satisfying weight in your palm.
The 2.6 inch touch screen is in landscape orientation and supports a resolution of 480 x 320 pixels. You get the standard touch sensitive Android controls at the bottom of the display for home, menu, back and search. Beneath the screen you'll find the start and end call keys and then a full QWERTY keyboard with raised, rubberized keys and a handy dedicated Facebook key at the bottom. It is comfortable to type on and the number keys are clearly marked.
The body is a mixture of brushed metal and a white plastic, and the bottom edge curves in slightly which makes it comfortable to hold. It's like the beveled chin on the HTC Hero. On the top you'll find a 3.5 mm headphone jack and the lock button. On the left there's the volume rocker and the micro USB port for syncing and charging. Over on the right there's nothing and on the bottom edge you'll just find a small hole for the microphone.
On the back you've got a 5 MP camera lens and LED flash. If you can get the back panel off then the SIM card slot and memory card slot can be found beneath the battery.
Love it or hate it, the ChaCha certainly stands out with a unique color combo and the chin is useful for angling the keyboard, even if it doesn't feel so comfy in your pocket.
User Interface (4 out of 5)
There are a lot of phones still being released with Android 2.2 so the fact that the ChaCha sports Android 2.3 is a good thing. As expected you have HTC Sense overlaid on Android and it isn't quite the latest version (3.0). It's a small screen so the icons have been resized and placed appropriately. You've got four home screens by default and navigation is a breeze. It also runs smoothly.
Facebook is fully integrated so, in addition to the dedicated key, you'll find Facebook messages in your inbox along with your email. Updates also make an appearance in your calendar and there's chat status in your address book. Coupled with the excellent keyboard, this phone is perfect for Facebook addicts.
Features (4 out of 5)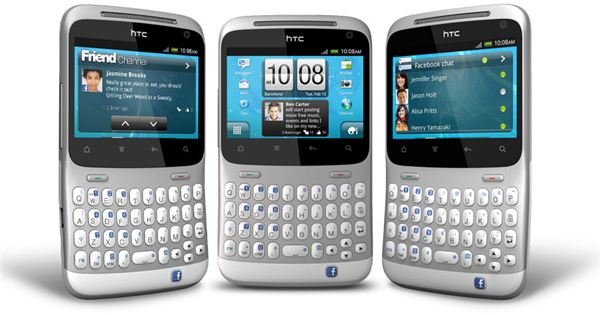 Despite being an entry-level QMD the HTC ChaCha actually has a pretty decent feature list. It has an 800 MHz processor, 512 MB of RAM and comes with 512 MB ROM. You'll need a microSD card because the internal memory is very limited, but most carriers will provide one with the phone. It can support cards up to 32 GB.
The 5 MP camera is quite good quality; it supports auto-focus and is backed up by an LED flash. In addition there is a front facing VGA camera. The main camera is decent and offers a host of options for tweaking your shots. You can also record video at a maximum resolution of 720 x 480 pixels and it records in the 3GP format.
The HTC ChaCha has a decent music player and it can play a wide variety of formats including AAC, AMR, OGG, MID, MP3, WAV, and WMA (Windows Media Audio 9). The loudspeaker is quite powerful and the 3.5 mm headphone jack is another option. There is also an FM radio built in.
There is a video player too, but this is a small screen so you're not likely to want to watch too many videos on it. Supported formats are 3GP, 3G2, MP4 and WMV (Windows Media Video 9).
The HTC ChaCha also supports 3G, Wi-Fi, Bluetooth and GPS and of course you can hook it up to your computer via the micro USB port. It can also function as a wireless hotspot which could always come in handy in a jam.
The standard Android web browser is ideal for surfing the Internet and the ChaCha does support Flash, although you might find that it struggles with some video content.
Performance (4 out of 5)
The call quality on the phone is good. Calls are clear and loud and there were no problems with the signal. Despite having a relatively basic 800 MHz processor the HTC ChaCha runs smoothly with very little lag and the only things it struggled with were high end games and some Flash video content.
The battery is rated at 1250 mAh and, perhaps thanks to the small screen, it seems to last quite well. The manufacturer claims give you up to 450 minutes of talk time and 400 hours of standby. Obviously it depends on how much you use your phone, but it will certainly last longer than a day for most people before it needs to be charged; unlike the majority of HTC's other Android smartphones which require nightly charging.
Verdict (4 out of 5)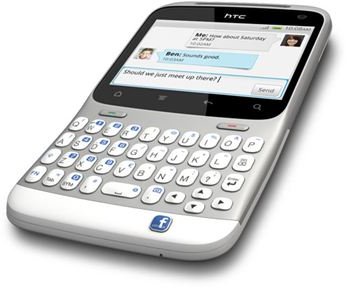 This is probably as close as you're going to get to a dedicated Facebook phone. The HTC ChaCha is quite simply perfect for Facebook lovers and it makes an attractive entry-level device for anyone looking to switch to Android. It's also a great option if you crave a BlackBerry style keyboard, but you have to keep in mind that the trade-off is a small screen.
If you want a messaging phone for keeping in touch, social networking, listening to music and the odd photo then say yes. If you want to watch movies, play games or surf the web a lot, then move along.
References