Introduction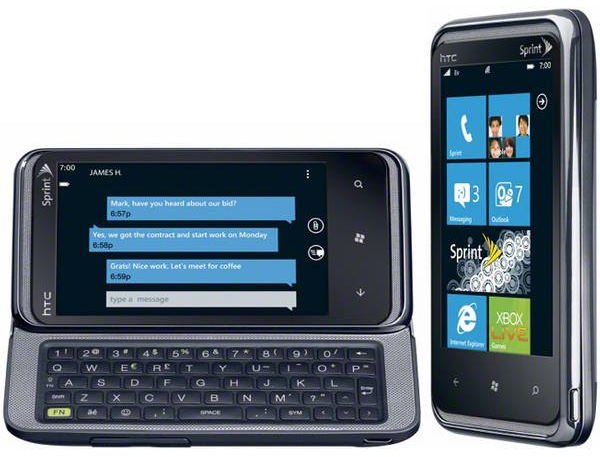 It's finally here, the very eagerly awaited HTC Arrive, the CDMA cousin to the GSM capable HTC 7 Pro. The HTC Arrive also comes hailing the NoDo update which enables the paste and copy function, something sorely missed in earlier iterations of the Windows Phone platform. The WP7 OS is something you will either hate or love, the app count for Windows just hit 10,000 this week, so at least you will not be short of necessary apps.
The HTC Arrive has all the ingredients to make a good smartphone, 3G, Wi-Fi, complete Microsoft and Outlook integration and some good multimedia capabilities. So has HTC put these ingredients together to make a great phone? Or have they made a mess of it? We aim to find out the answer to those questions and more in our review…starting now.
Design (5 out of 5)
From top to bottom the entire phone is a product of very close attention to detail, and solid build quality. The phone is not particularly thin with dimensions of 117.5 x 59 x 15.5 mm, but the design curves do make it look slim, also it is not the lightest phone around, it weighs a very solid 187 g, you will definitely feel it in your pocket.
At the front we have a 3.6 Multi-Touch capacitive super LCD screen, with a resolution of 480 x 800 pixels capable of supporting 16 million colors. Above the screen we have the proximity sensor and the first metal earpiece, the second is directly beneath the three capacitive touch buttons under the screen. The buttons are from left to right; Back, Home/Windows and Search.
On the left we only have the very tactile camera shutter button, on the right we have the long and flat rubbery volume rocker. Under the volume rocker we find the unprotected microUSB port. On top we have the lock/power button and 3.5 mm headphone jack.
At the back we find the round 5 MP camera lens and next to it the flash lens. Further down the phone we have a big screw, it doesn't do anything, it's just there. Does look good though.
Now, I have saved the best for last, the slide out QWERTY keyboard. Turn the phone on its left and slide out the keyboard, you will immediately notice the sliding mechanism is unique and very strong, it should be noted that the phone's back cover cannot be opened unless you have the keyboard slid out, there is a small hinge that opens up when the keyboard is deployed – you can insert the tip of your nail and pop the back cover open.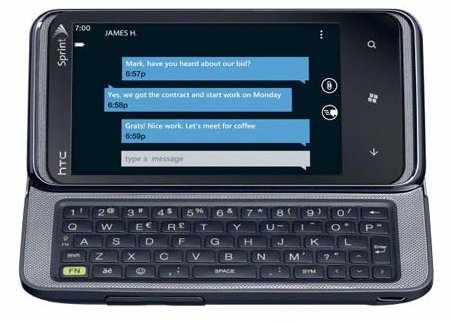 Now for the keyboard itself, it is a 5 row QWERTY with dedicated number and directional buttons, and the buttons are immense. They're big and flat, they don't have a very good tactile response because they are flat, but they are very easy to hit, travel is excellent and there is even a dedicated button for Smileys! :-)
User Interface (4 out of 5)
Microsoft have stated a very simple goal for their latest mobile OS, to get you in and out of your system as fast and as simply as possible. This is indeed the case with the HTC Arrive, the UI is very simple, it consists entirely of only two home screens, almost all the widgets are from Windows with only two courtesy of HTC and one app from Sprint.
The entire user interface is based around the Metro UI, which creates "Hubs" instead of menus or home screens. Let us take the "People Hub" for example, this hub replaces the traditional phone book, as it contains your phone book, caller list, contacts, Facebook updates and Tweets. A similar example is the "Music+Player Hub" here is where you can play all your media files plus use the Zune feature.
So the first pane consist of such hubs, which can be rearranged and customized with different colors, the second screen is a long list of apps and programs which can be dragged back into hub central. The single coolest looking part of the entire UI is the HTC Hub, the weather application has jaw dropping visual effects. Other than that the entire UI is clean, simple, easy and completely white. First time smartphones users will be delighted but users of Android or Symbian might find it too simple.
User Interface Continued (4 out of 5)
If physical keyboards are not to your liking, the Arrive also has a normal touch based QWERTY. If you're someone with thick finger then you might find the QWERTY hard to use, even in portrait mode. But the NoDo update of Windows Phone 7 on the HTC Arrive brings with it the much wanted paste/copy function. It works well enough during IM chats, but overall it's not as good as it could be.
However, Microsoft are going to continue releasing firmware updates throughout the year, so added functionality is on its way. The entire UI experience is as smooth as one can imagine, there is not the slightest hint of lag or stutter, Xbox Live is supported, but the speeds do not do it justice. There is a serious deficiency in the e-mail system, you cannot send document attachments through Gmail and the like, you need to use Outlook for that purpose, also you cannot send multiple attachments in one e-mail, for every attachment a new e-mail has to be sent.
Features (4 out of 5)
Now, the Arrive has a very limited range of frequencies, only the two CDMA frequencies of 800 and 1900. For high speed connectivity we are saddled with 1xEVDO rev.A, to be honest it was a bit of a surprise to find the Arrive was not 4G capable. The Arrive has Xbox LIVE, which does not work very smoothly on an EVDO network, the Arrive would have been absolutely perfect on 4G WIMAX. Local connectivity is provided for through Bluetooth v2.1 with AD2P, EDR, Wi-Fi 802.11 b, g, n, and microUSB v2.0 with PC charging plus MAC OS X sync. So nothing missing here.
The HTC Arrive is sporting a chip from last year's set of processors, a 1GHZ Qualcomm Snapdragon Processor, 576 MB of RAM and 512 MB ROM, internal memory is a non-removable 16 GB. Although slightly behind the current trend of internal power processors, there is zero lag in the interface or any other facet of the Arrive, everything is a smooth as butter.
Now for the camera, unfortunately this is one area where the Arrive performs poorly. The 5 MP camera has auto focus and LED flash with customizable scenes, but nothing stops pictures from coming out blurry and with extremely sharpened images, most pictures look like they were taken in the middle of fog. At least the interface is simple and friendly. This is the worst 5 MP camera I have ever reviewed. Unfortunately the Arrive's 720p HD capabilities fare about the same, it looks more like very good QVGA video rather than true 720P. Overall it is a very lackluster performance in the camera department.
Multimedia on the other hand is well handled, 720p HD is played without an issue and the Zune functionality is pleasing, unfortunately using the microUSB to sync a PC with Zune is rather problematic, there is no manual configuration available and Zune syncing sometimes freezes or malfunctions, it is advisable to use Bluetooth for best results when PC transferring. The music player has Dolby Mobile and SRS sound enhancement, both of which are absolutely fantastic when heard via headphones.
Microsoft office users will be pleased, the Arrive comes with the Pocket Office (Word, Excel, PowerPoint, OneNote, PDF viewer) and finally the much awaited paste and copy capability, it works relatively well, but it is not the best paste and copy feature out there.
Other miscellaneous but important features are: A-GPS support, Bing Maps, JAVA MIPD 2.1, Digital compass, Accelerometer, Facebook/Twitter integration, YouTube client, Calculator, Notes, Converter, Alarm, Calender, Hearing Aid Compatibility and Microsoft Outlook.
Performance (4 out of 5)
Now we arrive at the most important series of tests, we check the phone's call quality, web browser and battery life.
The HTC Arrive has outstanding call quality, the Arrive can even hold onto a signal in dead zones. In normal to well covered areas calls are clear, crisp and there is no background noise, at all. The loud speaker is very loud, plus it is very clear as well, for even further voice clarity you can turn on the SRS sound enhancement to loudspeaker mode. In areas with low coverage there is some white noise and voices tend to crackle, but calls do not drop under any circumstances and conversations remain intelligible.
Performance (4 out of 5)
Now for the web browser, it is one of the very few mobile web browsers that is HTML 5 compliant, speaking of which, it is also HTML and xHTML compliant. Pages take between 5 and 30 seconds to load on EVDO, it's not very fast. But the pinch to zoom functionality is fantastically smooth, pinch as fast as you want, the phone will keep up no matter what.
The only other phone I have seen with this good a pinch to zoom functionality is the iPhone 4. Unfortunately there is a nasty surprise in store, there is no Flash at all, the only thing that comes close is the YouTube app. This was a big disappointment on the HTC Arrive, and is the reason this section receives the rating of good instead of excellent.
As for the battery life, well it comes with a 1500 mAh battery with a quoted 6 hours of talk time and 12 days standby, actual talk time is 7 hours and standby time is close to 15 days. So it might not be the most powerful battery in the world but it is much better than the pitiful 1300 Li-Ion battery shipping with most smartphones. Most heavy users will be charging it once a day, average users once every 3 days and very light user about once every 6 days.
Verdict (4 out of 5)
The HTC Arrive costs $100 on a two year contract after the mail-in rebate, and it is good value for your money. You can opt to buy it contract free at $498, but add the data charges to that price and you're running a pretty steep debt.
The phone has a solid build quality, but as a phone and as an OS it will depend on the user entirely, you can either love the OS as simple and straightforward, or you can hate it as too simple and lifeless. Same idea with the physical keyboard, when slid open the phone tilts towards the user, sort of like a laptop, if this appeals to you then the Arrive is perfect for you, if you prefer it to be straight like most slide out phones then you will not appreciate the Arrive.
Everything works superbly well on the Arrive, but it does have some bad apples in the bunch, here is a list of them; the Zune USB problem, the lack of Flash, the terrible camera and HD recording and finally the e-mail attachment problem. Please keep these facts in mind if you wish to purchase the Arrive, other than that any other flaws are subjective to personal views.
References