Introduction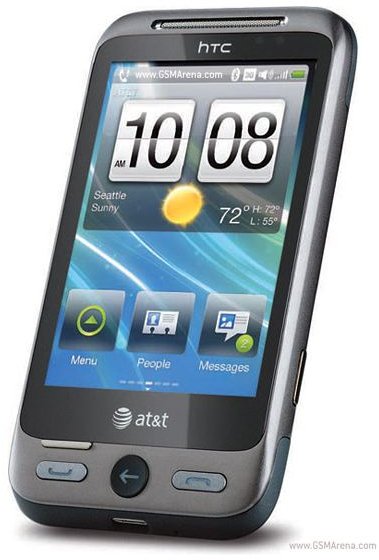 Feature phones, especially touchscreen feature phones, are coming very close to their bigger brothers… the smartphones.
The new HTC Freestyle from AT&T pushes the boundary between smartphone and feature phone right to the edge, but ultimately the HTC Freestyle gives a very strong impression of having come out of the factory before it was actually finished.
For a $99 phone on a two year contract the HTC Freestyle is woefully inadequate when you consider the iPhone 3GS comes at a similar price, and so does the HTC EVO 4G for HTC fans. Having said that, the HTC Freestyle is a good phone for texting, has a very solid build quality, all the processing features required for a smartphone and if you are a fan of the Sense UI, the Freestyle just might be the phone for you.
Design (4 out of 5)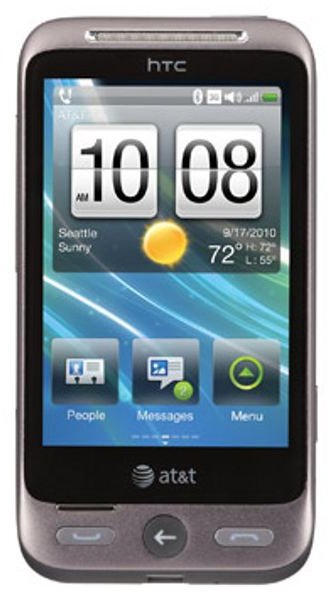 The HTC Freestyle is a very well built phone, although the material might feel cheap when held, it is actually a combination of strong plastic, aluminum and rubber (which covers the plastic part of the build).
The Freestyle is definitely capable of handling a few bumps and scratches without a problem, unfortunately the reason the Freestyle gets the rating of "Good" instead of "Excellent" is due mainly to the battery cover. While being very secure and well made, it is also very difficult and uncomfortable to open, and has a rather illogical opening process. Also once the back cover has been opened, getting it closed is another process that requires a fair amount of finger strength.
Considering the fact that both the microSD slot and SIM card slot are located behind the battery cover, you will pretty soon decide to smash the Freestyle against a wall if you're someone who exchanges microSD cards with your friends often. Other than the back cover issue, the HTC Freestyle is very well made.
Now to the front, we have 3.2 inch capacitive touch screen with a resolution of 320 x 480 pixels, as an added bonus the Freestyle screen is Multi-Touch capable. See, the Freestyle is a sort of semi-smartphone, unfortunately sunlight legibility is truly poor, it does not turn into a mirror but you will need to find shade to use it properly.
Beneath the screen we have three rather ugly looking but very comfortable buttons, they are the Call, Back and End Call buttons. HTC phones are known for their good looks, well… the HTC Freestyle is the black sheep of the family. Above the call button is a small sliver of a button, this serves various functions depending which menu or homescreen you are in, but generally it serves as the settings menu, similar to the Android system.
On the right we have the camera shutter key, on the left we have the long thin volume rocker, which is easy to reach during a call. At the bottom we have a unprotected microUSB slot and on the top we have the lock/power button and 3.5 mm headphone jack. Turning the Freestyle around we see its round 3.15 MP camera lens and very small loudspeaker grill, the size is very indicative of the phone's sound quality.
User Interface (4 out of 5)
Now, we come to one of the big reasons to own an HTC Freestyle, its Sense UI.
The user interface is what makes the argument of whether the Freestyle is a smartphone or not, such a hot topic. But ultimately the Freestyle is a very well endowed feature phone, nothing more. I guess this means if it looks like a duck, quacks like a duck and walks like a duck… it's not necessarily a duck.
Now first things first, the Freestyle does have an OS, no having an OS does not make a phone smart. It comes as one of the first phones running the BREW OS, a free market OS that AT&T will try to market heavily. There is absolutely no hint of the BREW anywhere on the Freestyle, everything is coated and double coated in the Sense UI, so let's get down to the details. It should be noted that at the top of the screen, there are three barely visible dots, when pulled down they display a menu similar to Android's info bar.
There are seven home screen panes, all of which have predesignated widgets, and you can't really reorganize them or shift them about. But the Freestyle does come with two preloaded "Suits" that change the phones general theme and add new widgets to the home screens. For example if you are in the "Work" suit the music widget on the first screen is replaced with a calendar. Of course you can download many more suits, overall the Freestyle lends itself very well to customization.
Then there is the menu tab, when pressed you are presented with three panes with all your services and downloaded apps. Again here you are not presented with the option to reorganize the screens or apps.
User Interface Continued (4 out of 5)
The main menu mainly consists of an overdose of AT&T apps, non deletable, it borders very closely on bloatware. Apps included are; AT&T Navigator, Vlingo's Voice App, AT&T Music, AT&T Radio, AT&T Navigation, Music Videos, AT&T FamilyMap, Mobile Yellow Pages, eBay, AllSport GPS and two useless game demos of Ms. Pacman and DEER HUNTER. All the above apps require either a data charge or purchase expense, sometimes even both. Please beware when buying the Freestyle, free apps are not an option on it, this is not Android.
The Freestyle has a micro-second of lag when being swiped or tapped, it is hardly perceptible and is not in any sense a deal breaker. Now for the phone book, it has a limited capacity of 2,000 entries or unlimited if you switch entries onto the phone memory, this does not apply to microSD cards though. So no 16GB worth of contacts. Photo tagging, ringtone tagging video tagging and multiple field entries are all supported, however, there is no Google or any form of online syncing with contacts. The lack of contact sync proves this is not a smartphone.
The phone handles all common message formats easily, SMS, MMS and E-mail are all a breeze, You get two e-mail clients, a native one which supports multiple accounts and AT&T Mail. Social network integration comes in the form of Friend Stream, an HTC service that brings all the activities and updates from your friends on either Facebook or Twitter. Since AT&T are trying to market the Freestyle as a texting device, it is only prudent to mention the virtual keyboard.
First, it looks pretty good. But that could be just me because I love anything black/silver. It is rather small for thick fingered people, as such the chances of hitting the wrong buttons are very high. Fortunately the phone's auto correct feature is above average for a feature phone, it corrects spelling mistakes and grammatical errors without fail almost every time. Although the QWERTY can be used in either portrait or landscape mode, the fact that the Freestyle lacks an accelerometer (believe it or not) means you have to push a button to tell it to go to landscape mode.
Features (3 out of 5)
The Freestyle lacks some features that most users would take for granted on a feature phone. It seems like the person in charge of the Freestyle's set of features was a bit confused concerning the finer points of international network frequencies. Here is a case in point – the Freestyle has a complete set of 2G GSM frequencies, (850 / 900 / 1800 / 1900) and two high speed 3G HSDPA frequencies (850 / 1900).
Now the Freestyle comes on AT&T, which supports CDMA better than GSM, and is not as internationally available as Orange Airtel or Zain, even if you did somehow managed to unlock it from AT&T'S network, what would you do for apps? So what was the point of having GSM on the Freestyle? CDMA would have been much better.
Local connectivity is another letdown, the phone has Bluetooth v2.0 instead of the better 2.1, no Wi-Fi, but it is microUSB capable (v2.0). Under the hood we have a pleasing, if minimal, processing operation, the Freestyle is powered by a Qualcomm 528 MHz processor, it should be noted that the BREW OS is made by Qualcomm. We also have a generous 512 MB of ROM and 256 MB RAM. Native internal memory is only 150MB, but the Freestyle does support up to 32GB of external memory, you can use either a microSD or microSDHC card.
The 3 MP camera has three resolutions to choose from, tinkering options include brightness, white balance, spot metering, HTC's flicker adjustment, three color effects, adjustable contrast tool, and a self-timer. But none of those matter, adjust to your heart's content but pictures will always turn out hideous, They are soft, lack detail and always seem off-focus, and having a fixed focus camera with no flash does not help much either, now does it? If a good camera is something you consider necessary on a phone, the HTC Freestyle is not the way to go.
The camcorder fares slightly better, there are three resolutions to shoot in, the highest being HVGA. By default videos are shot in 3GP format at 20 FPS, but changing it to MP4 is highly recommend as videos turn out both smoother and clearer. Videos are very adequate for MMS purposes or for simple viewing on the Freestyle, however, avoid viewing them on a laptop or worse, a TV screen.
Features continued (3 out of 5)
Now the music player is very adequate, works smoothly, and supports a large array of audio formats (MP3, AAC, WMA, WAV, M4A, AMR, MIDI). It also supports album art and preset equalizer options. You can also opt to play your tracks via the AT&T music app or listen to streamed radio shows via the AT&T Radio app. If you want to listen to the radio for free, the inbuilt FM radio should be satisfactory, although headphones are required and the reception is not among the best out there.
The video player is actually rather good, it can play three video formats, namely; 3GP, MP4 (H.263 or H.264 encoded) and WMV9. I usually recommend that videos be played a resolution under the respective phone's native resolution, but the Freestyle can play a 640x480 video silky smooth, though anything above that resolution is asking for trouble.
For those in need of an organizer the Freestyle is here to cater to your most common needs, as it includes: an alarm clock, calendar, calculator, stopwatch, world clock, weather widget, voice recorder, image editor, countdown timer, airplane mode, A-GPS and PC syncing.
The phone does not have an accelerometer, but it does have a proximity sensor, weird isn't it?
Performance (2 out of 5)
Now we come to the main testing grounds, we see if the phone's call quality, web browser and battery life are truly battle ready.
I will not stretch this part, the call quality on the HTC Freestyle is horrible! There is a never ending screech in the background that sounds like white noise, calls tend to drop even in strong areas, callers tend to sound hollow and crackly and you tend to sound like you have the flu to them. The loud speaker is another horrible performer, regardless of whether it is being used for calls or music, it sound tinny and hollow. If making calls is an important feature for you on a phone (is there anything more important? It is a phone after all!) then the HTC Freestyle is the wrong phone to purchase.
Now the web browser is actually more than good, the 528 Mhz processor does its job very well here, pages render a bit slowly, in about 15 to 39 seconds depending on the page. Considering the phone has 3G I was hoping for something faster, but we will have to make do with those speeds. The pinch to zoom function works very well, and text re-flow/re-size takes about a second to kick in once a page has been zoomed in/out. If you zoom/in out very fast though you will have a choppy rendering experience, the browser is fully HTML/xHTML capable and has inbuilt Facebook and Twitter support. No Flash support.
Now for the battery life, and it is not nearly as powerful as quoted. It is a Li - Ion 1300 mAh battery with a quoted talk time of 7 hours and standby time of 435 hours. Actual talk time is 5 hours and 30 minutes on 2G, With 3G turned on the talk time goes down the hill to 4 hours, real standby time is actually 384 hours. Very heavy users will run out of power in 7 hours, average users will be charging their phones once a day and very light users will be charging it once every two days.
Verdict (2 out of 5)
The HTC Freestyle is not a phone you should invest in, but it is a phone you will definitely feel like purchasing. It's one of those phones that despite its faults still has a wonderful and cool UI, "beware o savvy phone purchaser, let not thy self be tempted onto the path of the seductive purchase of the HTC Freestyle".
The HTC Freestyle is ultimately a phone you will regret purchasing, it lacks some basic features most phones beneath its level have, and the main features a phone should be capable of performing come up short in the Freestyle. The HTC Freestyle is not a bad phone, but there are other similarly priced phones that are much better stocked and generally come contract free. Despite HTC and AT&T's claims that the Freestyle is a smartphone, that is simply not the case.
If you do want a phone priced at $99 from AT&T consider purchasing the iPhone 3GS, or if you want to travel internationally and want a phone that truly blurs the line between a smartphone and a feature phone, the Samsung Jet S800 comes very highly recommended.
References