HTC Gratia Review - Specifications, Design and Display
Since the launch of the iPhone and the subsequent launch of the Android OS, the mobile phone industry has been kicking Moore's law around. Smartphones have become much smarter in the past 3 years with ever more powerful hardware and better software.
HTC made the first Android phone - the T-Mobile G1 and has launched a lot of Android phones since then. One of those phones was the HTC Aria, a mid range Android phone which offers nice hardware specs at a low price. The HTC Gratia is very similar to the Aria. It offers a decent deal among budget Android phones. In this article, I will review the HTC Gratia and tell you everything you need to know about it.
HTC Gratia Specifications
Dimensions: 103.8 x 57.7 x 11.7 mm
Weight: 115 gms
Display: 3.2 inch TFT capacitive touchscreen display, 320 x 480 pixels
OS: Android 2.2 Froyo
Processor: Qualcomm MSM7227 600 MHz CPU
RAM: 384 MB RAM
Memory: 512 MB internal ROM, up to 32 GB microSD card support
Camera: 5 MP camera with autofocus, 2592 x 1944 pixels
Connectivity: GPRS, EDGE, 3G HSDPA, Wi-Fi 802.11 b/g, Bluetooth 2.1 with A2DP
GPS: GPS transceiver with A-GPS
Battery: 1200 mAh Li-ion battery
Design (3 out of 5)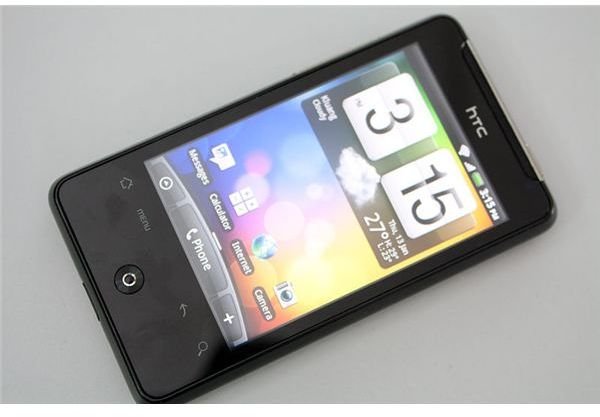 The HTC Gratia has a standard touch-screen design which is now common in most budget touch screen phones. It has dimensions of 103.8 x 57.7 x 11.7 mm with an unremarkable design. It looks good, but isn't any different from the scores of Android cell phones out there. It weighs about 115 gms, which is normal for a phone this size. It is a bit small compared to the 4 inch phones which are in abundance now.
It has a 3.2 inch TFT capacitive touch-screen display with a display resolution of 320 x 480 pixels. The display is quite good, with adequate brightness and nice contrast. However, it stands nowhere compared to the Super AMOLED displays in high end Samsung phones.
Below the display, there are four keys - Home, Menu, Back and Search. It also has an optical trackpad. On the left, there is the volume rocker while on the top, there is the audio jack and power key. The back houses the camera and the battery compartment.
User Interface (4 out of 5)
The HTC Gratia is powered by Android 2.2 Froyo and comes with the HTC Sense UI. It is unlikely that it will get an upgrade to Android 2.3 Gingerbread. It has the Qualcomm MSM7227 processor clocked at 600 MHz. It also has 384 MB RAM and comes with a 512 MB internal ROM. It supports up to 32 GB microSD cards.
The performance of the Gratia is very good and there is no noticeable lag. It is very responsive and looks great too, in terms of the user interface.
Multimedia (4 out of 5)
The HTC Gratia has a nice image gallery and comes with a basic MP4 and 3GP video player. The display is a bit small to enjoy watching videos on it anyway. It also comes with a music player app and a built in FM radio with RDS. The sound quality of the HTC Gratia is very good, epecially when coupled with nice headphones.
It has a built in 5 MP camera with an image capture resolution of 2592 x 1952 pixels. It has a nice camera interface which is quite detailed. The image capture quality is good, but definitely not the best a 5 MP camera can offer.
It also records video, but only at the VGA resolution and with a low frame rate. Video recording, in other words, pretty much sucks.
Connectivity (4 out of 5)
This is one area in which the HTC Gratia offers almost everything you would expect in a smartphone. It has GPRS, EDGE, 3G HSDPA as well as Wi-Fi 802.11 b/g connectivity and Bluetooth 2.1 with A2DP. It comes with a built in GPS transceiver with A-GPS support and is powered by a 1200 mAh Li-ion battery which lasts for about a day with moderate usage.
It has the Webkit based default Android browser which is probably the best mobile browser around. It also comes with Android Market which has over 200,000 apps and games available.
The Verdict (3 out of 5)
The HTC Gratia is a very good budget Android option, but I would suggest that you wait a little while. A lot of new budget Android phones should be unveiled, that will offer much more than the HTC Gratia does.
Also, check out this list of the best budget Android phones. If you want to buy one right now, get the LG Optimus One. It is by far the best budget Android option right now.
References