T-Mobile new myTouch Preview - The Latest Successor in the T-Mobile myTouch Line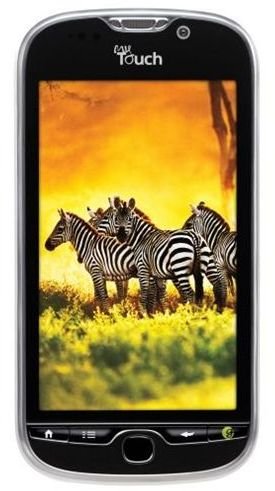 T-Mobile New MyTouch Preview
T-Mobile released the myTouch 3G Slide to somewhat lackluster fanfare and followed up with the myTouch 3G which also received mediocre reviews. T-Mobile, the original U.S. carrier to carry Android OS through the G1, just recently launced a vicious Android campaign with the likes of the Samsung Vibrant and the successor to the G1, the T-Mobile HTC G2. Following hot on the tails of these releases is the new T-Mobile myTouch, not to be confused with the already released myTouch 3G series. The new T-Mobile myTouch, based on current rumors, seems to be a powerful player in today's competitive market and will be the second phone to fully use T-Mobile's new HSPA+ enabled 3.5G network.
Rumored T-Mobile myTouch Specifications:
Dimensions: 4.80 x 2.44 x 0.43 inches (122 x 62 x 11 mm)
Weight: 5.00 oz (142 g)
Display: 3.8 inch WVGA, capacitive, multitouch touchscreen, 480 x 800 pixels
Memory: Preinstalled 8 GB MicroSD, expandable to 32 GB
OS: Android 2.2 (Froyo)
Processor: 1 GHz Qualcomm Snapdragon
Camera: 5 MP camera (2 cameras, rear and front facing)
Connectivity: GSM Quad-band phone capable of global roaming (850/900/1800/1900 MHz), UMTS T-Mobile 3G (1700/2100 MHz)
Data: EDGE/UMTS/HSDPA 14.4 Mbit/s/HSUPA 2.0 Mbit/s
Bluetooth: Yes
GPS: GPS with A-GPS
T-Mobile myTouch Expectations
T-Mobile has been on an upward trend for releasing powerful, up to date, trendy smartphones and the new myTouch is another great addition. Announced on October 4th, 2010, the T-Mobile myTouch has quickly become the highly anticipated successor to the currently released myTouch 3G line of phones. Offering unique features never seen before on T-Mobile's network, such as a forward facing camera for face to face calling and T-Mobile TV, the new T-Mobile myTouch is set to be a very powerful smartphone in their lineup.
The T-Mobile myTouch can also take advantage of the recently updated network, taking

advantage of HSPA+. Through HSPA+, you will soon be ready to use the face to face talking ability offered by the new myTouch, not just over Wi-Fi. T-Mobile TV is a new feature that will allow you to use the myTouch to watch free shows that are available on ABC, Fox, Disney and Univision. Once again with HSPA+, streaming shows will be faster and more seamless than ever. The new myTouch will also take further advantage of Wi-Fi connections, bringing back a long awaited feature from T-Mobile, the ability to use wireless connections for calls. This means if you can find a wireless connection while on international trips, you'll be able to call back home and only use your T-Mobile minutes, as well as receive calls while you're connected.
The new T-Mobile myTouch is set to have a powerful 1 GHz Snapdragon processor and is set to be preinstalled with Android 2.2, a fierce combination of hardware and software. Whether HTC's 3rd party proprietary interface, SenseUI will be installed or not has not yet been released. It can go either way, considering the recently released G2 came with a vanilla, stock version of Android 2.2.
The new T-Mobile myTouch has been packed with a powerful feature set of both hardware and software and T-Mobile has shown that they can raise the bar when needed. Coming out with heavy hitters such as the Samsung Vibrant and the HTC G2, the new myTouch is the next step to hitting their competitors hard and rising up the ranks. Expect the new T-Mobile myTouch to be highly advertised and, like the G2, be sold out for preorders. Current rumors have put the release date of the new T-Mobile myTouch as early November 2010.