HTC EVO 4G vs. iPhone 4: Display, Size and User Interface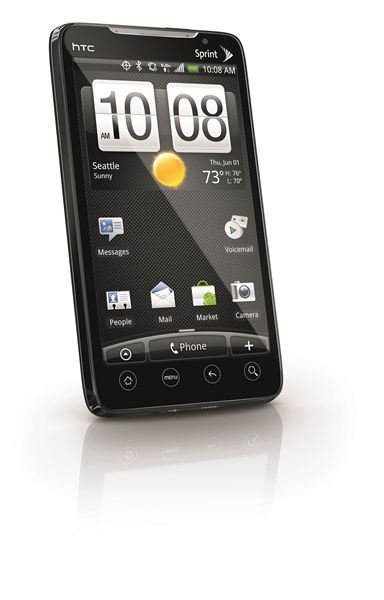 Let the Battle Begin!
The HTC EVO 4G vs. iPhone 4 debate is one that is hard-fought by many reviewers and users of the devices everywhere. The HTC
camp claims the EVO by Sprint wins simply because it is an HTC and the iPhone camp states that the iPhone (Apple Inc.) is better simply because it is an Apple product. Whichever side anyone is on, one must wonder which smartphone wins out in real life, not just tech specs. Without giving anything away, the visual starred ratings are for the HTC EVO 4G.
Design: EVOs Bulk & Large Display (4 out of 5)
The design of the HTC EVO is obviously bulky, but it gives users something more to hold on to. The HTC EVO is a huge 4.8-inches tall by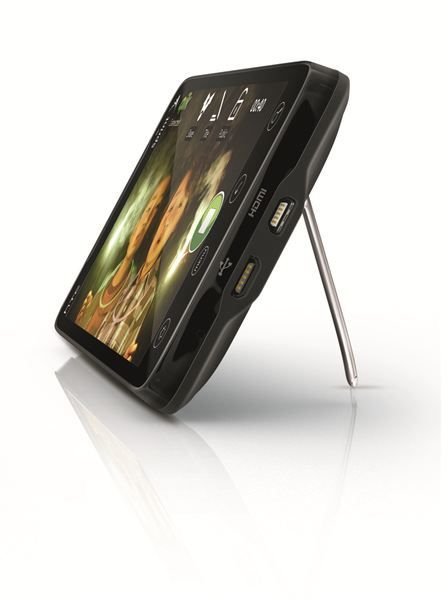 2.6 inches wide by 0.5 inches thick and weighs a hefty 6 ounces with the battery installed. On the other hand, the iPhone 4 is 4.5-inches tall by 2.31-inches wide by 0.37-inches thick and weighs in at only 4.8 ounces-a full ounce and a half less than the HTC. Side by side, the HTC clearly out-bulks the iPhone, but many users say they prefer the heft of the EVO 4G as compared to the iPhone's small size. The HTC display is a massive 4.3-inch LCD, which has a resolution of 480 pixels by 800 pixels. In comparison in terms of hard specifications, it is not as good as the iPhone's Retina display, which has a smaller display size at 3.5-inches IPS LCD, but a massive resolution of 960 pixels by 640 pixels. In specs, the iPhone 4 wins this battle. However, in real life, the larger display of the EVO offers much more in the way of screen real estate for the virtual keyboard, viewing photos, video and doing-well, anything.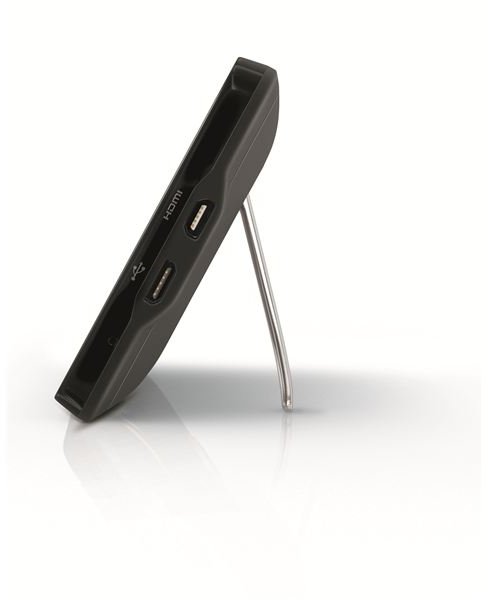 The HTC EVO offers a plastic embodiment, and has a kickstand on the back to help when viewing videos, while the iPhone 4 is made with glass and aluminum, but offers no extra support. While the glass display and aluminum casing look incredibly beautiful, it gives the iPhone 4 a very break-able appeal, almost as if it is too fragile to use, while the HTC's plastic body looks as if it can handle much more mileage. While these portions of each smartphone are simply a matter of preference, because of the hefty feeling of the HTC and the much bigger display-many prefer to sacrifice size for quality in this area and the HTC is certainly the better of the two because of this fact.
User Interface: EVO Has Android and Sense UI, Period. (5 out of 5)
Android 2.1 would have been enough to outweigh the iPhone 4 in this case, even considering the massive improvements in iOS 4. However, what makes the HTC EVO even better is that Android 2.2, otherwise known as Froyo, is now available to all EVO 4G users. While the iOS 4 now offers "multitasking," it is not true multitasking as Android offers. The iPhone is still strictly controlled by Apple and limits multitasking to seven applications-whether the users want them or not and if not, then no multitasking for them. Android, on the other hand, allows users to have as many of whatever applications and programs they want open at any given time.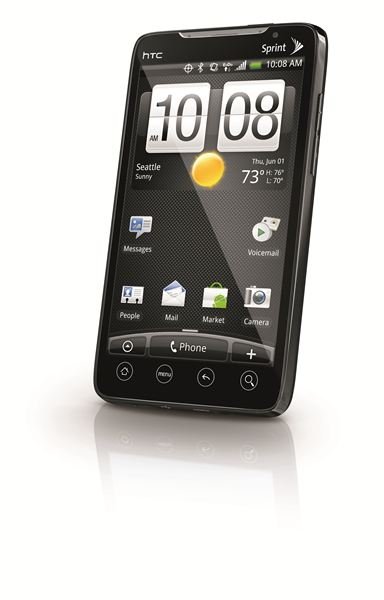 Moreover, HTC's own Sense UI makes Android even sweeter. It offers seven home screens to choose from in addition to easily navigable menus. The HTC with Android and Sense UI also offers widgets and Flash support, which are two things that Apple refuses to touch, let alone allow their users to have. The notifications are also much nicer than what the iOS offers, since Apple makes intrusive pop-ups standard on all iOS devices which is very annoying. While the Android Market only offers about 80,000 apps as compared to iPhone's App store, which offers over 200,000, the Android apps offer much more in the way of productivity and openness. Simply put, Android is Android and with Sense UI atop of it, it surely wins hands down and is much better than the iOS 4 offered by Apple.
Features: Again, EVO has Android plus HDMI Out (5 out of 5)
Both phones offer two cameras, one front facing and the other rear facing. However, the HTC wins this one easily because the rear-facing camera is an 8-megapixel with auto focus and a 2x LED flash, while the iPhone 4 only offers a 5-megapixel and (finally) an LED flash with 5x zoom. As for the front facing cameras used for making video calls, the HTC wins again with a 1.3-megapixel, a full megapixel better than the iPhone 4 at 0.3-megapixels. Even though the frame rate of the video is won by the iPhone at 30 fps, the better quality camera size makes up for it.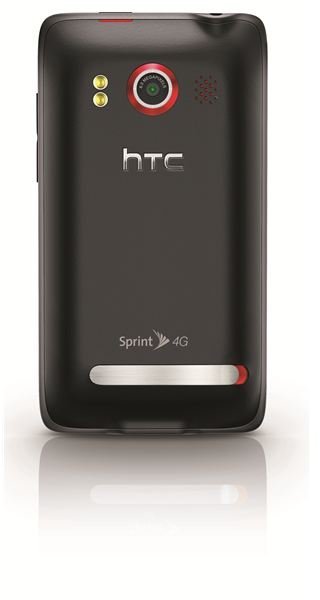 As for the network services offered by HTC, it is a 4G smartphone, so it wins automatically. Sprint's 4G service is limited, but when and where it is available, it certainly blows any other service away. Also offered is 3G (CDMA), EV-DO, Wi-Fi, Rev. A, and of course, Sprint's WiMAX services. With many more options for service than the iPhone 4, which only offers HSPA and GSM on an overstretched network, Sprint's EVO 4G is much better overall.
As for storage, the EVO 4G is better simply because is offers expansion possibilities. The iPhone 4 offers a set maximum of internal storage of either 16GB or 32GB with no possibility for expansion at all, well unless you erase something or sync with iTunes. Another plus making the HTC better is that is has an HDMI out-another feature Apple refuses to allow their "loyal" fans to experience. This feature allows HTC users to experience video streaming to any HD television they want, while Apple users are stuck watching video on a small 3.5-inch screen.
Performance: EVO 4G Uses Sprint WIMAX & Snapdragon Processor (4 out of 5)
The processor the EVO 4G offers is the Qualcomm Snapdragon 1GHz. The processor offered by the iPhone 4 is the "Apple A4" which essentially is a 1GHz chip as well. The difference between then is that the iPhone uses the iOS, which tends to drag a bit because the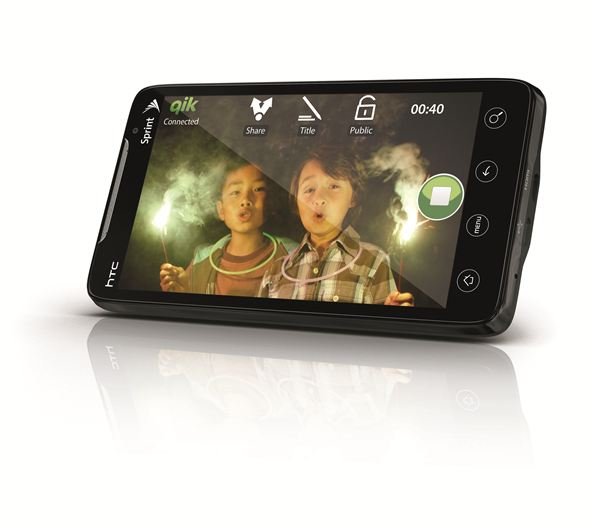 multitasking features are not as ingrained and advanced as those of the HTC EVO, which uses Android and has true multitasking. The drag on each respective system is not much. The EVO 4G, with its Android and Sense UI is a much lighter load on the processor, so switching home screens, navigating menus and using games and other applications is a breeze. Additionally, the keyboard is very responsive, with minimal mistakes recorded. As for call quality, Sprint's massive network and numerous cellular options essentially prevent dropped calls from ever happening, while AT&T's calling network is choppy and dropped calls are much more numerous. The Apple App Store even offers an app for users to record their "dead zones," so other users and AT&T have a record of where they are.
The Verdict: HTC EVO 4G is the Better Smartphone 4 1/2 Stars (4 out of 5)
Overall, the HTC EVO 4G is the better phone, receiving an overall score of four and a half stars (the ratings only use whole stars). Offering an openness of the operating system and app market unlike any other platform, plus the better cellular service offered by Sprint, it outperforms many cell phones on the market, including the iPhone 4. Winning hands down in features, service and performance, plus outweighing in other areas because of many users' preferences, the HTC EVO 4G is a legend as the first 4G smartphone offered anywhere and it will continue to offer even more possibilities to users by way of future updates to the OS. In the HTC EVO vs iPhone 4 battle the winner is definitely the HTC EVO.