Cheap HTC Phones Reviewed - HTC Wildfire, HTC Smart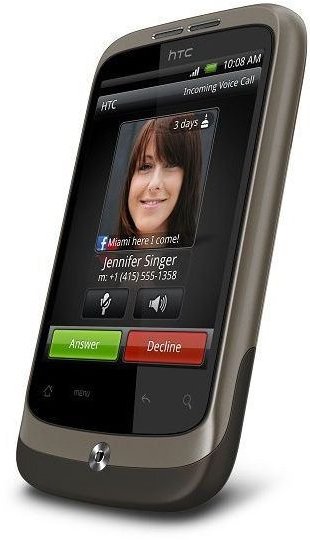 Five Great and Cheap HTC Phones
With their unsurpassed design and build quality and range of operating systems and user interfaces, HTC have become the world's most popular supplier of advanced mobile phones – to use an increasingly unfashionable term, "smartphones".
Capable of calls, email and web browsing, these phones are increasingly sought after devices, especially with the success of the most recent releases of Android.
HTC provide high end phones for the Android, Windows Mobile and Windows Phone 7 platforms – but what happens if you want to purchase a HTC phone but don't have the money for a widescreen behemoth?
You look for a cheap HTC phone – and there are plenty of them about, as you can see below!
HTC Wildfire
With a 5 MP camera, 528 MHz processor and 384 MB RAM, the HTC Wildfire is a smaller device than the Nexus One or the HTC Desire, but like those devices runs the Android 2.1 operating system. With a similar physical build to the Sony Ericsson Xperia X10 Mini, the HTC Wildfire is as polished and slick as the Sony Ericsson device, but with a handset that feels like a smaller HTC Desire.
Find out more in our review of the HTC Wildfire.
HTC Smart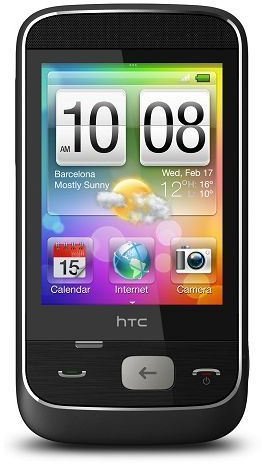 Instead of the Android OS for which they have become well-known for using on their devices, the HTC Smart instead uses BREW OS, a mobile operating system for standard mobile phones, enhanced with a version of the HTC Sense UI.
However this isn't a typical HTC phone – it is aimed at consumers that want a phone, rather than a mobile gaming/email/internet micro tablet device.
Possibly due to the lack of the Android operating system, the HTC Smart has become a popular choice for mass market retailers like supermarkets – find out more about the device itself in our review.
HTC Touch 2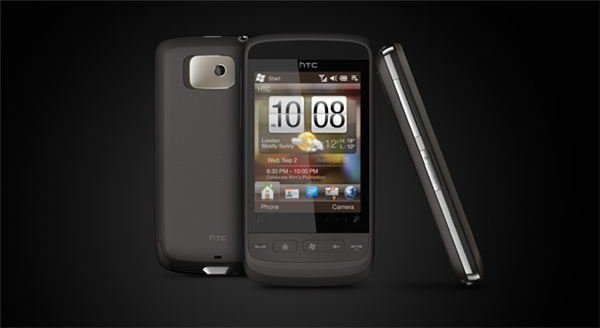 The HTC Touch2 has a superb spec, and is probably the most suitable of the cheap HTC phones for activities like recording video clips and watching movies.
Running on the Windows Mobile 6.5 operating system, the HTC Touch2 has a huge 2.8-inch TFT-LCD touch-sensitive screen with QVGA resolution, 3.2 megapixel color camera and a touchscreen software keyboard, not to mention a 528 MHz Qualcomm CPU, 256 MB of RAM and a MicroDS expansion port. With HTC's Sense UI controlling interaction with the OS, the HC Touch2 is probably the best Windows Mobile 6.5 device on the market.
HTC Tattoo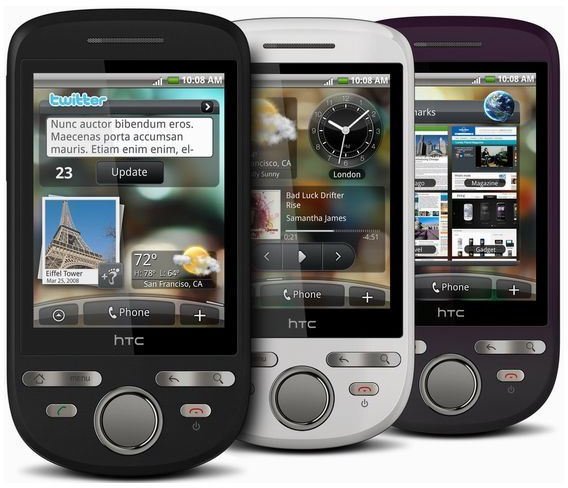 A great intro device for anyone new to Android, the HTC Tattoo runs Android 1.6 and is visually a very similar handset to the old HTC Touch. With all the usual bells and whistles you would expect from an Android phone – G-sensor, Wi-Fi, etc – this device is probably the closest thing to a full price Android HTC phone in this list. It's a great device that runs like a full size Android device in a smaller body!
We reviewed the HTC Tattoo recently – find out what we think of it.
HTC Snap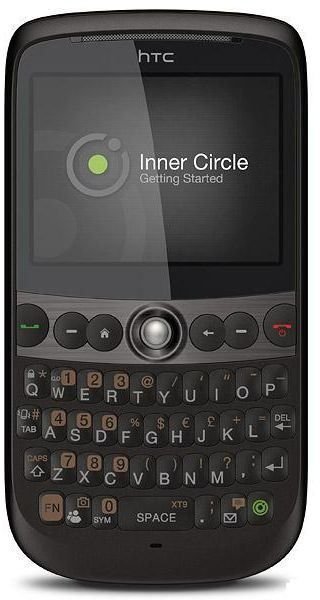 With the success of various BlackBerry devices and several Windows Mobile Standard handsets, HTC issued the Snap, a cheap HTC phone with a non-slider, hardware QWERTY keyboard.
A great choice if you're looking for a quality phone with a hardware keyboard that you can quickly access, the HTC Snap is nevertheless an unusual phone from HTC, despite its impressive hardware spec that place it firmly alongside the other phones in this list.
The unusual, BlackBerry-esque HTC Snap runs the Windows Mobile operating system – find out more about what it can do in our review of the HTC Snap.
Buying Cheap HTC Phones
So there you have it – a selection of 5 great, budget-level, HTC phones. With a range of purchase options and operating systems available for them, these phones should suit everyone, from the eager consumer of Android phones to those happy to use HTC's own operating system.
Each of these devices is available either direct from your phone network of choice or online; this is a guaranteed way of getting hold of one if your network doesn't supply the phone.
Retailers such as Expansys (www.expansys.com) will provide such devices; however you might also go searching on Amazon, where you will find a range of cheap HTC phones both new and used.
(Images from www.htc.com)