Guide to Google Maps Driving Directions: -- Finding your Location and Basic Features on Your Google Mobile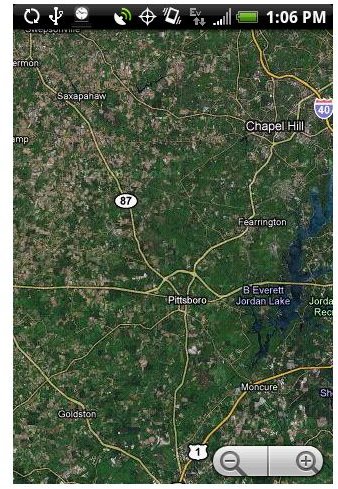 Why use Google Maps?
There are a lot of programs that give you directions, find your location, and let you find shops, restaurants, etc nearby. Many phones might even come with them on the phone (such as Sprint Navigation or Verizon's Navigator) but these programs are always bulky and difficult to navigate around. None compares to Google Maps in ease and breadth of functionality. You'll find yourself coming back to it again and again. I know that personally I have always found it far easier and quicker to bring up than any other program with similar functionality.
Just recently I completed my first road trip with my Android phone (the HTC Hero) travelling over a thousand miles around the northeastern United States. I tried using Sprint Navigation, Yelp, Layar, and other apps. But time and time again I found that Google Maps worked better and easier.
So here's a comprehensive guide to using Google Maps to find your location, find places around you, and get directions to those places.
Starting up and Finding your Location
Google Maps uses the GPS to find where you are at and pinpoint you exactly on the map. GPS is incredibly accurate as long as it can get a good signal from the satellites so this can be incredibly helpful if you are lost or just want to see what is nearby on the map.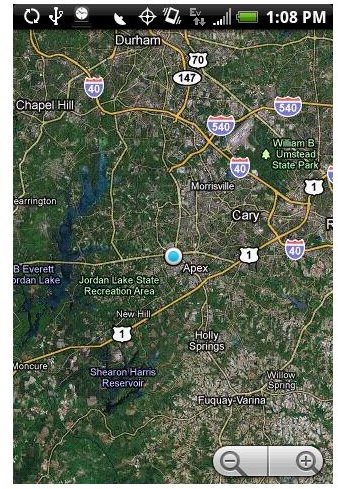 First, start up Google Maps. The screen you come to might look like the picture on the left. To have the map find your location and center the map over it, select Menu < My Location. This will center over your location and show it with a blue dot (shown on the right). Now you know where you're at!
Basic Features
Now that we know where you are at lets go through some basic features.
Zoom in/ Zoom Out: You'll notice that on the normal view of the screen there will always be the magnifying glass symbols I'm sure you are familiar with. You can use these to zoom in and zoom out of the map. Google Maps can quite close so you can see precisely what is around you on the map.
The Blue Location Dot: The blue dot will be where you are at as best as the GPS can estimate. You'll see around the blue dot a fainter blue circle. This is how accurate your location is based on how good of a GPS signal you have. In other words, where you actually are is somewhere in that blue circle. If it is really big then you just don't have a good signal, most likely because you are inside or have something around causing interference.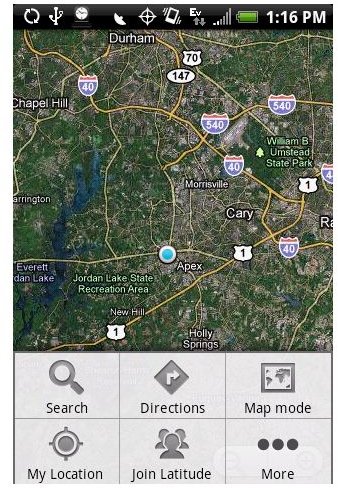 Dragging: If you have a touchscreen you can easily drag the map around. If you have a mouseball you can also use that to move the map around.
The Menu: When you select the menu button, a set of choices will come up. All of the things you need to do you can do from one of these selections. These choices are:
Search: Allows you to search for things nearby
Directions: Get directions
Map Mode: Change to show map view, Satellite, and traffic (This will highlight the major roads with a color indicating their traffic conditions)
My Location: Reorients the map to your location
Join Latitude: This option will share your location with Google and allow you to find other friends on the map. This is a cool feature but only worth doing if you have others who do it as well.
Searching for Things on the Map
Google Maps Mobile will let you search around you for things nearby and allow you to instantly access reviews, phone numbers, addresses, and links to company websites so that you can immediately find things in your area. This is extremely easy to do.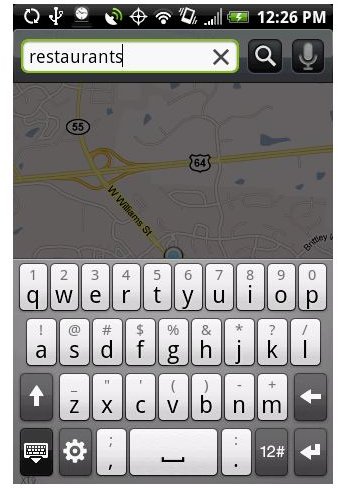 Make sure the map is centered on your location. Hit Menu < My location

Select "Search"–Some phones have a hard search button but if not, choose Menu < Search

Type in what you want to search for. For instance, "restaurants" or "oil change".

The map will automatically readjust for optimal search results. You can also use the zoom in and out buttons and search again to adjust the range.

Results will be shown on the map with the closest one highlighted.

To view more information select the desired location. This will automatically give you a menu with a nice set of information and options. You can do a lot of things from here:
Across the top is three tabs: Address, Details, and Reviews.

Address tab will contain the address of the place as well as a indicator of aggregate reviews and how many reviews it found. It will also give you the option to "Show on Map", "Get directions," view in "Street View", and "Call"–with their number automatically listed. This is extremely helpful if you want to call the place because the link provided here will just start the call. After all, you are on a phone.

The details tab will give you a lot of information about the place including the link to their website and any information Google can gather from various city-guide sites. For instance, it might give you the type of payments accepted, links to menu/service listings, and any blurbs put out by the business.

The reviews tab will let you read through reviews that Google Maps gathers from all around the internet, aggregating the reviews from a variety of sites.
Keep in mind that this doesn't have to just be around your location! You can readjust the map to be anywhere and then search using the same procedures. This way you can plan ahead as well as find things on the go!
Getting Directions
You can use Google Maps Mobile to get turn by turn directions to any location. Not only does it have directions by automobile but also via walking and public transportation (although these don't function as well at times). Finding directions can be easy. You can do this two ways:
From a Place You've Searched For–If you've searched for a place nearby it is really easy to find directions. Follow these steps: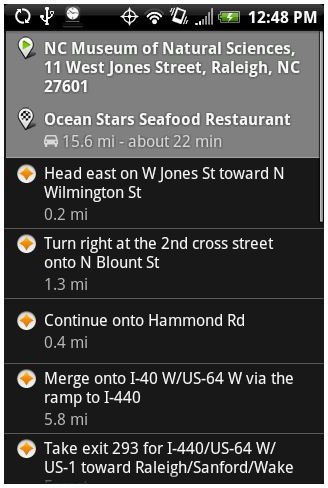 Select the place on the map that you want go to. This will bring up the menu we went through above.

Hit "Get directions" in the Address tab.

You can now select if you want to go from your location or another location. If you want to start from somewhere other than your location you can type in the address or the name of the place you want to go in the top line.

Select whether you want car, public transportation (the Bus symbol), or walking (the little walking symbol)

Hit "Go."

If you changed the location you are starting from it will probably give you a list of starting points to choose from. As long as you gave it a good description it should find your place. Select it.

Now it will give you turn by turn directions.
From A place you want to Type In
Select Menu < Directions

Type in the name, address, or a close description of where you want to go (say you know there is a good Greek restaurant around–you can just type in "Greek restaurant [city]" and it should find it).

If you want to get directions from a place other than your current location you can change that as well

Select whether you want walking, public transportation, or car.

It will now give you the "Did you mean" menus to make sure it gets the right place. If it doesn't, go back and try to be more specific, possibly searching for the place first.

Now the turn by turn directions will be displayed.
Once the turn by turn directions are displayed you can do a number of things
Display the Directions on the Map: Select Menu > Show on Map. This will show the directions on the map. You can select the little stars to have it display the direction that corresponds to it.
Once you've displayed the directions on the map you can either hit "back" or the little icon in the bottom left of the screen to head back to the list. You can also use the arrow keys to move from one direction point to another.
Reverse the Directions: Select Menu > Reverse. This will reverse the directions so you can get back to where you were before.
Also, notice that in the directions list it will give you a run down of both distances and time it should take for each part.
Feel Free to Play Around!
As you can see Google Maps Mobile is an incredibly versatile program that empowers your phone and can make your life significantly easier. Be sure to use the app and try searching for lots of different things. There features will continue to surprise you in their versatility and scope. One of my favorite things is that when you are moving it will register the direction you are going, which helps you orient yourself. And don't only use it while in the car but also while walking around a city. I recently used it while vacationing in New York City and found it invaluable for finding good restaurants and attractions, which I could see reviews for, easily call about hours (or just link to their website), and quickly find walking or subway directions.
I hope you have found this guide to google maps: driving directions, and walking directions mobile helpful! Have fun with this great application!