HTC HD2 Review: The HTC Windows Mobile Phone Has Completely Outdone The Competition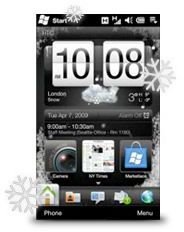 The HTC HD2 Windows Mobile Phone
If you have been looking for a new phone, then you've probably seen some of the awesome HTC phones that are on the market today. And, if you're looking for a smartphone that functions completely like your PC, then the HTC HD2 might just be the Windows Mobile phone for you. It doesn't really matter what you use it for - work or play - the HTC HD2 offers so much when it comes to a smartphone that you might start wondering how you lived without it! So, let's take a look at this HTC smartphone to see just where it shines and where it might use a bit of polish.
Tech Specs Of The HTC HD2
Of course, you'll want to know all of the technical goodies about the HTC HD2 right? Well, we'll go through them before we get into the main review - although not too in-depth, as these are all over the net and what you really want to know is how the phone works right?
Manufactured by: HTC Corporation
Carriers: O2, AT&T, Virgin Mobile, Orange, Vodafone, T-Mobile, and Telstra
Release Date: November 2009
Size: 120.5x67x11 mm or 4.74x2.64x0.43 inches
Weight: 157g or 5.54 oz
Screen: 4.3 inch LCD capacitive touchscreen with 480X800 px, 65k-color WVGA, backlit TFT LCD
Camera: 5 megapixel autofocus CMOS sensor, video up to 800X480 resolution
OS: Windows Mobile 6.5 Pro
CPU: 1 GHz Qualcomm Snapdragon, GPU: AMD z430 OpenGL ES 2.0
Memory: 512 MB internal flash, 576 MB RAM
Memory Card: Up to 32 GB
Networks: Quadband GSM/GPRS, EDGE, and dual band WCDMA, HSDPA, HSUPA
Battery: Rechargeable 1230mAh Li-ion battery
Also Known As: HTC T8585, HTC T9193 and HTC Leo
HTC HD2 Design
When I first got the HTC HD2, it actually surprised me at how light it is, even though it has a metal back to protect the battery. Of course, one of the first things that you notice is that massive screen the HTC HD2 carries - and how awesomely bright it is. Believe it or not, but this was actually my first touchscreen smartphone (yes, I'm slow in the electronics sometimes) and I instantly fell in love with this phone. There is SO much to it, that it's almost hard to know where to start. Let's start with all of the excellent features that you'll find on the HTC HD2 on the next page.
The HTC HD2 Features
The HTC HD2 was designed for complete touch control. You can pinch to zoom out of pictures, flick your finger across the screen to scroll through your menu, type responses to messages, emails, or anything else, either with a full keyboard or with Swype, and see everything right there in front of you on that large screen. Since it was designed for complete touch control, the interface is optimized for the large screen display and you can easily adjust the settings on the phone to create a custom phone that is perfect for you - and only you.
Wi-Fi access will never be a problem to you again. The HTC HD2 operates on a 3.5G cellular network and can easily be your new wireless access point, which means that you no longer have to roam around looking for one while on the go. You can use the Wi-Fi on the phone to upload documents, pictures, and more - or you can use it as a Wi-Fi access point for your laptop.
The 5 megapixel camera is amazing. Not only will it shoot super clear pictures and video, but it will allow you to really get some amazing pictures when you are far away. Indoors, outdoors, the dual LED flash is a superb addition to the camera on the phone and will give you the brightest pictures, even in the lowest light - and even complete dark! When you're ready to share your photos, everyone will be amazed at the "river flow" slide show of pictures that you can suddenly produce right from your phone.
The HTC HD2 offers an expansive home screen display that is basically a canvas that you can set to your needs. You customize everything about the phone, such as setting priorities for mail, messaging, calendar, browser, pictures, and more. Then, you can easily add shortcuts to the home screen so that you have your favorites right at your fingertips. Still want more personalization? The Windows Marketplace for Mobile offers tons of excellent apps that you can download to help you.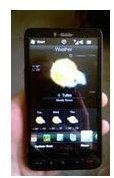 GPS sensors inside the HTC HD2 offer more than just Google Maps at your beck and call, it tunes in to your location and shows you the current time, date, and even weather automatically. When you travel, the phone will update no matter where you go. For those that always want to know the weather, the weather wallpaper will allow you to see what it's like outside before you ever open the door. From bright sun rays streaming across your phone, to rain and thunderstorms being wiped away with a windshield wiper blade to snow piling up at the bottom of your screen, the weather will never be a mystery to you any longer.
Communication is a major focus of the HTC HD2 and you will suddenly find that all of your social networking is at your fingertips on this phone. From Facebook to Twitter, email to messaging, you will find everything that you need to keep you in touch with your friends and social life. Plus, you'll find some excellent apps that you can download that will help you manage everything.
While it's hard to go through all of the features of the HTC HD2 without writing 20 pages, these are some of the best ones that I like. Of course, on top of this, the HTC HD2 allows you to sync with your PC so that you can share documents on the go. You can even access Word or other Microsoft Office documents with ease no matter where you are, so you'll never be without that presentation or that important document that you left at home. This is an awesome feature for anyone that is looking for a way to take their PC with them wherever they go. The HTC HD2 can easily make it happen without much effort at all.
And now, on to the review!
HTC HD2: Ease Of Use (5 out of 5)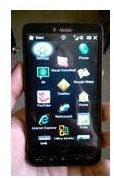 Being that this was my first touchscreen smartphone, I was a bit nervous that it would take me a while to learn to use it. Well, let me tell you - it didn't. The HTC HD2 is set up just like a Windows PC, so anyone familiar with that is already familiar with this Windows Mobile phone. Get lost in trying to find something on the phone? Hit the Start menu, flick your finger across the screen and scan through all of the icons. Even the settings for the HTC HD2 are set out to be extremely user friendly - even for a blonde like me. My husband and I both got the HTC HD2 on the same day, and he even was amazed at how easy it was to learn where everything was and use the phone. So as far as the ease of use goes on the HTC HD2, it gets a solid 5 out of 5 here.
HTC HD2: Applications (5 out of 5)
For those looking for applications to download onto their phone, the HTC HD2 has hundreds to choose from - many of them free. Just like the other HTC smart phones out there, you will find that there are literally so many applications that you can pick, that it will take you a while just to go through them all. From browsers to Facebook apps, games to GPS, book readers to virtual pets, presentation applications to stock applications, it's hard to sit and go through them all in one day. The HTC HD2 offers a ton of excellent applications and you can even choose your favorites, rate them all, preview them before you install them, see screenshots of the applications in motion, and get all the information that you need. Just like other touchscreen smart phones out there, the HTC HD2 offers these applications to help make your life easier on the go and you need to make sure that you take full advantage of them. Curious what types of free applications are out there for the HTC HD2? Make sure that you check out the article on the top free software for the HTC Touch Pro 2 here on Bright Hub to learn about some of them. Overall, the applications for the HTC HD2 Windows Mobile phone gets a 5 out of 5 yet again.
HTC HD2: Connectivity (5 out of 5)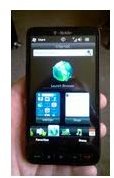 For most people using the HTC HD2, you might live in a larger town where you only experience some odd connectivity every now and then. For me however, I live out in the country, in a very small town in rural Oklahoma. This was a concern to me, as I don't want to spend a ton of money on a smartphone only to find that it doesn't work where I live. Now, some of this will depend on your carrier and their coverage, but how does the connectivity rate when it comes to the HTC HD2 smartphone when you're out and about?
I found that it doesn't matter where I am - at home, traveling, in the mall - the HTC HD2 smartphone connects almost instantly to the web, sending messages, Facebook, etc. Even out in the middle of nowhere, as long as I'm in my coverage area, I'm golden. And, we found out that even when we're out of our normal coverage area and hit that fun "roaming" time, the phone still connects in a pinch when you need the GPS or Google Maps. It's actually very impressive how the phone connects when you're traveling in the car as well - so you can even watch TV on the go! Overall, the connectivity of the HTC HD2 Windows Mobile phone gets yet another 5 out of 5.
HTC HD2: Overall Impression: (5 out of 5)
Now when it comes to the HTC HD2 in general, I have to say I'm in love. With the massive screen, the super clear graphics, and who can forget some of the awesome games the phone has (such as Need for Speed, with motion sensor controls), this phone is perfect for anyone wanting a touchscreen and the ability to do what their Windows PC does. When it comes to syncing the HTC HD2 to your Windows PC, it's super easy to do and you suddenly have access to everything you need on your computer. So, if you are looking for a Windows Mobile smartphone that can really do everything, I would recommend giving the HTC HD2 a try. You will find that everything about the HTC HD2 is extremely well put together and offers up just about anything that you could possible need in a cell phone… now if it could only cook…