Guide to the Greatest Google Apps For Android HTC Smartphones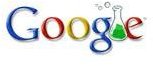 Google's Place in the Smart Phone Industry
It
seems like Google's got their hands in just about everything these days. They of course have the Google search engine itself, along with such things as Gmail, Google Maps, Google Ads, and so much more. For a company that began as a search engine in 1996, very few people would have predicted they'd be so successful that their very brand name would become a verb that is now a large part of the average person's daily vocabulary. Don't believe me? Just "google" it. This huge success has been due, in large part, to their apparent ability to consistently "build a better mousetrap." In fact, even the very search engine that started it all is proof of this. They innovated with an all-new form of search engine that was immensely more efficient than what their competitors were doing, and since then, they've continued to prove that they can be a serious competitor in any field they choose to enter.
Among the many fields they've entered is the smartphone industry. Dominated largely by the runaway success of Apple's iPhone hardware and it's iOS operating system, Google's entry of the Android OS operating system (and more recently, their Nexus One hardware, a phone developed by Google themselves in conjunction with HTC) is quickly gaining a lot of ground against their competitors, thanks in large part to the applications (or "apps") they're able to offer in their quickly growing Android Market store. This is partly because they are committed to providing an open platform for third party developers, but it doesn't hurt that Google also has an in-house software development team ("Google Labs") to provide some of their very own apps. Many of these are either available only for Android phones, or at the very least are unable to perform key features on other smartphones. In this article, I'm going to focus on some of the best examples of those exclusive or at least partially exclusive Android apps made by Google. In short, the following is five of the best reasons to purchase an Android, for anyone still on the fence.
1. Google Shopper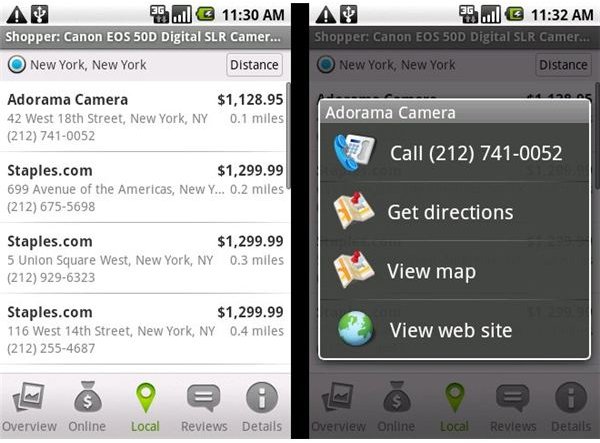 Google Shopper, powered by Google Product Search, allows you to find detailed information such as reviews, specs, and prices on all sorts of products. Search for the product you want to know more about, either by text or by voice, and Google will tell you everything it knows about that item, which you can then buy online right from the app, or by going to a nearby store to make your purchase, after using Google Shopper again to find the addresses and phone numbers of local businesses. Of course, once you get to the store, you're probably going to come across all sorts of other things you might be interested in. For something like a book or a CD, just point your phone at the cover art, and without even taking a photo, you can scan the image with Google Shopper to find all sorts of extra information, helping you to make an informed decision and either adding a great extra find to your shopping trip, or preventing you from making impulsive purchases you didn't need to make. And if it's not a product such as a book or CD that has cover art for you to scan, you can always just scan the bar code instead and let Google search based on that. Finally, you can add the search to a list of favorites so you can view it again later, or share it to your social networking sites to let everyone on Facebook or Twitter know what you're buying. (Or perhaps to subtly hint to them what you wouldn't be opposed to them buying for you. We all have birthdays.) Google Shopper is an excellent app to have whether you get excited about shopping or not, because going into the purchases you do need to make armed with a little extra information is never going to hurt.
Google Shopper is available exclusively for the Android OS.
2. Google Buzz
With the ability to let people know what's going on with you and to keep up to date with what's going on with them, the Google Buzz Android app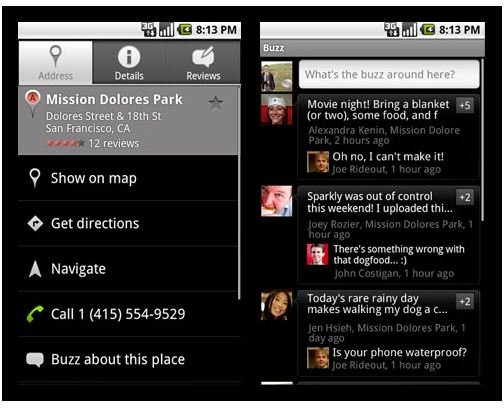 adds another tile to your social networking mosaic, and makes it easy to stay connected to your friends from wherever you are with the portability of your phone. And with the ability to tag your location and layers for Google Maps, you can see at a glance what's happening near you, no matter where you are. Your phone will provide you with updates pertaining to any location from your friends and information on local business and hot spots, including reviews, so you'll always feel connected. Buzz also comes equipped with posting shortcuts in the navigation bar and the ability to open the app by simply speaking "post buzz" (only available on iPhones and Android phones), so you'll never have to take more time than you absolutely have to out of your busy day to stay connected to all of that. There's also a widget for Android phones that makes it even easier to connect, allowing you to post and attach photos from your homescreen. Google Buzz is a great tool for social networking, making it easy to stay connected to everything around you even as you travel.
Google Buzz is available on many different types of phones, with different combinations of features available to different phones, but the Buzz widget specifically is available exclusively to Android users (running OS 1.6 or higher). Also worth noting for features not exclusive to the Android, the Google Maps layer requires OS 1.6 or higher on Android phones, and both the voice and navigation icon shortcuts require you to be running Android OS 2.0 or higher.
3. Google Maps with Navigation (Beta)
Google Maps for Android begins by providing all of the features available for Google Maps on the web. You can bring up a map of any area with directions and different viewing options, including satellite view and street view, allowing you to see actual images of the places you're viewing with the addresses imposed right on top. There are some pretty cool phone-specific features here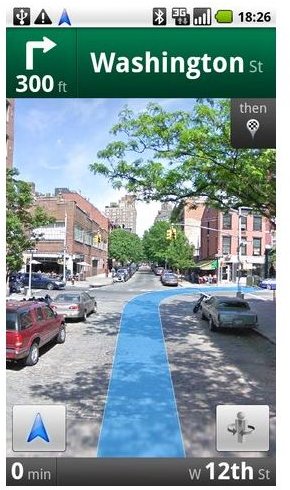 as well, especially if your phone has working GPS. Using that GPS, your phone will give you a pinpoint "you are here" blue dot for you to start from, and even if you don't have GPS, it can still approximate that location for you. You can use the Google Buzz layer to check out what's happening at that location, and since your phone already knows where you are, its as easy as typing in an endpoint to get driving directions, including real-time traffic updates so you can adjust those directions to avoid grid lock. It will even give you transit directions or a list of nearby bicycle routes, if you want to take a greener route and avoid driving. And for those people like me with a less-than perfect sense of direction, you can go one step further than a text-based list of driving directions, and use the beta "Navigation" feature to get turn-by-turn GPS directions. If you've got an Android phone with OS 2.0 or higher, you can place your phone in a car dock, and have it switch itself immediately into "car mode," jumping directly into Navigation and making it easier for you to search. Otherwise, bring up the app and find a safe place to set down your phone, and search for a location by typing or speaking, or save destinations to quickly select them later. And if you find reading a map difficult, you can switch the standard map-based view to have the GPS overlay your directions onto an easier to visualize Google Maps street view or satellite view. Whether you have a great sense of direction or not, with the sheer amount of assistance Google Maps can provide for you in telling you where you are, finding where you want to go, and helping you to get there, this is an extremely useful app for anyone to have on their phone.
Most features of Google Maps are available on other smartphones, but the Navigation beta is available exclusively for the Android OS.
4. Google Sky Map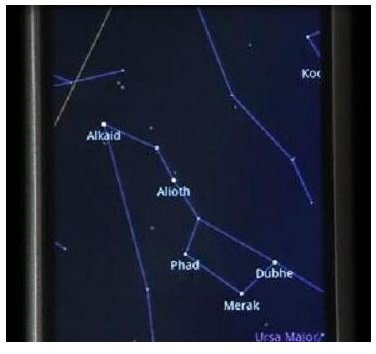 Google Maps lets you find out about locations on the ground, but download Google Sky Map from the Android market and suddenly you can learn more about the locations up above as well. Using your phone's time and date in addition to its GPS and compass data, you can learn more about the constellations in the night sky. Sky Map determines your location and gives you a detailed map of the sky above you wherever you are. You can manually scroll through it for information on specific areas of the sky, or if you want to know more about a specific star or constellation you can see, you can simply point your phone at the sky in that direction and let your phone's display bring up the information on it. Great for the casual stargazer, but what about a budding astronomer that wants to know more about something that's not directly above where he or she is? Sky Map allows you to open a search feature that will give you the location and information on any star or planet you type in, and with access to the Hubble Image Gallery, you can look for great photos and information to impress your friends with later. Sky Map is a great tool for casual observers and students alike, making it easy to locate and learn about any of the things in the night sky that many users would otherwise never know much about, or maybe even never be able to recognize and identify at all.
Google Sky Map is available exclusively for the Android OS.
5. Google Goggles
I've saved the best for last, and Google Goggles
, a Google app exclusive to the Android OS, is easily one of the coolest reasons to own an Android smartphone. Using your camera and a plethora of Google's resources, your phone can give you information on nearly anything you show it. Take a picture of just about anything and run it automatically through Google's search engine to see what information Google can return. This will help you to easily identify products you might be looking to buy, or to get quick information about various things such as famous landmarks, paintings and other images, or company information by taking a photo of a corporate logo. You can take a photo of someone's contact information on something like a business card, and Goggles will recognize that contact info and give you the option to call that person, or to add them to your phone's contact list with the click of a button. All the photos you take to search with can be saved to be viewed later or discarded once you're done with the search. And without even taking a picture, you can point your phone at buildings, and Google Goggles will overlay any Google Maps information it has such as the address, and for businesses, the name. Perhaps my favorite feature of the technology, you can quickly translate any text you snap a photo of. Just take a picture of text in a foreign language (Google Goggles can currently read English, French, Italian, German, and Spanish) and your phone will use Google Translate to translate it back into any of 17 languages. This is great for anyone who travels, helping you to get around in foreign countries, making it easier to shop for things, or even helping you to order food in a restaurant or buy tickets to a live show. Google Goggles is a fairly new technology, and Google does admit that it's in its infancy. This means that its accuracy will not be one hundred percent, and from time to time, you will have to try taking the photo a couple of times. There are also things it doesn't understand yet. You can't take a picture of your dog and have it return the breed, but searches like that are exactly the sort of thing Google sees in the future for this technology. (Specifically mentioned in their video as things Goggles can't do yet but that they want it to do in the future are the examples of taking a picture of a chess game in progress to have your phone suggest a move, or taking a picture of a leaf to have your phone tell you what plant it came from.)
Google Goggles is available exclusively for the Android OS 1.6 or higher, and you will also need a phone with a camera that has an auto-focus feature.
Plenty More Apps to Choose From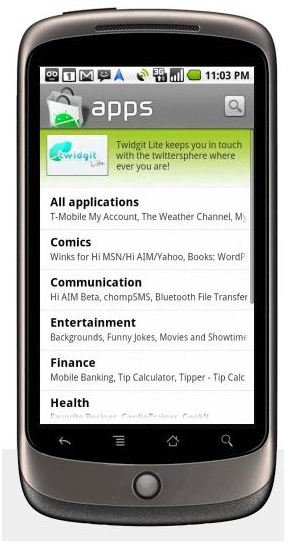 There are plenty of exclusive apps available for Android phones that make them worth owning, as well as plenty of non-exclusive apps that are still available for Androids along with other smartphones. In addition to those made by Google, there are even plenty of apps made by third parties available for download. In fact, because of Android's open-source platform, you'll find a much larger amount of third party apps for the Android than you will anywhere else, and if you're an app developer, you're going to find it easier and more accommodating to develop apps for Android than for almost any other device. Opening up the Android Market and making a quick search will reveal thousands of choices beyond what's just been detailed. This article only scratched the surface of some of the apps that are available, but if you're thinking about getting an Android, these five apps made by Google Labs for their own Android OS are essential downloads. And if you weren't thinking about getting an Android, they certainly constitute five good reasons to start considering one.