HTC Touch Themes Downloads
HTC Touch
The HTC Touch is an elegant touchscreen phone that has a large display. This generous screen size is perfect for customizing the theme to achieve a more visually stimulating experience. Here are 5 recommended HTC Touch themes that you can install on your phone to make it prettier.
Angelina Jolie Mobile Theme
What better way to make your user interface pretty than with the pretty face of a female celebrity? When it comes to beautiful female celebrities, you can't go wrong with Angelina Jolie. This theme prominently features a close up photo of the Hollywood superstar as the wallpaper. Pretty much every theme component makes way and complements the wallpaper, giving your HTC Touch a bold look.
HTC Touch 1 Theme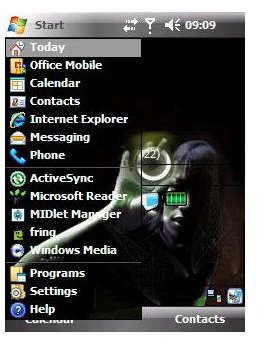 This theme is a basic but elegant dark theme for the HTC Touch. It may be simple, but the striking dark wallpaper gives this theme an edge. The sleek interface complements the dark background and highlights the buttons without taking the attention away from the wallpaper, while the light text makes it easier to read. Definitely one of the most elegant yet edgy HTC Touch themes available, the HTC Touch 1 theme takes the coolness factor of your phone to a higher level.
Waterfall Mobile Theme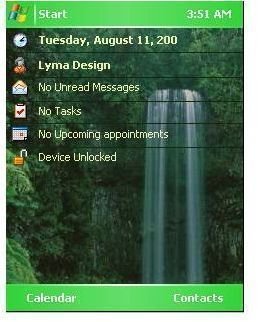 The serene colors and graphics of this theme are perfect for people who want their eyes to stay relaxed while browsing their phones. A photo of a beautiful waterfall is the centerpiece of this theme with green being the dominant color. The muted shade of green successfully gives the theme a mellow look and feel. The text harmoniously mixes with the colors and the wallpaper to achieve a look with continuity and consistency.
Dark Knight Wall Theme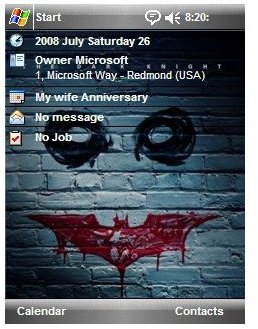 The Dark Knight Wall theme is based on the most recent Batman movie, The Dark Knight. The wallpaper is the centerpiece of the theme and it features a wall vandalized with two dark eyes and a bat symbol for a mouth. The vandalism resembles the visage of the Joker, the main villain of the movie. It's a dark image, giving the theme an overall feeling of chaos, anarchy and villainy. Fans of the movie will love the stark imagery that the theme features. The rest of the theme components follow the dark feel of the theme albeit with more shine and sleekness.
Mad Colours Mobile Theme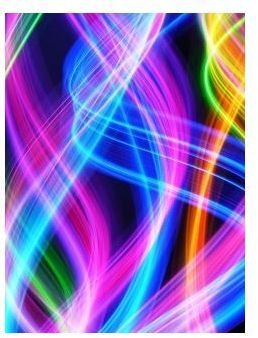 If you're looking for a vibrant theme that is not too loud, Mad Colours is right up your alley. The theme features a wallpaper with a black background and a lot of swirling colorful strands of light. A lot of colors fight for the attention of your eyes but it's all glued together by a black background. It keeps the sleek and elegant feel of the rest of the user interface components.
You may also want to fun to your HTC Touch with this list of HTC Touch Phone free games.