Choosing the Top HTC Trophy Apps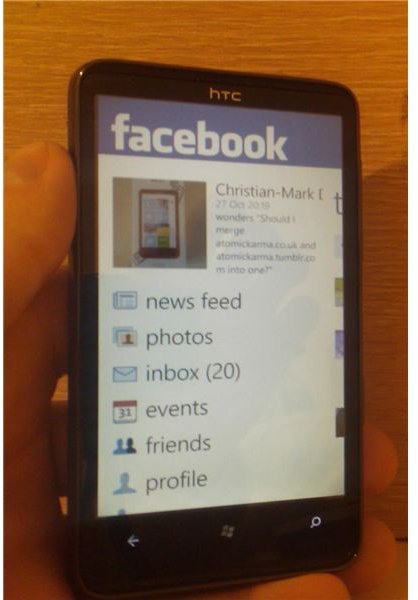 The HTC Trophy is one of the top-rated Windows Phone 7 devices from HTC, and sits alongside the HTC HD7, HTC Surround and HTC Mozart in supporting the new Microsoft mobile operating system.
With a wealth of apps available from the Windows Phone Marketplace, as well as a selection provided by HTC specifically for their own devices, there is plenty of software to choose from across a variety of categories.
For instance, you might be interested in gaming, and with Xbox LIVE integration this is an area where you will find a great selection of titles. Meanwhile there are apps for reading the news, editing photos, accessing cloud services, reading comics, keeping up with sport results, reading ebooks, shopping and selling online and even for making music!
While the Windows Phone platform is relatively new, the Marketplace has over 10,000 apps available that are all compatible with the HTC Trophy, so let's take a look at the 10 best apps that you should download today!
The following list of apps are all available free from the Windows Phone Marketplace.
Facebook
Your HTC Trophy is already wired to the world's biggest social network as part of the Windows Phone platform, but with the full Facebook app you can enjoy some of the extended features of the service. Easily browse friends' profiles and check your news feeds and Facebook inbox, or simply leave comments on your friends' statuses and links that they have posted. While there is no support for things like games, quizzes and other apps that you might find on the main Facebook website, you should still find that most of the networking tools from the service remain intact.
All of this is wrapped up in the stylish Metro user interface, so the Windows Phone Facebook app looks great and is really easy to use.
Ebay
Online shopping options for the HTC Trophy are limited at present, mainly due to different requirements in different territories, but one place where you should be able to find pretty much anything you need is the official eBay app.
One great advantage of this app is that it will run in the background and send updates to your Start screen when an auction is nearing completion or when a message is received!
Offering full access to messages in your eBay account, items that you are selling and those that you are watching, you can easily browse the entire eBay market for items matching the search description. This app is a great way to stay connected to any ongoing auctions that you are involved with and is really easy to use.
Adobe Reader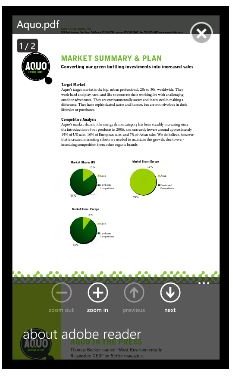 While your HTC Trophy is already equipped with Microsoft Office – ideal for reading Word documents, for instance – if you want to read a PDF document then you will need the free Adobe Reader app.
Easy to use and intuitive, it does exactly what you would expect, but with the additional advantage of looking pretty cool at the same time, thanks to the Windows Phone Metro UI.
Of course, the PDF format is used for all manner of documents from user guides and eBooks to comic strips and presentations, so this is a pretty vital app to have on your Windows Phone.
Xbox LIVE Extras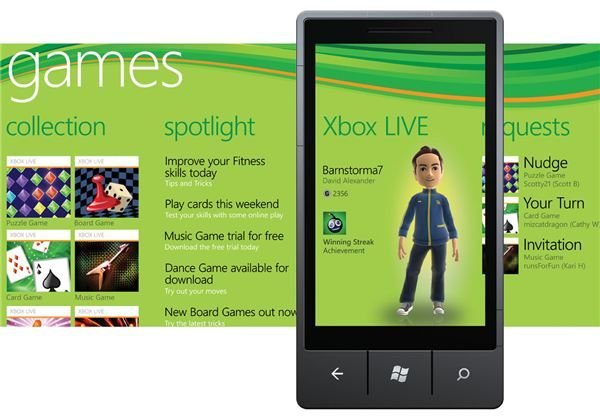 While there are no games in this list (the selection continues to grow at an impressive rate with titles from EA, Microsoft and others) if you have an Xbox LIVE account then this app is a great way to check your achievements and edit your avatar from your HTC Trophy.
Better still, if you have Xbox LIVE Gold membership, the HTC Trophy can access the only native messaging service for first generation Windows Phone devices in the shape of the Live Messenger for Xbox.
KickBox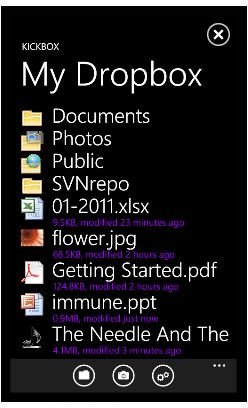 One of the main advantages of having a HTC Trophy is that the Windows Phone 7 platforms offers direct syncing with your Windows Live account – as long as the document you want to sync is in OneNote format. While this is set to change with the Mango release (full cloud syncing will be available to your free SkyDrive storage) there are alternatives, such as the KickBox app, a client for DropBox.
With a free DropBox account you can sign-in with KickBox and access any documents and files that you have uploaded from your PC and view them on your phone. While there is no facility to upload edited documents, KickBox still offers impressive additional functionality to your phone.
Kindle Reader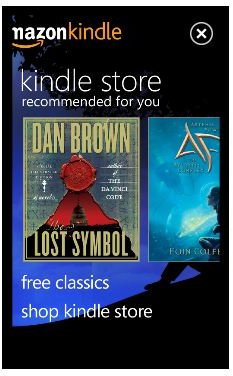 EBooks are becoming more and more popular, and whether your interest is in classic literature, spy novels, detective thrillers or non-fiction historical accounts or user guides, you will find that the Kindle Reader app is particularly useful.
Requiring an active Amazon account, this app allows you to read books wherever you are. Simply open the app, access the Amazon Kindle market and find a title to download, and the app will do the rest. Many classic titles are free, while recent releases can only be downloaded if an eBook option is available. The app offers a great reading experience, allowing you to turn pages by swiping the screen of your HTC Trophy, and it even remembers the page you're up to when you restart!
Evernote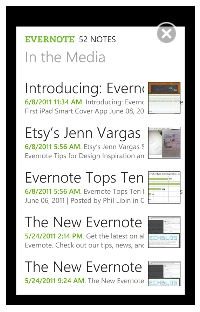 No mobile phone should be without a recording app. Everyone should take advantage of having so much storage space and a microphone in one easy to use device; an app like this can make life so much easier from providing a basic dictating machine for recording notes to recording ideas for songs or even creating notes with photos.
The idea of the Evernote app is that it acts like an extension of your brain, and the tools are provided to help you to remember and recall everything!
HTC Apps for the HTC Trophy
If you're the owner of an HTC Trophy, you're also able to access additional apps that are not available to users of Windows Phones from other manufacturers. The following apps are available via the HTC Hub, which will be available when you open the Marketplace hub on your phone.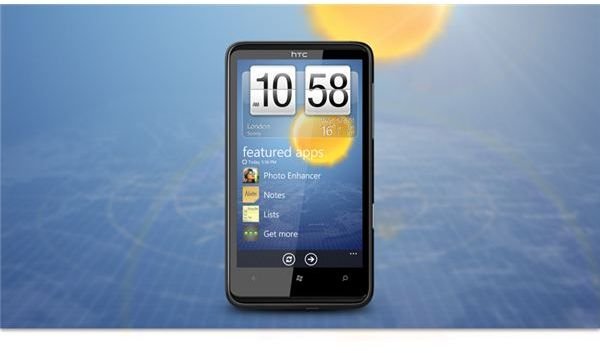 Sound Enhancer
An HTC Trophy phone comes with plenty of multimedia options, available via the Music & Videos hub, but you might not be entirely satisfied with the options. In this event you should install the Sound Enhancer tool, designed to offer additional audio options so that you can get the best out of the music you're listening to or the movie clips that you are enjoying.
Connection Setup
Anyone who regularly travels might like to take advantage of this free tool for HTC phones, which makes the task of configuring your phone for a new network when overseas extremely easy. Simply download and install the app, and when you're abroad simply use it to detect the regional settings so that you might be able to use the local telephony services. Of course, you should be aware that it may prove expensive to use mobile Internet connectivity while abroad.
Attentive Phone
Your final must have app for the HTC Trophy is Attentive Phone, a very clever app that helps you to control how your phone rings. For instance, you can use this app to have a louder ring when your phone is kept in a pocket, as well as activate speaker mode by flipping the phone over.
This app is made possible thanks to the various sensors that your HTC Trophy is equipped with, so take advantage of these very useful enhancements!
Ten Top Choices!
There you have it – ten top Windows Phone 7 apps for the superb HTC Trophy phone, covering phone utilities, reading, shopping, social networking and gaming.
As the platform expands, more and more top titles will no doubt be made available, but in the meantime, let us know if we have missed out any of your favorites!
References
Author's own experience.
All screenshots and references via the Windows Phone Marketplace.
Photos provided by author.