HTC Thunderbolt vs Droid Charge vs LG Revolution: What's the Best 4G LTE Phone?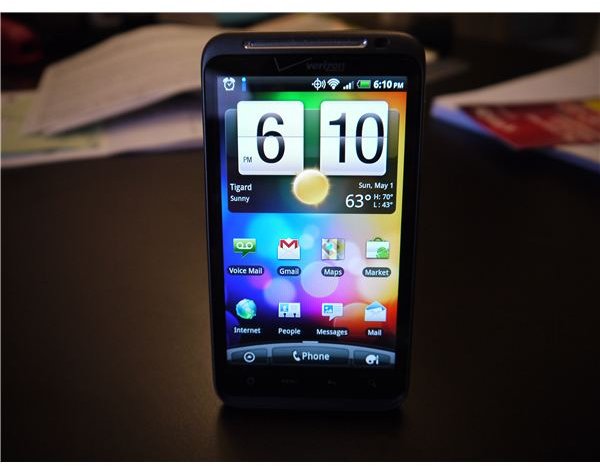 The Showdown
Verizon introduced 4G LTE in the United States with the release of the HTC Thunderbolt. Since then, the carrier has introduced two more 4G LTE phones, first the Samsung Droid Charge and then the LG Revolution.
If you're looking to buy a flagship phone on this network, and you want 4G, these are your options. But which phone is the best choice? Let's find out.
Design
All three of these phones boast 4.3 inch touch screens, which means they're all roughly the same size and all easily among the largest phones currently available on any carrier. These are the flagships, but that also means flagship class size and weight. The Samsung Droid Charge, at 5.04 ounces, is the lightest, while the other two are just over six ounces.
This difference in weight likely stems from the differences in design. Both the Thunderbolt and the Revolution are boxy but sturdy products made of thick matte plastics that seem equally capable of brushing off scratches and minor spills. The Droid Charge, by contrast, is made of a glossy plastic that feels thinner and more fragile. At first glance, this results in a more attractive exterior, as well as less heft. But let's be honest - it hardly matters, because all of these phones need to be placed in cases for their protection.
HTC's Thunderbolt offers a kick-stand, a unique design trait rarely found on smartphones. The large, sturdy metal stand will hold the phone in an upright position while you view media. While not everyone will find a use for this feature, it can be handy for people who like to watch media frequently, as you can simply place the Thunderbolt on a flat surface instead of holding it.
Winner: Thunderbolt. Why? It's sturdy, fairly attractive, and has a nice kick-stand. The Revolution is too blah and the Droid Charge too flashy.
Display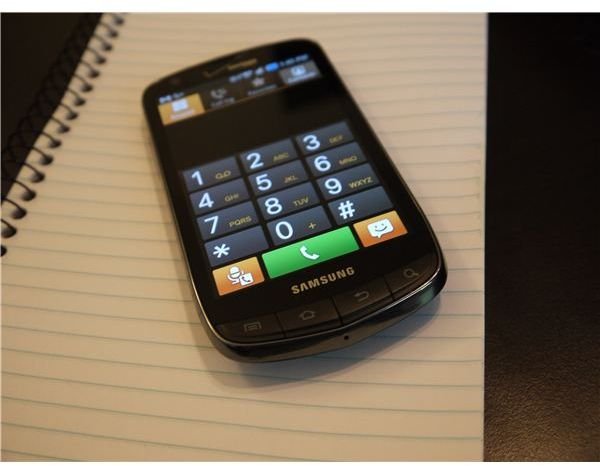 In addition to their single-core processors, all three of these phones share a trait that will soon be considered so last year - a 480 x 800 pixel display resolution. Formerly the cream of the crop, this resolution has now been trumped by a handful of phones with a resolution of 540 x 960 pixels.
Still, it's a great resolution that allows for a clear, crisp display. Both the Thunderbolt and the Revolution use similar Super-LCD displays that provide bright, brilliant colors. However, they also have difficulty rendering dark shades and require a coat of gloss, which can make reflections an issue.
Samsung's Droid Charge, on the other hand, uses a Super AMOLED display. It offer better image quality, particularly when viewing media like video and photos. In addition to this, it's easier to read in direct sunlight and uses less power.
Winner: Droid Charge. The S-AMOLED display is clearly superior to the competition.
Hardware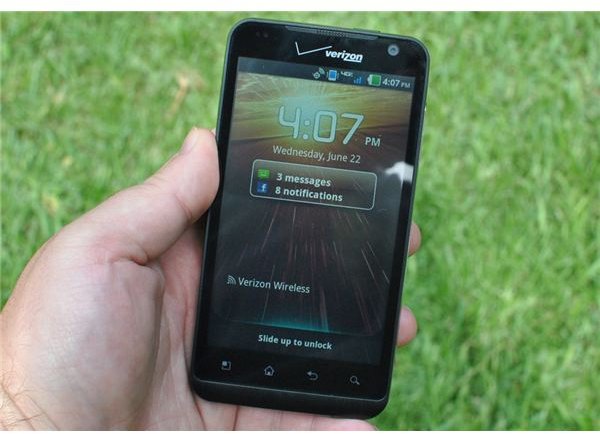 The Revolution and Thunderbolt may well be twins separated at birth. Both of these phones have identical Snapdragon processors running at 1 GHz. The Droid Charge, on the other hand, uses Samsung's Hummingbird, which is also clocked at 1 GHz.
You might expect similar performance due to the similar clock speeds, but that's not the case. Performance tests show that the Revolution and Thunderbolt are generally quicker than the Samsung Droid Charge, sometimes by a margin of 50% or more. This gap is noticeable in normal use. While all three phones are quick, there's a hint of lag in the Charge's interface. It's not terrible, but it is noticeable when compared to the other 4G LTE phones.
HTC's Thunderbolt wins when it comes to memory, as it ships with 768 MB of RAM in addition to 8 GB of internal storage and a pre-installed 32 GB MicroSD card. The Revolution and Droid Charge come with 512 MB of RAM. While the Revolution offers 16 GB of onboard storage and a MicroSD card expansion slot, it does not come with one installed. The Droid Charge comes with a 32 GB card but offers only 2 GB of onboard storage.
Winner: Thunderbolt. It's quick and offers a massive amount of storage.
Software
Android 2.2 is the operating system for all three of these phones, but that doesn't stop them from offering different interfaces. The Thunderbolt comes with HTC Sense, the Droid Charge comes with Samsung's TouchWiz, and the Revolution comes with LG's own custom UI.
User interfaces are always subject to a degree of personal preference, but of the three I think Sense is the clear winner. Both Sense and TouchWiz are mature, but of the two Sense has the stronger cohesive identity and feels more approriate for an Android device. Samsung has been famously sued for TouchWiz's similarities to Apple iOS, and while that dispute is not for me to judge, I must admit that there is a similar "feel" between the two. But the Droid Charge is supposed to be a Droid device - tough, get-it-done, down-to-earth. The cartoony TouchWiz icons look out of place.
Then we have the Revolution, which is skinned in an amaturish replication of Sense. In a way it may be prefered by some users because it isn't as intrusive, and this even seems to give the Revolution a tiny performance edge compared to the Thunderbolt. Another advantage to the Revolution is the inclusion of Netflix, although all three will eventually be supported by the service.
Winner: Thunderbolt. Sense UI is still the best custom interface for Android phones.
Battery Life
Battery is always an important concern with smartphones, but it's of particular concern for this trio. 4G LTE is known to suck down battery like a fat kid sucks down milkshakes. Throw in big, power-hungry 4.3 inch displays and you have the perfect storm.
The HTC Thunderbolt comes with a 1400mAh battery, the Revolution with 1500mAh, and the Charge with 1600mAh. Although this means the Thunderbolt has the smallest and the Revolution the largest, the margin of difference between them is so small as to be nearly inconsequential.
In practice, all three phones have terrible battery life. All three can last a full day if you use them lightly. A few short calls and less than thirty minutes of web usage, with push notifications on but GPS off, can result in substantial endurance. Sustained use of 4G LTE for accesing web content, however, can drain the battery in just a few hours.
Better endurance would be great, but for the time being it's not on the cards. If you don't like to use a car charger you may want to purchase a standard 3G phone like the Droid X2 instead.
Winner: Tie. There isn't really a winner here. All three are equally bad.
Verdict
It's time to conclude the HTC Thunderbolt vs. Samsung Droid Charge vs. LG Revolution battle. We've examined several critical aspects of these smartphones. Now, which comes out on top?
As it turns out, the best is also the first. HTC's Thunderbolt offers excellent performance, gobs of memory, excellent design and a mature user interface. It's also $249.99 with contract.
LG's Revolution is also $249.99 with contract, and it offers similar processor performance. However, the user interface is not as solid and there is less memory available. While the Netflix support is nice, it doesn't make up for the phone's flaws.
Finally we have the Droid Charge, which is priced at $299.99 with contract. Despite this, it feels the least durable. The Droid Charge is also seriously hampered by its lackluster performance and an iffy user interface. The only positive is the phone's outstanding display.
Winner: The Thunderbolt. HTC knows how to do 4.3 inch phones, and the Thunderbolt is one of the company's best. Its only disadvantage - battery life - is one generally shared by all 4G LTE phones. This device will remain the 4G king at least until Motorola's Droid Bionic shows up later this year.
References