Apps to Print from HTC Evo 4G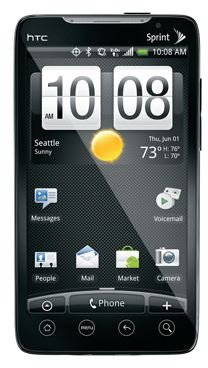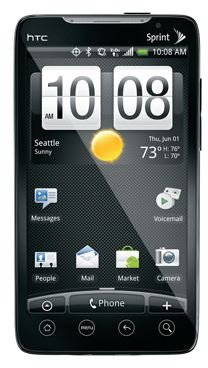 Whether you need to print within the privacy of your own home or publicly for business purposes, there are three great apps to download for those purposes. From printing pictures taken with your HTC EVO 4G to a PowerPoint presentation needed for a business meeting while you're on the go, printing any document type can be accomplished with these apps!
Cloud Print BETA
Print documents, images, text messages, email and contacts from the HTC EVO with Cloud Print Beta. Simply configure your Windows, Mac or Linux computer to begin printing by following the "Getting Started with Google Cloud Print" instructions (see References).
A Gmail account must be created along with downloading Google Chrome to your computer. Once your PC and printer are configured, follow the steps below to print from HTC EVO.
Instructions to Print
Click on the Market and download "Cloud Print BETA" to your phone. An icon labeled "Cloud Print BETA" will be displayed on the screen with the rest of the applications once it has successfully downloaded.
Add a printer to your "Google Cloud Print" account. You may add a classic printer or a 'cloud ready' printer. As mentioned, these instructions are in "Getting Started with Google Cloud Print" (see References).
Click the "Cloud Print BETA" app on your device and follow the prompts to select the Google account to use. Approve the permissions to gain access and select the printer from the list of printers to begin printing from your Android device.
Choose the file type to print and follow the prompts to print the selected file.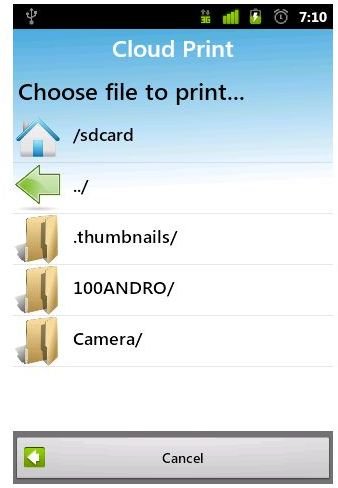 HP ePrint Service
HP ePrint Service is great for working professionals on the go as it allows you to use GPS on the Android to search for public printing locations to print from. Print to thousands of Fed-Ex locations and other locations that support PrinterOn® using a release code to gain access to your document given to you to retrieve your print job.
Instructions to Print
Click on the Market app on your Android and type in "HP ePrint service" to download the app to your phone to print from HTC EVO. An icon "HP ePrint service" will display on the screen amongst your other apps.
Click on the "HP ePrint service" and agree to the terms and conditions to use the app. A 'request for activation' will populate to allow for public printing. Follow the prompts and select "Go" to have a code sent to your email address. Sign in to your email account, and follow the instructions to use the "HP ePrint service" for public printers.
Select the file type to print and click "Next." The Android device will search for public printers to print near your location. Choose the printer within your location to print from.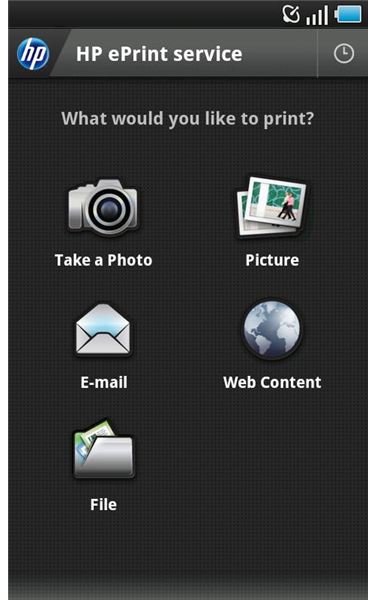 Select "Print" to obtain a release code. The document will be held at the printing location until your release code is entered for your privacy.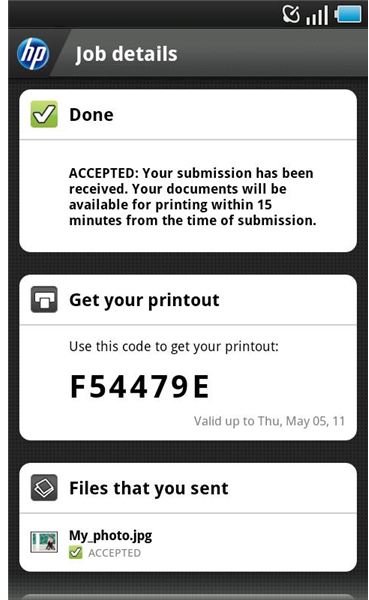 Visit the printing location and provide the release code to print and retrieve the document.
HP iPrint Photo
With HP iPrint Photo, printing PDF Files and photos can be accomplished in just a few steps. Print PDF files stored on your HTC EVO 4G, photos that have been taken with your device or photos saved in the gallery. HP iPrint Photo searches for and discovers HP Wi-Fi enabled printers allowing you to not only print from the HTC EVO itself but from a Gmail account as well; just tap the preview button in the Gmail application to print using HP iPrint Photo. To view a list of supported HP printers see the References section below for a link.
Since the HTC EVO 4G operates on Android software 2.1, using this app may take up a significant amount of memory, however, the ability to move part of the app to the SD card is a possibility to free up space to print from your HTC EVO. Once the app is downloaded to your device, this option will populate on the screen to move memory. Secondly, HP iPrint Photo works solely on a Wi-Fi connection and one must be established prior to printing. If using a Windows operating system, download Bonjour software to set up a wireless printer without installing drivers or having to deal with network configurations (see References section below for link).
Getting Started
Download the HP iPrint Photo app to your Android device from the Android Market. Once downloaded, two apps will appear titled "HP iPrint Photo" and "HP iPrint." "HP iPrint Photo" is to print photos and "HP iPrint" is to print PDF files.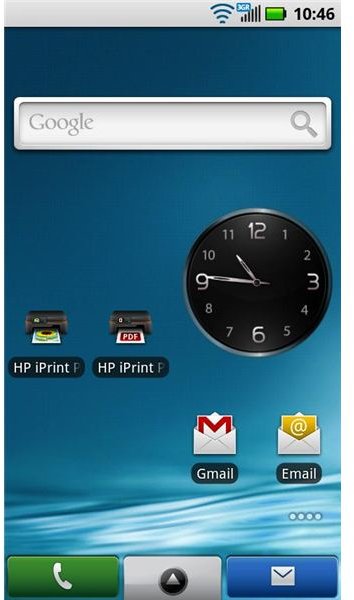 Turn the HP Wi-Fi enabled printer on and ensure that it's in discoverable mode. This ensures your print jobs from the HTC EVO 4G will be executed successfully.
Print a PDF File
Tap the "HP iPrint" icon to print a PDF on the HTC EVO 4G and select the file to print. Select "Print." If the settings need to be adjusted, tap the drop down icon to customize the print project prior to printing.
Select the printer to print from and then press back. Since a Wi-Fi connection needs to be established in order to print a box will populate titled "Wi-Fi settings." Here you can turn the Wi-Fi signal on to search for available printers to print to.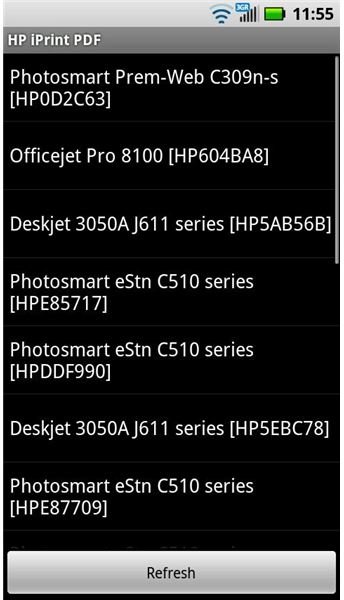 Tap Print to print the PDF file.
Print a Photo
Tap the "HP iPrint Photo" icon on the HTC EVO 4G to print a photo from the phone's gallery or tap the camera icon within the app to take a picture to print.
Tap the selected photo to edit it and select the drop down icon to change the printer settings if necessary.
Tap "Print" to select the printer and to print your photo.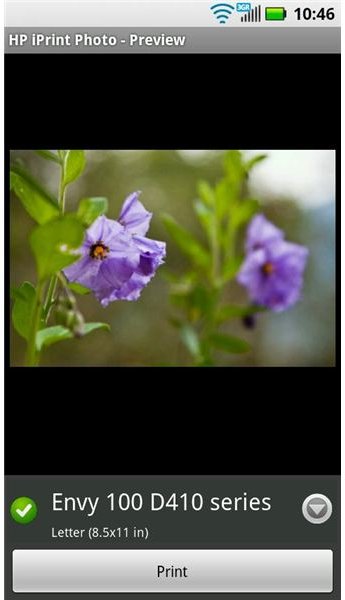 Voila you're done.
You may also be interested in reading about the best HTC EVO office apps you can download.
References
All images remain copyright of the respective developers.