Get the Most from Your Smartphone with the Top Ten HTC Inspire Apps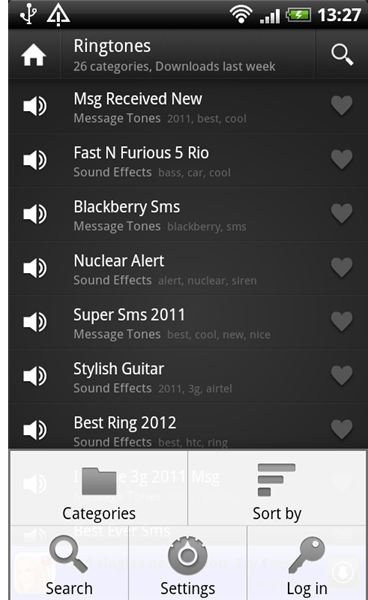 There are over 200,000 apps and games on offer in the Android Market. They cover all kinds of functions and cater for all sorts of interests, so anyone with an Android smartphone is spoilt for choice. In this article we're going to take a look at the best applications for HTC Inspire 4G owners. This Android phone is available from AT&T and it boasts some great specs including a 4.3 inch touchscreen, an 8 MP camera and 4 GB of internal memory.
Zedge Ringtones and Wallpapers
One of the first things you'll want to do with your new HTC Inspire is to personalize it. This app from Zedge ties in to their comprehensive website to bring you millions of wallpaper and ringtone options. The app is easy to use and you search for specific things, you can filter your search results to see what's popular with other users or you can select categories using a simple check box system (press Menu to access these options when you are in the app). You will need to be online to access the content and Wi-Fi is advisable if you are going to be downloading content.
Aldiko Book Reader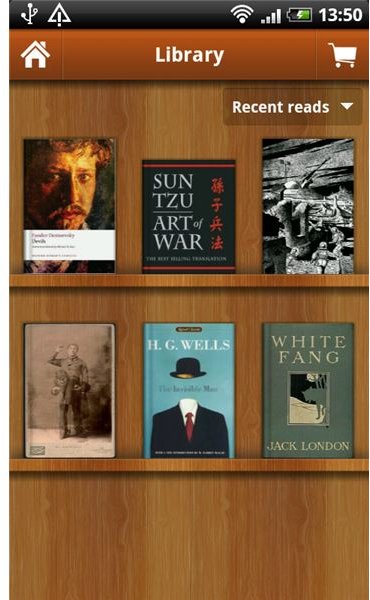 The Inspire has a 4.3 inch touchscreen and so it offers a pretty decent reading experience if you're stuck somewhere without a book. There are a lot of reader apps in the Android Market but the free version of Aldiko is great. It offers a simple, easy to use interface and it functions well. There's a huge library of e-books to browse and an excellent line up of free classics to work your way through. You can customize the look, set bookmarks and search the text. Naturally it remembers where you left off when you close the app. Simple and effective – this is all you really need from a reader app.
TuneIn Radio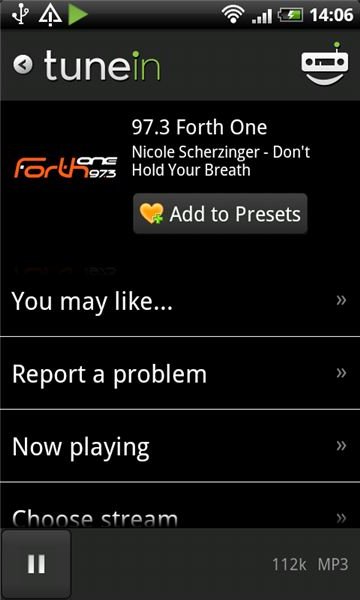 You'll find a fantastic choice of thousands of radio stations and podcasts through the TuneIn app. You can search for specific stations, search for local radio stations or choose by category. It is very easy to use and quick to stream your chosen station via Wi-Fi. You can also back out of the app and leave the radio playing. The controls can be accessed via the notification bar at the top of your home screen. You may find it is a bit of a battery drain and it requires Wi-Fi but overall this is an awesome application for your HTC Inspire.
Cardio Trainer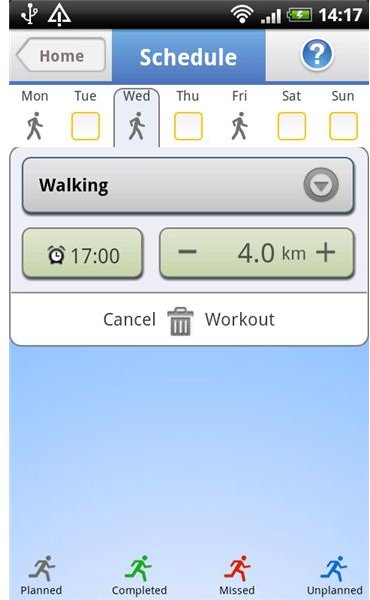 If you like to work out or you have weight loss targets then your HTC Inspire can help. The fitness section of the Android Market is well populated but Cardio Trainer is one of the top free picks. It uses the GPS feature on your phone to track your route. Whether you are cycling, running or just walking you can record the route and find out how many calories you are burning off. You can set up a schedule for the week and the app will remind you when your workout is due and record your progress. It can even track indoor exercise and it has an integrated music player. For anyone serious about training this is a must-have.
DocumentsToGo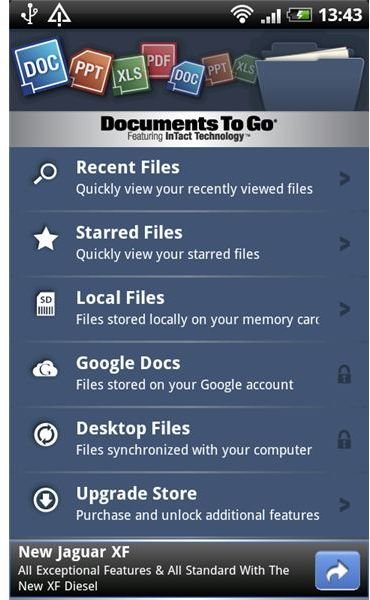 This is still the leading app for anyone that wants to work with documents on their smartphone and it is available for all the major platforms. You can view Microsoft Word and Excel documents with the free version, but if you want to be able edit them you'll need to upgrade. The full version also allows you to edit PowerPoint files, view high definition PDFs and they recently added integration with Google Docs. It is easy to use and remains the best option for business professionals requiring document access and editing capability on the go.
FxCamera
There are plenty of photography apps for Android, but FxCamera is a free option that really stands out from the crowd. It has a stylish and easy to navigate user interface and it allows you to take photos with various effects. The results are excellent, as you can see from this Polaroid style shot (the effect is called Polandroid). The other effects are ToyCam, Fisheye, SymmetriCam, Warhol and Normal. The normal option offers color filters and other effects like posterize. If you are into photography then Retro Camera is another app worth checking out.
Gmote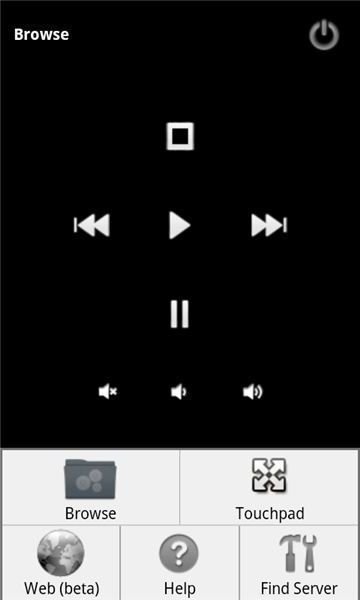 This is a smart app that allows you to use your Android smartphone as a remote control for your PC. It is quick and easy to set up and you can browse and launch music or movies from your phone, ideal for an HTPC. You can also use it to control presentations and browse the web. As an added bonus it offers the ability to stream music from your PC to your phone. It has a very basic user interface but it works well. If you don't like it then another remote mouse and keyboard app that's worth checking out is RemoteDroid.
ShopSavvy Barcode Scanner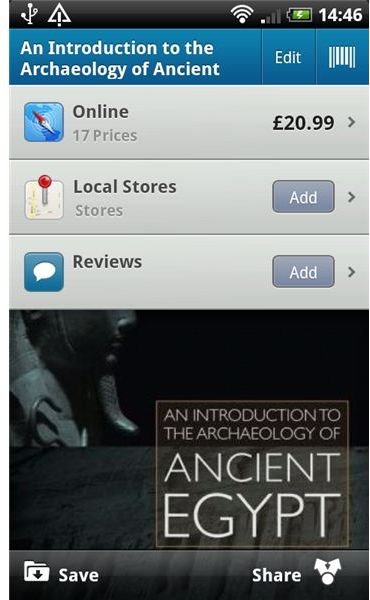 Everyone likes to save money and find a bargain. Well ShopSavvy Barcode Scanner can help you to do that. Simply scan the barcode of any product that you like the look of and the app will find the cheapest prices. It can show you online sources and even local shops on a map to help you navigate there. The information is more complete in some places than others, but before you buy anything why not give it a try and see if you can make a saving?
ScoreMobile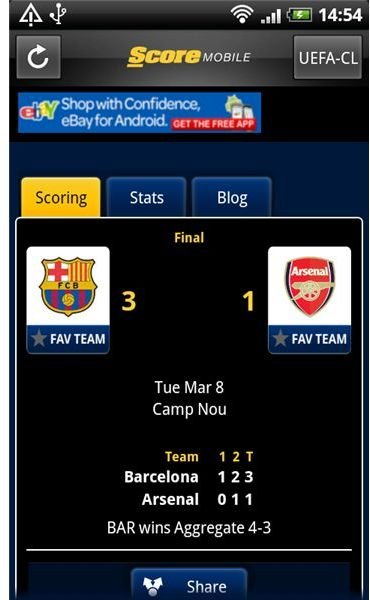 If you are a sports fan and you want to keep up with the latest fixtures and results then ScoreMobile is a great free app to install. It covers a wide range of sports including American football, basketball, hockey, baseball, golf, soccer, mixed martial arts, tennis, NASCAR, Formula 1 and cricket. You can find out all the latest scores, get match reports and check out the upcoming fixtures. It is simple and basic but it allows you to access the information you want quickly and easily.
Tango Voice & Video Calls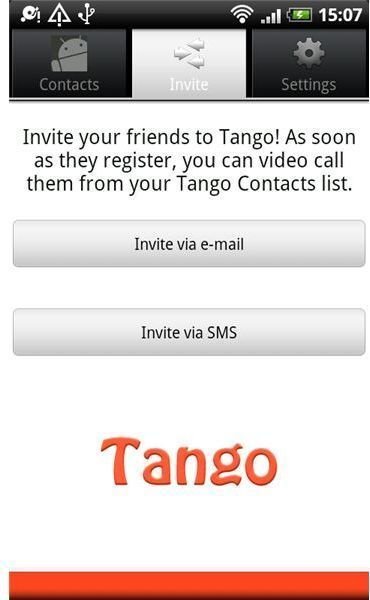 We'll finish off our round up of the top ten HTC Inspire apps with Tango. There is no front facing camera on the HTC Inspire, which is a shame, but you might still consider using Tango for free phone calls and video calls to contacts that also have Tango installed. It works over 3G, 4G and Wi-Fi and across platforms. It is a great money saver for overseas calls especially. It's really easy to use, it automatically identifies contacts and you can invite people to use the app.
References