Buying Guide: Top HTC Android Phones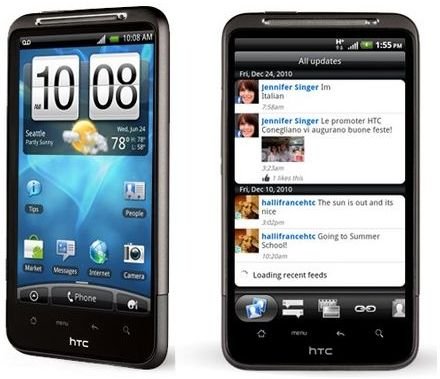 The Rise of HTC
If you were to travel back in time and ask folks about HTC in 2005, most people would assume you were asking for drugs or quizzing them about a serious genetic disorder.
Today, HTC makes a full range of Android phones. But you don't need to buy a full range of HTC Android phones - you just need to buy one. So let's take a look at the best devices the company currently offers.
This buying guide covers North American carriers only.
Best HTC Android Phone on AT&T: Inspire 4G
AT&T is a gigantic wireless provider, but their commitment to the iPhone seems to have made the company bashful about introducing Android handsets. It's only within the past year that AT&T has acquired Android phones worthy of serious attention.
The current HTC flagship on AT&T is the Inspire 4G, a typical 4.3" HTC Android phone. It's big, it's a bit heavy, and it has a display resolution of 480x800. The 1Ghz Snapdragon processor inside of it no longer qualifies as cutting edge technology, but is on par with the competition. The Inspire 4G also has a beefy 768MB of RAM, 4GBs of internal long-term storage and an 8GB SD card for additional storage.
Motorola's Atrix beats the Inspire 4G at most every turn. It has a dual-core processor, more RAM and more internal memory. However, the Inspire 4G is just $99 with a 2-year agreement, half the price of the Atrix.
Best HTC Android Phone on Sprint: Evo 4G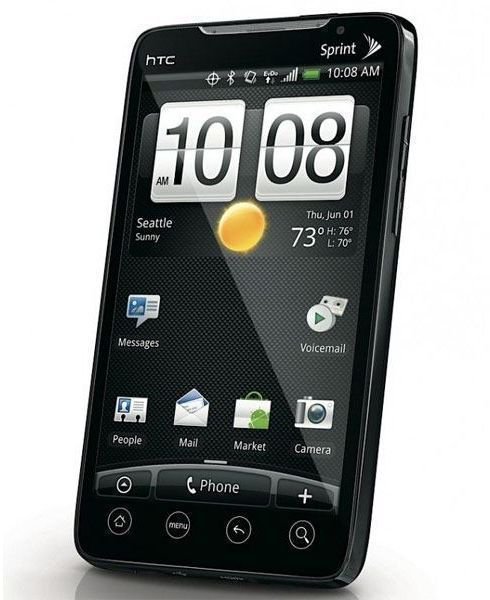 The Evo 4G was, until recently, considered by many to be the best phone HTC made regardless of operating system. That's for good reason. This 4.3" phone offers everything you could want including a 1GHz Snapdragon processor with 512MB of RAM. In addition, the Evo 4G comes with an 8GB SD card, which means you'll have a fair amount of room for media files like videos and songs.
Specifications aside, the Evo 4G is simply a solid smartphone. It has a cohesive, mostly black finish that is pleasing to the eye and also pleasing to the touch. In addition, the Evo has been updated since its release to use the latest version of HTC Sense. For some users, this may be important.
Although very nice, the Evo 4G is a bit pricey (considering its age) at $199 on-contract. Sprint users might want to wait for the upcoming HTC Evo 3D, which will have a dual-core Snapdragon processor and display resolution of 540x960.
Best HTC Android Phone on T-Mobile: Nada!
When HTC created the first Android phone in 2008, it was marketed in the United States as the T-Mobile G1 (most other countries called it the HTC Dream). Surprisingly, this doesn't appear to have any impact on the current state of HTC phones on T-Mobile, as there aren't any available.
However, it's been announced that T-Mobile will be receiving the HTC Sensation (known as the Pyramid prior to its offical unveiling) this summer. In most respects the Sensation will be similar to the EVO 3D. It will have a dual-core Snapdragon processor, a display resolution of 540x960 and even a 32GB SD card. Pricing is not announced, but it will likely be north of $200.
Best HTC Android Phone on Verizon: Thunderbolt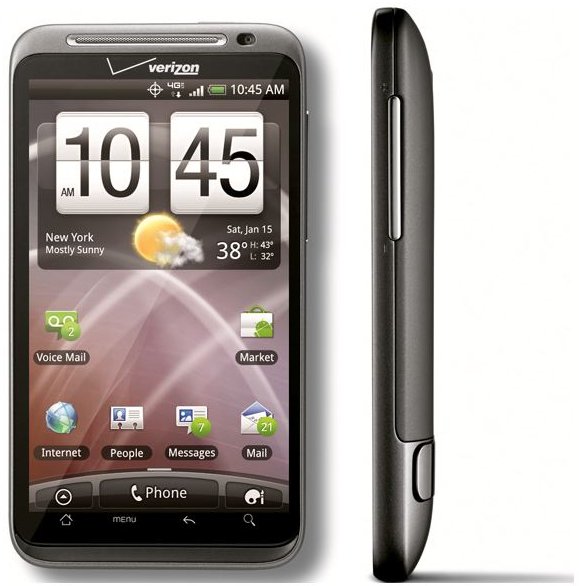 Although not the first major carrier in North America to embrace Android, Verizon quickly shifted their strategy to Android when it became apparent they needed an iPhone competitor. Even now, with the iPhone available on Verizon, Android seem to be Verizon's centerpiece.
The best phone on this network should therefore come as no surprise - it's the Thunderbolt. The first 4G LTE phone ever, the Thunderbolt's claim to fame is insane network speeds. Some owners have reported downloads of 15 Mbps and uploads of 5 Mbps, and in rare cases higher speeds have been recorded. Most Americans don't have access to faster Internet from their cable, DSL or FiOS provider.
Otherwise, the Thunderbolt is an evolution of previous HTC 4.3" phones. Most of the specifications are the same as the HTC Evo 4G, although the single-core Snapdragon processor is a newer generation. The Thunderbolt also comes with a whopping 32GB SD card. Media fiends will love the extra storage.
The Thunderbolt is $250 with a two-year contract.
References