Top 4 HTC Droid Incredible Music Apps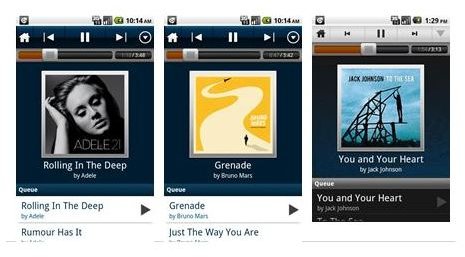 Rhapsody (5 out of 5)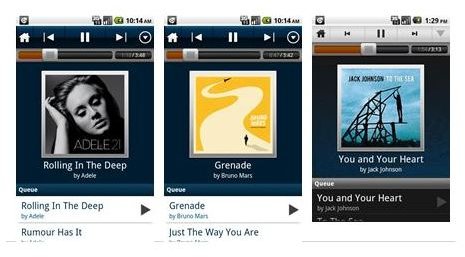 Rhapsody International offers up this HTC Droid Incredible music app for operating systems 1.6 and up. Now in version 2.0.4.124 with a file size of 1.3 MB, this app offers users access to over 11 million songs—if you subscribe to the Rhapsody online music subscription for only $10 a month (there's a 14-day free trial).
A cool feature of this app is you can create playlists from the Rhapsody website and once downloaded to your phone, if you find yourself in an area with no service or connectivity—no problem—your playlist will still come through in clear, quality sound. Think saving battery life here instead of the battery-hungry streaming options. The app can hold up to one million song titles.
Along with creating your own playlists, you can browse music by genre or check the charts to see what's hot and perform unique searches for artists you love. Your subscription to the Rhapsody online service also allows you to listen to Rhapsody Radio through this app—radio streams do require Internet connectivity.
If you're not great at creating your own playlists and transferring them to your HTC Droid Incredible, this app is easy to use, making the price of the Rhapsody subscription worth it.
Top 100 Love Songs and Other Top 100 Music Apps (4 out of 5)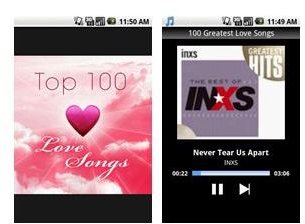 Got a date coming over but no Johnny Mathis to play? No problem with this music app for the HTC Incredible. nuTsie offers up this app now in version 1.1.3 with a file size of 344k; requires OS of 1.5 and up. This Droid Incredible app does indeed offer up popular titles in this genre for only $1.99.
A fair price for the romantic, but limited to only the 100 songs available within the app itself. Much like this app from nuTsie a quick trip to the Android Market and you'll find other top 100 picks HTC Droid Incredible music apps in different categories like country, top songs by year, top 1980s and even hip hop—most of these top 100 apps are around the two dollar range.
Simply go to the Android Market and type in top 100 music apps in the search bar to find a variety of selections.
doubleTwist Player (4 out of 5)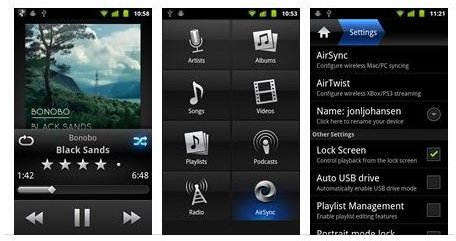 If you've got an iTunes account—even on your PC, the doubleTwist Player music app offers up a lot—and it's free. According to the app maker, Newsweek voted this a top ten Android app for 2011. Now in version 1.3.4 with a file size of 6.3M, this app works on Android OS systems 1.6 or higher—a cool music app for your HTC Droid Incredible.
This app allows you to find and sync all music (and videos) on your Droid Incredible and also offers a rating tool so you can keep track of the songs you love most. If you are interested in unleashing the full power of this app then check out our doubleTwist guide.
For those of you wanting to access your home wireless network, try the doubleTwist AirSync app for only $4.99.
doubleTwist Player [Download Link]
doubleTwist AirSync [Download Link]
Pandora Radio (4 out of 5)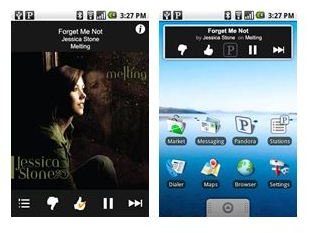 The final entry in our HTC Droid Incredible music apps round up is Pandora Radio. This app is free and is now in version 1.5.5 with a file size of 1.4M (OS 1.5 or higher). This is a free app that only works if you are a free registered customer of Pandora Music. If you are a registered user of Pandora Music you already know you can create playlists via song genre, title or artist and the app allows you to connect with your account to stream music on your Droid.
Although this is a great free app and Pandora Music is free to join, you'll only get a song or two from a favorite artist's album. On the Pandora website you can "buy" the album via your iTunes account or Amazon as an MPD or get the CD.
If you like music from classical to jazz to hip-hop, it's a great way to build a streaming song collection, but If you want the entire album, you'll have to pay for that.
Need some top HTC Droid Incredible accessories? Bright Hub has a list of those too!
References
Music app information and screenshots courtesy of the Android Market, https://market.android.com/apps/