Windows Mobile 7 Market Place Locks Up My HTC Phone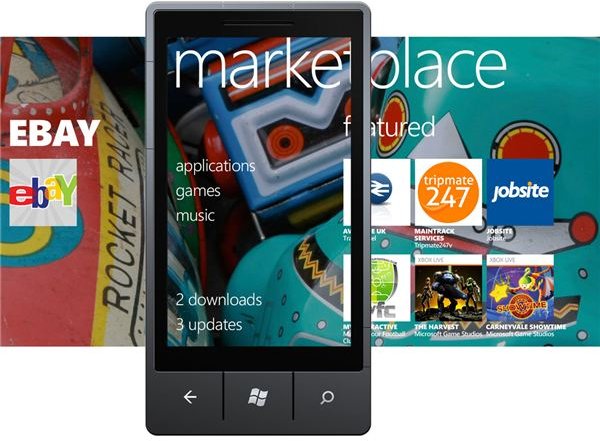 Problems with the Zune Marketplace on Your HTC Windows Phone?
Some Windows Phone 7 models have a bit of a problem with some system applications, and one of the main examples is the problem that HTC phones have with the Windows Phone 7 Zune Marketplace.
Occasionally the Marketplace can lock up, leaving you with a frozen phone that you need to reset. At other times you may simply be booted out to the Start screen, and this might be resolved by simply trying again.
Clearly this is a bit of a problem for those that have encountered it, but luckily there are ways to circumvent the issue and enjoy trouble-free access to the Zune Marketplace once again!
The Scenario You Might Be Experiencing
If you have yet to encounter this problem, the chances are you have a brand new HTC Windows Phone with the March update (NoDo) installed (more on that later).
The fault manifests itself when you go to browse the Marketplace Hub on your Windows Phone. The hub will probably open up as normal, and you might be browsing through categories or running searches for a few minutes before all of a sudden the Marketplace freezes.
This can have two effects. Either you will be thrown back to the Start screen, where you can then attempt to try again, or the Windows Phone 7 Marketplace will lock up your HTC phone leaving you unable to do anything.
Note that this fault does not affect any other brand, only HTC Windows Phone 7 devices.
Image credit: Windows Phone Newsroom, https://www.microsoft.com/presspass/presskits/windowsphone/imageGallery.aspx
The Windows Phone 7 Marketplace Locks Up My HTC Phone – What Do I Do?
Probably the most frustrating aspect of Windows Phone 7 is the fact that the Marketplace isn't 100% reliable. This can be down to various factors, such as other software you have running affecting the memory use of your device, low battery or a poor network connection to the service.
The best way to resolve the problem is to restart your Windows Phone 7 device and try again. If you notice that your phone battery is under 50%, plug the device in to recharge, and if possible continue your Marketplace browsing via the Zune client on a PC or laptop.
While this fix isn't perfect, it is one of the faults that is being dealt with in the Windows Phone 7 NoDo update released in March 2011.
NoDo Update
Issued as a means to update some features of Windows Phone 7 and fix some of the bugs that the platform has, the NoDo update speeds up the launching of various apps and services, such as the Windows Phone Marketplace Hub.
Available free to users, the update can be found by plugging your Windows Phone 7 handset into a PC running the Zune client software. It may take a while to find the update but you should leave your handset plugged in while you wait for the update to download and install.
Along with providing a fix for this fault the NoDo update also adds cut and paste support, greater Office integration with the Windows Live SkyDrive cloud service and improves the general user experience.
References
Source: Author's own experience.