Guide to Finding and Changing Your HTC EVO 4G Wallpaper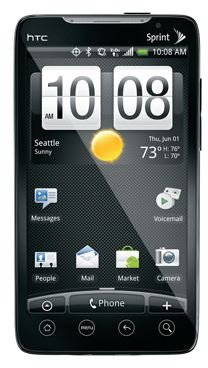 How To Set an HTC EVO 4G Wallpaper
Setting a new wallpaper on your HTC EVO 4G is one of the simplest things to do with the phone. Click on the menu button first, and one of the options that appears will be "wallpaper." Tap that next, and you'll be given a list of images to select from. Tap the image you want to set as your wallpaper, and you're done. The HTC EVO 4G also allows its users to set "live wallpapers," instead of still images. There are plenty of live wallpapers available in the marketplace if you'd rather see some movement instead of a static image.
Taking and Using Your Own Images
If you decide to just use an image as your HTC EVO 4G wallpaper, you're going to need an image to set. One way to get some good images is to simply take them yourself. Open the camera program by tapping on its icon, either from the home screen, or by tapping the arrow in the bottom-left, which brings up all programs, and opening the camera from there. Point the camera and press the trackball to take a picture. You can also zoom in or out by swiping your fingers up or down on the screen. If you want to take a photo of yourself, you can swap to the front camera by tapping settings, and then choosing "swap camera" from the "settings gear" selection. After you've taken a picture you like, you can view it in the Gallery, which is also in your programs, and once you're satisfied, you can set it as your wallpaper.
Websites To Download Wallpapers
If you'd rather download images, there are some places online that you can find some images to use. PhoneDownload.org has some great free wallpapers for download, though their site is unpolished at best and can be a little hard to navigate. Zedge has some of the best wallpapers available to download for your phone. It is available as a free app as well, but if you prefer to browse things on your desktop, their website is really easy to navigate and it offers some excellent options.
Apps To Download Wallpapers
Firstly, if you're interested in the live wallpapers, you can find a plethora of them available for download as apps from the marketplace. Type "live wallpaper" into the search bar and see what comes up. You'll definitely find something you like. One of the coolest options I've found for live wallpapers, though, is the ability to set a website, using either your data or your Wi-Fi connection, as your wallpaper so that your wallpaper changes with the site. You can even set a cam feed if you like. Download WebLiveWallpaper from the marketplace to use this app. Keep in mind, this app is currently in beta, so they're still working out some kinks.
If you're looking for an app that collects wallpapers, however, your best option is going to be Zedge again, which I mentioned in the websites. They actually do a lot more than just wallpapers, too. They have games, and ringtones, and all sorts of things, all in one free app. You can search "Zedge" in the marketplace, or you can pull out your phone right now and scan the QR code I've posted on the left to download the app.
References
Information and Image Sources: