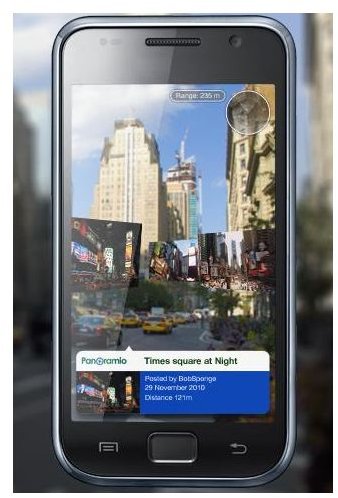 There is no doubt that the Android platform has become very popular and by all indications it will continue to become even more so. Not surprisingly, there are tons of apps to consider, which makes deciding on the best apps to install even more difficult. In this roundup, we take a look at the top 10 HTC Wildfire apps.
As usual, while this article is a roundup of the best apps for the HTC Wildfire, rest assured that these apps also work on many other popular Android phones such as the Samsung Fascinate, Sony Ericsson Xperia X10 and Motorola Backflip.
Layar
Layar is a reality browser for smartphones and it made our list of the best augmented reality Android apps. The app identifies places of interest by overlaying indicators on the camera or map view of your surroundings. For example, if there is an apartment listing close by you that is accessible to the app, it will indicate that when you point the phone at the apartment building. Layar is simply an awesome reality browser that allows you to see facts about your surroundings that you otherwise wouldn't know about. The app is free to download and use.
Shazam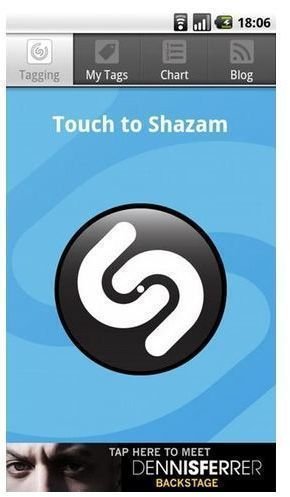 If you hear a song but can't quite identify the artist or its name, Shazam can help. Use Shazam to listen (for about 15 seconds) to a portion of the song being played and it will reveal the name of the song and artist. The app is about 80% accurate but that is better that complete ignorance. If the app finds the song in its database it will show a link to the artist's web presence on Myspace, YouTube etc. You can download the free version here and the paid version here.
WiFi Analyzer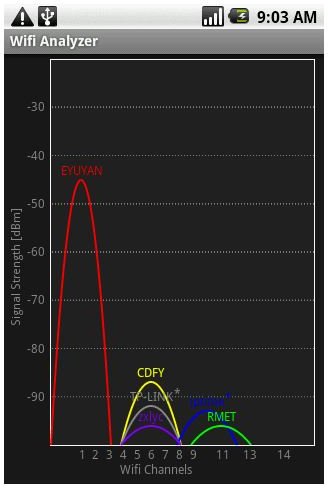 Wi-Fi data networks are widely used in many buildings and communities; even so, it can be difficult to find a strong and reliable signal/channel. Wi-Fi Analyzer shows the Wi-Fi channels that are in range and helps to identify the least crowded ones, thus improving network performance and reliability. There are other Wi-Fi Scanners for Android phones, but you will be hard pressed to find one that is easier to use and has a better interface. The app is free and can be downloaded from this link.
Google Maps
What makes the Google Maps Android app such a great app is the fact that it accepts natural language inputs. Therefore you don't need to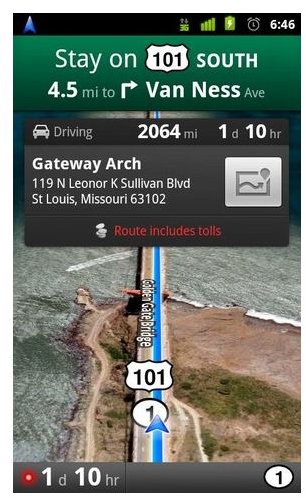 know the exact address of the location you are trying to find and can in fact do voice searches quite easily. For example, you can say 'gas station on Brooklyn Street' and the app will provide turn-by-turn directions to that destination using its live data. If you get around to using this app, a feature that you may find rather useful for finding places of interest (ATMs, gas stations and parking) is "Search Along Route." The feature allows you to search for popular stops that you will pass if you follow Google Map's suggested route. This is a convenient way of finding a gas station to fill-up the car, or a place to grab a bite while enroute. This must have Android app is free to download and use.
Barcode Scanner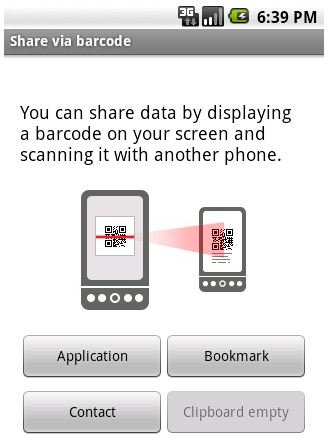 Empower yourself by using this app to become an informed shopper. This is one of the best free Android apps available and it turns your Android's camera into a barcode scanner. By simply scanning a product's UPC code, Barcode Scanner will bring up product reviews, prices at different retailers and other related information it can find online about the product. You won't always find the information you need, but in most cases it does, and when it does, you are presented with pricing options and more information than you will need to make an informed decision. You can download a free copy of the app from this link.
Advanced Task Killer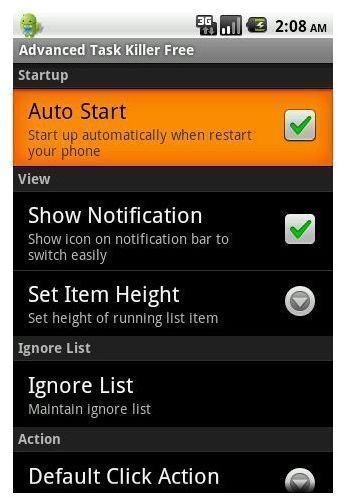 It seems as if no top ten list of HTC Wildfire apps is complete without the inclusion of a task killer. Task killers help to improve the performance of Android devices by helping the user to identify and terminate performance-impeding apps. Use Advanced Task Killer to close apps that are gobbling up resources (i.e. CPU processing time), including those that run in the background and those that cause your phone to force close. You can find a free copy of the app from this link.
Google Goggles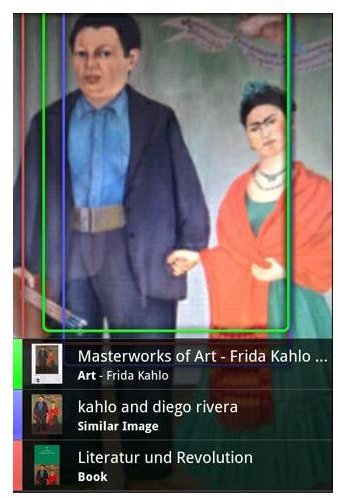 Google Goggles is an image search tool. The idea is to use the app to take a picture of an object and have Google Goggles search the Internet to find a match. The app does seem to work best on objects that have some legible text or logo on them, which the OCR can use to figure out what the object is. The app does a fairly good job at recognizing books, packaged food and CDs, but not so well with unbranded products such as clothing and jewelry. You may find the app to be a convenient alternative to doing a text-based search or a good option where a barcode is not available. The app is free to download and use.
Yelp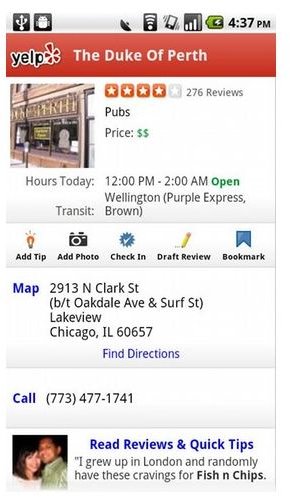 Use this app to find the best-rated restaurants and hotels, as well as hospitals and businesses, that are close to your current location. The listings that are included in this app are not based merely on geographical listings, but are rated based on actual customer reviews. Don't try a new restaurant or service without checking to see what peer reviewers on Yelp have to say. In addition to using the app to access peer reviews, you can also use Yelp to find highly rated establishments that are close by. You can view your options using the camera view or the general ratings view. This Android peer review app is free to download and use.
Remote RDP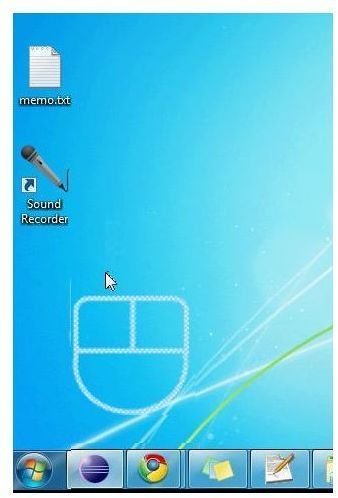 This is a remote desktop client that supports TLS (SSL) encryption and audio recording. Whether you use the app to carry out a prank, or you use it productively, Remote RDP can be handy if you are away from your computer and want to perform a task on it such as accessing a program, viewing the contents of a file or simply shutting down the computer. Remote RDP will set you back $9.98 if you decide to get it. In any case, you can download it from this link.
Check out the best remote desktop apps for Android to find more options.
Documents To Go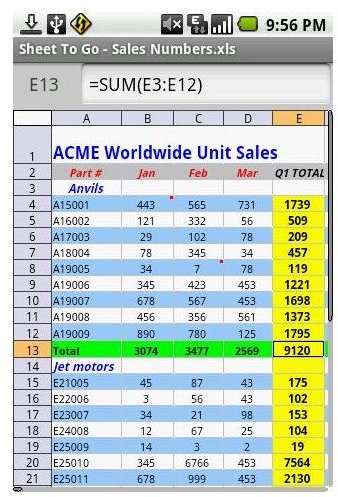 The relative small screen of a smartphone is not the best tool for working on Word and Excel documents, but it sure is convenient to have the option of creating, editing, or reviewing them when you don't have access to the larger screens of a laptop or desktop. There is a free version, but you will need to purchase the full version ($15) if you want to create new files, zoom and format existing documents and work with PowerPoint and Google Docs. You can find the free version at this link, and the paid version here.
Image credit: Each image is the property of the respective app developer
Layar - Top ten Android apps
Shazam - Top 10 HTC Wildfire Apps
Wifi Analyzer - Must Have HTC Wildfire app
Google maps - HTC Wildfire apps
Barcode Scanner - Google Android apps
Advanced Task Killer - Best apps for HTC Wildfire
Yelp – Android Peer Review app