The New Napster Android App Reviewed
Napster? What a Blast from the Past!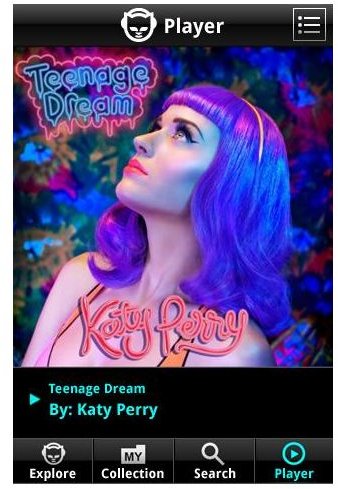 Once upon a time, Napster was a byword for illegal file sharing, an application that allows web users to share the contents of their hard drives and find all of the music they liked from other users around the world.
Eventually, Napster became so popular that they came to the attention of the centralised music industry and thanks to a high profile case Napster was closed, preventing illegal music file-sharing. Many users simply went away and started using other systems; for instance, the bit torrent network grew considerably following the closure of Napster.
Following the closure of the illegal file sharing operation, Napster was reborn as a brand name for legal music subscription – and now it has its own Android app!
Accessing Napster Online
These days you can easily access Napster, which is still available at www.napster.com. Signing up allows you to pay for unlimited music streaming and retain a set number of tunes that you have listened to each month; imagine it as a combination between listening to music radio and purchasing your favourite tracks.
You can access your existing Napster account via the Napster Android app or sign up for a new one. While the main idea behind Napster is to download MP3s and listen to them on your player, with the audio capabilities of an Android handset you can listen wherever you are.
Device Requirements and Download Link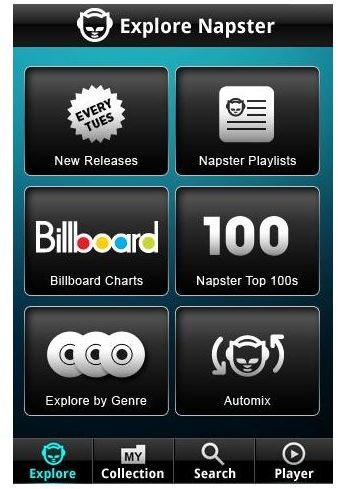 Designed to be run on all Android versions, the Napster app has received a few updates since its initial release in order to maximise the user experience across the widest selection of handsets. Note however that this doesn't mean that the app will run on all handsets, and Napster account holders in certain territories have difficulty accessing the service.
You can find out more and grab a QR code from www.napster.com/mobileApp/. Note that the app requires an internet connection so if you don't have a generous data plan avoid using Napster unless you have access to wi-fi.
Of course, you can also opt to download it directly to your Android phone, by searching the Market. Note that if the app isn't listed then it will not run on your device.
Napster Android App - Easy to Use
Featuring a pleasing user interface with clearly marked buttons, the Napster Android app is very easy to use. Searches are fast, content can be easily browsed and via the settings screen you can limit the number of tracks that are auto-saved to your device's SD card.
With the Billboard charts feature you can listen to every US chart hit reaching back to 1955, part of the 11 million track library that is put at your fingertips when you sign up for an account. If you're the type of music fan that only likes one genre, the Automix feature will play tracks from similar artists; this is a great feature which could potentially end your physical interaction with Napster – you'll be too busy enjoying the choices to turn it off!
Streaming Good Stuff! (5 out of 5)
The Napster Android app is a solid and easy to use piece of mobile software that is support by a massive back end of MP3 content that is effortlessly streamed to your handset. The options the software offers are well integrated and quick to launch and the configuration settings are a good addition from the responsive and professional developers.
Napster is a free application to download, while monthly access to the MP3 content can be purchased at several price points.