Review of 8pen Android Alternative Keyboard App
Do You Need a New Text Input Method?
There are many successful input methods for mobile devices, from hardware keyboards to on screen software keyboards and the traditional numerical keypads. However, the last couple of years has seen a variety of new and unusual software input methods released, with the "Swype" app among one of the most popular.
8pen is a new software input method that aims to take the sting out of Swype and replace it as the top Android alternative input software app.
But just how good is this new text entry method? Can it be used as a viable and realistic input method for Android?
System Requirements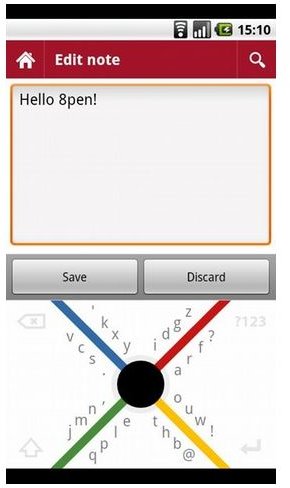 All you need to use 8pen is an Android device with a decent touchscreen. This should mean all devices, but as any experienced Android user will know this isn't always the case.
What is also required is a device with a large screen, such as the HTC Desire, where you can get the full advantage of dragging your finger across the letter mappings. Smaller screens can't offer this which makes the app useless on such smaller devices.
Similarly there are certain devices that aren't able to run this text entry app – a quick search of the Android Market will reveal if your phone is one of these (if you can't find it, you can't run it). You can also find more information and a QR code for this app from www.appbrain.com.
Shift Pressure Threshold
Using a very clever means of inputting text – tapping and dragging your finger across the letters the make the word, one after another, this unique text entry method makes use of the Shift Pressure Threshold to detect the way your fingers are moving to correctly predict the word you're entering.
Coupled with dictionary support and various configuration options that are intended to scale the app for your phone (see below), 8pen should be a great and revolutionary means to enter text on an Android mobile. Unfortunately it really does depend on the quality of the device you're using.
Interface and Usability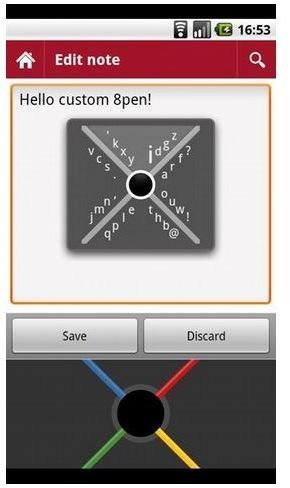 If the Shift Pressure Threshold is the main technology that makes 8pen work, then the interface is what gives the user the means to type. Depending upon the size of your Android's display, this is either going to work well or not at all.
The reason is simple – people have different sized hands and fingers, not to mention displays, and smaller handsets simply aren't good enough for those with fat digits. Once you've got started with the first letter of a word, regardless of your screen size, then 8pen comes into its own, but if you cannot reach that point it remains a tricky input method to get the hang of.
One benefit for Android 2.2 users is support for voice text entry.
My 8pen'eth (3 out of 5)
Typing is and always will be a very personal thing, dependant on the preferences of the writer. On a mobile device this becomes even more particular, and it is clear that these alternative input methods aren't for everybody.
A perfect parallel is the old stylus method that old Pocket PC devices used around 10 years ago. Some people had success with these, others didn't, and unless you feel you have the flexibility to switch to a system like this, with all of its strengths and weaknesses, then you are probably going to feel more at home with a Bluetooth hardware keyboard than with anything else.
References