GasBuddy for Android App Review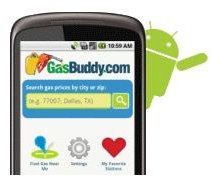 A native GasBuddy has finally arrived for Android this year. It brings an easy to use interface from a familiar website that many already use to find the lowest price of gas at their computer. Before this app, you would either have to check the price of gas on your way to or from work or try to navigate their enormous website just to find the best priced gas at a station near you. But now, you can easily locate the nearest gas station, pull up the most recent pricing, and report pricing so others can benefit.
Concept and Design (5 out of 5)
The GasBuddy Android app is extremely easy to use and it offers all the useful features you would expect to have. When you load up the app you can either be greeted by the home screen (main menu) or the nearest gas stations and their prices. With the app, you can pull up information on an individual station: see its address and navigate to it, see a photo of the station if available, upload a photo, or report its current pricing. You have the option of reporting all three grades of unleaded fuel and diesel.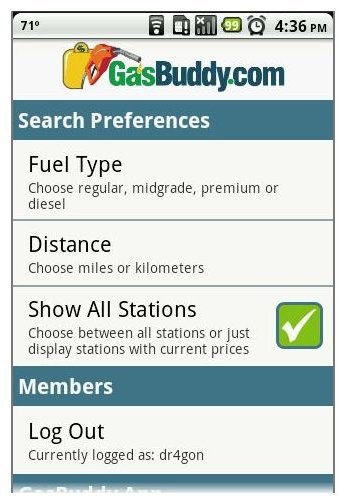 One of the features that I like the best about this app is the My Favorite Stations listing of stations. Because I only pump my gas at a few stations along my commute, it is nice to be able to quickly pull only these stations up to find which will have the lowest price. This saves me from having to look at the map or a listing of the closest stations to me.
Functionality, Content, and Bugs (4 out of 5)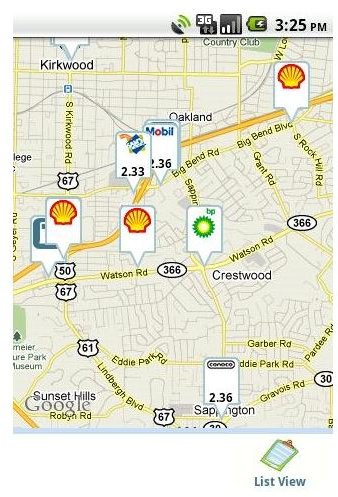 This app is very simple and does everything well. GasBuddy is very fast. With sorting by distance and lowest price, you will be able to find what you want right away.
Unfortunately GasBuddy does lack some of the website's features like the trip mileage calculator and logbook tools, but I suspect many don't really use these features of theirs anyway.
If you find it useful (and you will the first time you use it), you will find yourself wanting to report gas prices to help others. When you update a price, you get points. For each gas price you report, you earn 150 points. If you report all three types of fuel plus diesel, you can earn 450 points at a station. These points can be used to buy tickets for a weekly raffle drawing for a $250 gas gift card at a station of your choice. The more prices you report, the greater your chances to win! Best of all, you can buy raffle tickets straight from your phone and it's completely free to enter!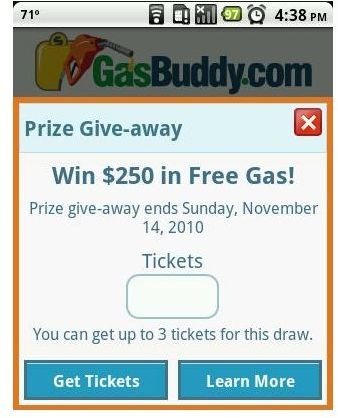 One bug I did find while using this app is if you are logged into your account and you are on the main menu and rotate the phone to landscape, it automatically logs you out of your account. Something so simple as this shouldn't happen and hopefully it will get fixed in the next version.
Value (5 out of 5)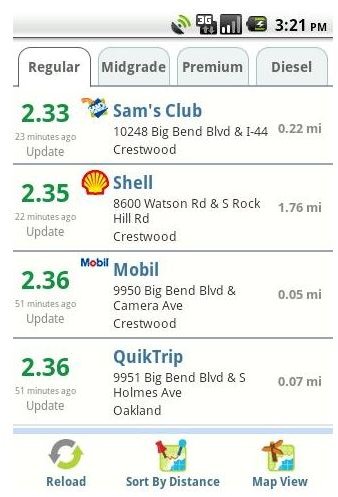 Unlike GasBuddy for the iPhone, the Android version is completely free and available for download in the Android Market. It is kept well up to date by GasBuddy and should be free forever. I don't know how they mange to keep this app free since there are no ads in the app and there's a weekly drawing for free gas gift cards. It will save you money from day one. What more could you want?
GasBuddy for Android Overall Conclusion (5 out of 5)

Overall, if you haven't guessed by now, GasBuddy for Android is an awesome app that should be your number one choice for finding the cheapest gas. Not only is it free, but it's fast, easy to use, and it can get you free gas!
GasBuddy can be found in the Android Market or via this QR Code.
References