Grooveshark for Android Review
Grooveshark for Android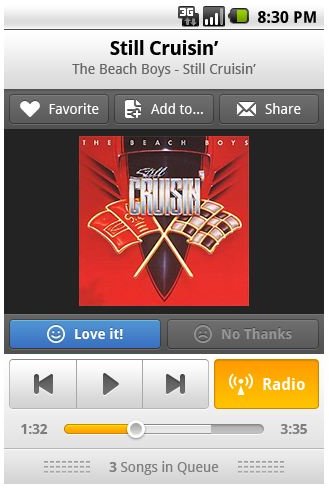 This is a review for Grooveshark running on the Android smartphone platform. This review was conducted on an HTC Hero smartphone operating Google Android version 2.1 with all updates and patches applied. This review was conducted entirely on a 3G network.
What is Grooveshark?
Grooveshark is a music platform and it allows the user to create personalized music selections from a list of artists and songs. The user has a choice of either creating a customized play list or creating a personalized play list from a selection of favored music.
What to Expect for the First Time
First time users will be asked to create an account and offered a free trial for use of the service. The Android platform requires a paid for subscription or free trial to use all services and options. The free trial is not limited or reduced in any way, however, the duration of the trial is not listed. Additionally there are three widgets a small, medium, and large configuration for the user to add to any screen they wish. Each of these widgets provides information and controls for any song that happens to be playing.
Control and Function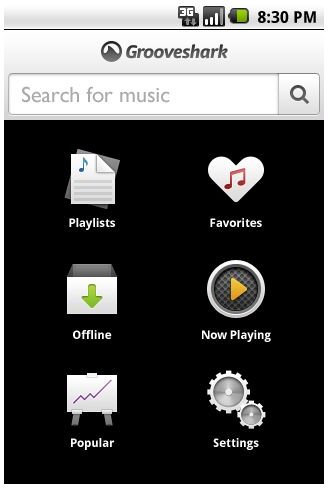 The home screen of Grooveshark provides options for play lists, favorites, offline songs, now playing, most popular, and the radio function. The search bar permits the user to add songs to play lists or create a radio station, from song names, artists, albums, or popular choices. Grooveshark has an amazing array of artists and songs and even from obscure sources. I found entries for several artists that do not have American releases or American record labels. Another function creates a cache of songs from previously played entries.
Problems Encountered
This is where some of the problems of this application begin to show. Testing a play list resulted in the same song being repeated and filling the queue with duplicate entries over and over again. Additionally I was unable to create a play list on my home PC and have it sync with the Android version. Furthermore several songs refused to play without a Wi-Fi connection, I also encountered a random error simply referred to as " media error" and no further explanation. Running this program is also a massive drain on battery power and system resources.
Positives
This program does have its positives the ability to download and listen to songs off line is a nice feature and a great addition. I also found a much larger library of songs and options when compared to Pandora and the music genome project. Additionally I have not yet experienced any crashing or force quit on this application.
Conclusions (3 out of 5)
I think at this time in its current state, and with the payment plan requirement, Grooveshark for Android needs some work. With a few more updates, bug fixes, and tweaks this application will be wonderful. As it stands it is an excellent start and shows a lot of merit. Hopefully in time it will be an amazing application for your Android smartphone, right now I'd call this application average.
The Grooveshark Android app is available from the Android Market and is free of charge, however, the service has a fee of $3.00 per month or $30.00 for an entire year.