e-Mobile Today Android App Review
Introduction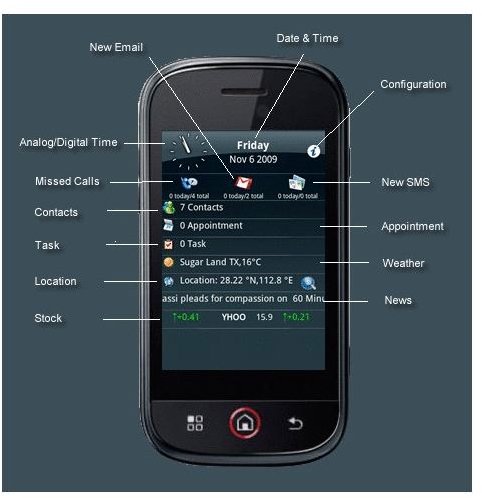 E-mobile Today Android is an all in one information manager for Android phones, launched by e-mobile software. You can do all sorts of things with its help on an Android phone, including managing contacts, tasks, and appointments and so on. It gives users an experience similar to what you might find on a Windows Mobile device.
Features
E-mobile today Android comes loaded with tons of interesting features, some of which have been listed here.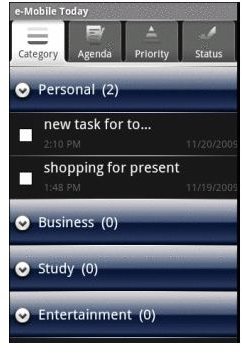 View current time and date at a single glance.

Use a single touch to collapse or expand each and every plug-in.

Manage to-do lists and view current day's agenda.

No need to navigate from one screen to another for managing contacts; do this on the front screen itself.

Press the letter key to locate contacts in a flash.

Forget getting lost at any place by pin-pointing your current location.

It also displays current weather information and weather forecasts for numerous international locations. For getting details, all that needs to be done is to click the weather icons present on the screen.

Tasks can be viewed and managed in terms of their priority, category and status.

You can select the background image and theme from a number of possible options.

Current news can be viewed with help of a single click without needing to move away from the home screen. News from various categories such as top stories, sports news, business news and entertainment news can be viewed quite easily.

Performance of numerous stock markets and mutual funds can be accessed quite easily with just a single click.
Minimum Requirements and Display Dimensions
E-mobile today Android works with only those mobile phones equipped with the Android operating system.
A number of display dimensions are supported by it, including the following:
240×320,
240×400,
240×432,
320×480,
480×800,
480×854.
Compatible Handsets
It can be used with a range of mobile phones including the following:
Acer: Acer Liquid
HTC: HTC Dream, HTC Hero, HTC Droid Eris and HTC Magic
T-Mobile: T-Mobile Pulse, T-Mobile G1, T-Mobile myTouch 3G
Samsung: Samsung GT-i5700, Samsung Moment, Samsung GT i7500 Galaxy
Motorola: Motorola Heron, Motorola Droid, Motorola CLIQ
Sony Ericsson: Sony Ericsson Xperia X10,X10i, X10a; Sony Ericsson Xperia X8,X8i,X8a; Sony Ericsson X10,X10i,X10a mini pro.
Apart from these mobile phones, this application is supported by a number of phones launched by Dell, Huawei, LG, Red Bull Mobile, Toshiba, Verizon and ZTE.
Performance
Some users have reported force errors while clicking on some applications or parts of them. However, it has worked pretty well for most of them.
Verdict
With so much in store for $19.95, it is worth buying. Though there are minor glitches, you may find some of them even in the best applications. If you need some organisational help then e-Mobile Today for Android is worth it.