Wireless File Sharing for Android: Dropbox Application Review
What is Dropbox?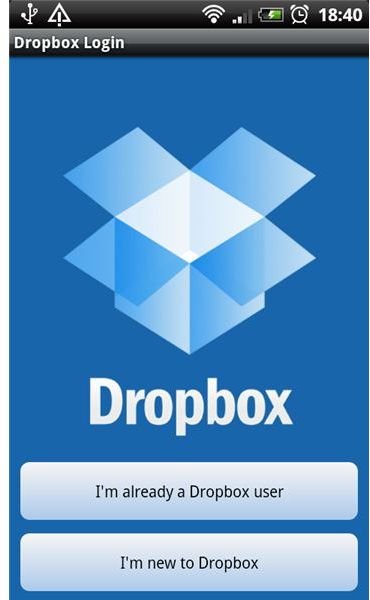 Dropbox is a web-based service that lets every user synchronize files to their personal web space. The 'cloud-computing' technology is used to store and retrieve files. The Dropbox ecosystem has become popular rapidly as it works both on- and offline through a synchronization method. When downloading Dropbox for Mac, Windows or Linux, a dedicated folder is created that behaves just like any other local one. The exception is that everything 'dropped' in this folder will be uploaded to the cloud service and shared with any linked machine. Multiple devices can be connected to a single account, so that the content of it is visible on every one of them.
Dropbox has more recently been expanding to mobile devices and an Android version has been released as well. Let's see how and if this version adds something to your Android phone.
Featrures of the Dropbox Android App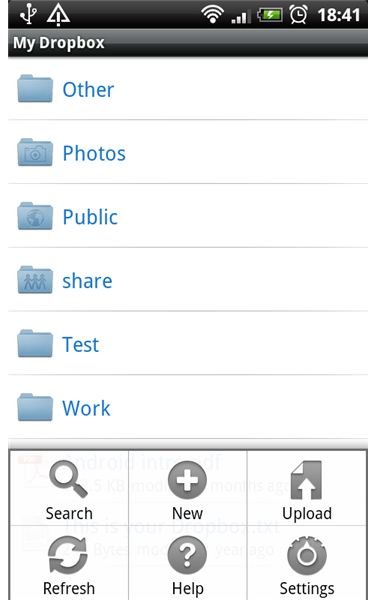 To use Dropbox for Android, or in general, an account must be created first. Everybody gets 2 GB of storage space at first. Through referral sign-ups and other methods more storage can be earned (you can also buy extra storage). To sign up to Dropbox through the author's referral click here.
An account can be created through this link. The Android version of Dropbox has all the features the desktop version has and integrates seamlessly into the Android system. Once an account is coupled to the application, all the content appears on the phone as if on the desktop. All the files can then be downloaded and used, which is especially useful in combination with a file explorer app.
More surprisingly, uploading to Dropbox is possible as well. As mentioned, Dropbox integrates with the Android system. It is possible to either manually upload or create files in the Dropbox app or share a file through a variety of Android apps. An example is the gallery app, where the share button will show a Dropbox option. The concept never changes and as soon anything is uploaded on the phone it will appear instantly on any connected devices. Dropbox for Android is therefore a worthy extension to the Dropbox ecosystem, and the true meaning of Cloud Computing.
Endless Sharing Possibilities
With Dropbox, file sharing with your Android device has really become a piece of cake. Truly the possibilities are endless, as Dropbox lets the user download any type of file. Whether it is an .apk file, document, text file or photograph, everything becomes accessible with the Dropbox application. Instead of having to send yourself and email or use the USB cable, files can just be placed in the Dropbox folder for them to become instantly accessible. Although seemingly simple, the Dropbox Android app is an extremely powerful productivity tool.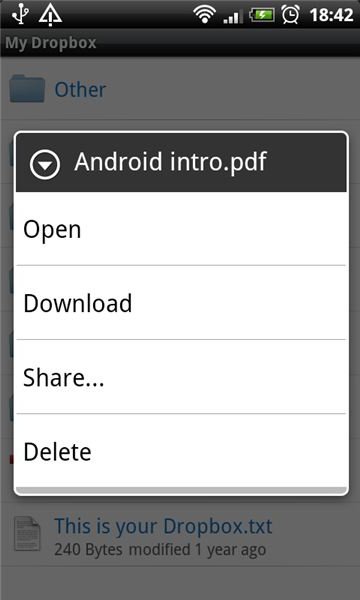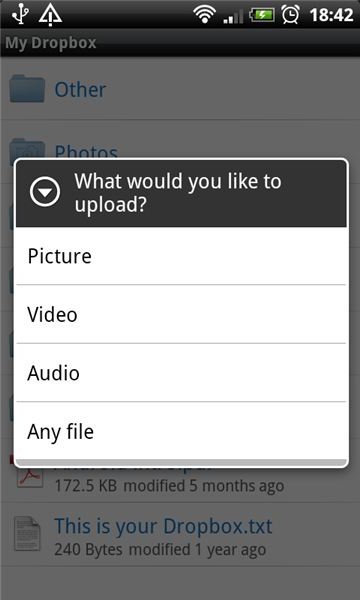 Final Words
Dropbox for Android is the cloud synching tool you have always needed, even without knowing it. File sharing from and to Android devices becomes an intuitive and simple task with the entire Dropbox ecosystem. All files sync, are backed up and shared all at the same time; making Dropbox for Android an essential app that no one should have to live without.
The Dropbox app is available in the Android Market for free.