Knocking Live Android Review
Knocking Live Android
The Knocking Live Android app is a live user to user video sharing and streaming application that is completely cross platform compatible. The Android phone's camera does a decent job and you will have the opportunity to put it to work while using the Knocking Live Video app. Having this app feels like having a live mobile phone web camera that can be used to exchange live phone-to-phone videos with your close ones. The video streaming output via Knocking live is good and you will love the things you can do with it over the internet. All you have to do is invite or 'knock' people to participate in live video streaming.
How to Use (4 out of 5)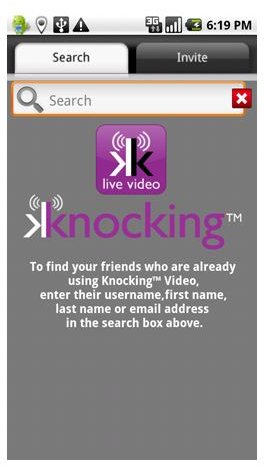 The app is very easy to use, just install the app on your phone and invite family and friends through email. You can also add them through the app, if they are also using it. When you want to stream a video, just select a contact and the app automatically sends them a 'knock' and tells them that you are interested in sharing videos. Once they accept, you are ready to stream videos.
Features (4 out of 5)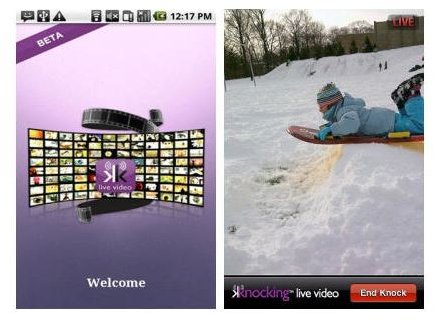 The app basically turns your phone's camera into a small mobile web cam that you can take anywhere you go.
Knocking Live supports live phone to phone video streaming.
You can choose the quality of video you want to broadcast in. The highest quality option delivers the best videos.
Knock or Invite search function to find contacts or friends.
Fully integrated with Twitter, Facebook, YouTube and MySpace.
Offers faster frame rate if both the phones are connected via Wi-Fi.
The phone inherently broadcasts phone to phone videos in a private way. No-one except the connected devices can access the videos.
Usefulness (4 out of 5)
The usefulness of Knocking Live Android app is its best quality. You can creatively use this app in many ways. Some creative uses of this app are: deaf people can converse easily using this app, and it can be used to see loved ones who reside in far off places like soldiers. The app's amazing technology is the only reason that it's such a big hit. Another interesting fact about the app is that it brings together iPhone and Android.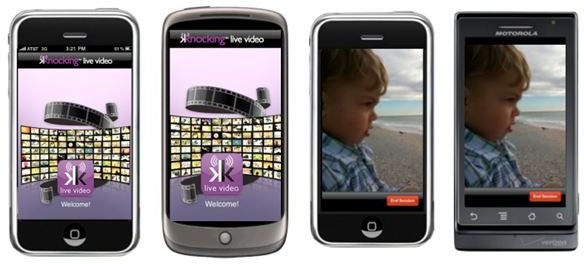 Gripes (2 out of 5)
The quality, however, is not fluid with a 5 to 15 FPS frame rate unless both the phones are connected to Wi-Fi.
The videos are not accompanied by audio.
The app doesn't allow streaming live videos with more than one person.
Verdict (4 out of 5)
Knocking Live Video is a great idea for an application. You will be impressed with the quality of the videos and usefulness of this application. If you are ready to forget the limitations mentioned above, then give it a shot.