GetGlue Android App Lets You "Check-In" for Movies, Music, TV Shows and Books
GetGlue Android App - What it is, What it Does?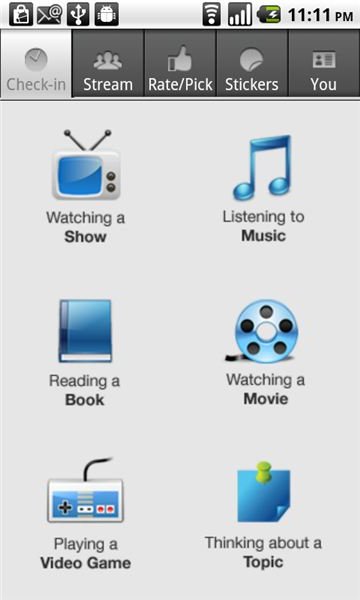 The GetGlue Android app is a useful social recommendation tool. It helps you find your next favorite movie, book, music album or all sorts of other every day things. The app shows you things that you'll like based on your personal tastes. It also tells you what your friends like as well as what's popular on GetGlue.
The GetGlue Android app also lets you "like" or "dislike" things - that is whether you like or dislike a movie or TV show you are watching, music you are listening to, or a book that you are reading. Like Foursquare and Gowalla, you'll also earn stickers and, if you've accumulated a total of seven, GetGlue will send you an actual sticker. So, the more you use GetGlue, the more stickers you'll earn.
Functionality-wise, the app lets you easily do what it was meant for - that is check-in when you find new movies, music, TV shows or books. As you check-in, the app also lets you post to other popular social networking sites, yes you guessed it right - Facebook and Twitter.
The app's main interface is pretty simple. The main screen, gives you a horizontal tab on top of your Android phone's screen with the following options - check-in, stream, rate/pick, stickers, and you (your profile). The stream option shows your GetGlue friends' activities, rate/pick option lets you rate a movie, TV show, book or song, and the stickers option shows the stickers you've earned. What's interesting to mention here is that the information displayed on the stream is automatically updated in real-time depending on your friends' activities. By default, the app lists down selected streams from top GetGlue users. But once you've registered and created a GetGlue account as well as authenticated using Twitter or Facebook, this stream will be populated by your friends' activities.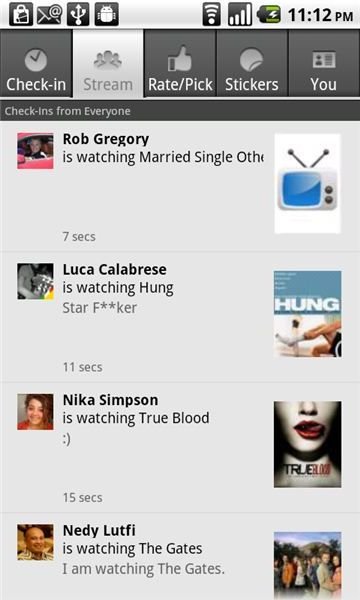 Aside from those options, the main part of the main screen gives you some sleek icons for - watching a show, listening to music, reading a book, watching a movie, playing a video game, and thinking about a topic. Each of these icons gives you recommendations which you can rate - that is like or dislike. If you're not familiar with any of the items, you can learn more about them as the app will provide you with detailed information about these things.
Our Verdict
For the main purpose that it was meant for, GetGlue Android app gets the job done in a simple and yet effective way. It's a good Android app, no doubt about that. But the question is - is it worth your Android phone's storage? Well, if you enjoy this "check-in" phenomenon that is plaguing the social sphere, GetGlue is a new twist on this phenomenon and so you must get this app. If you like discovering new music, movies, TV shows and books, this app is also for you. The good new is, GetGlue will not cost a dime, so there's no really harm in trying it out.
You can get the app by searching for it from the Android Market. Alternatively, you can visit this Market Link using your Android phone - market://search?q=pname:com.adaptiveblue.GetGlue
or scan the QR code below: