Awesome Drop Android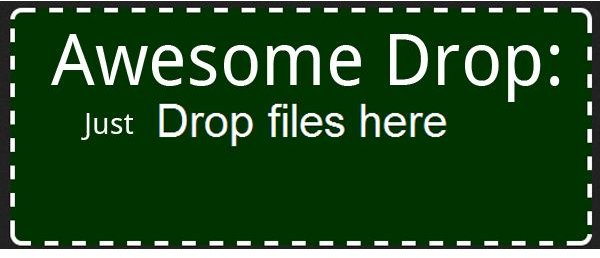 Awesome Drop is an amazing application that eases the process of computer to phone file transfers. The application allows you to wirelessly copy files from your computer to your Android device. All you need is the free Awesome Drop application on your phone and an HTML 5 ready web browser on your computer.
Set Up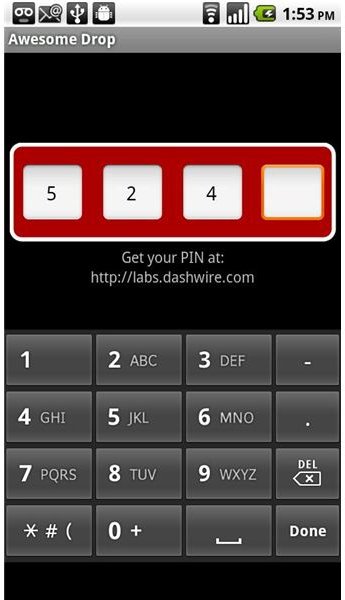 The set up process is very easy. Install Awesome Drop on your mobile device. In order to use the application, go to labs.dashwire.com from your computer. The website will give you a 4 digit PIN number to enter on your Android device. Open the Awesome Drop application on your phone and enter the PIN number in the app. The phone will then instantly connect with the computer. Once you have done this, just drag and drop one or multiple files from your computer into the box on the developer's website. Awesome Drop will then automatically send files from the website to your Android device. The users don't require any membership for these transfers as the files are not stored on Dashwire's servers. Awesome Drop is an extremely useful application for quick transfer of files up to 10MB in size.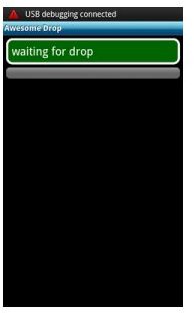 Connectivity
Awesome Drop app also works on 3G networks but for that the user requires Wi-Fi connectivity. As with any data transfer, the speed of the file transfer is going to be dependent on the speed of the 3G network or 4G network, if the user has one. High data speed is going to give better results.
Pros
Offers wireless transfer of files such as music files, pictures, documents etc. without software download on your computer.
No membership or login required for developer's website.
Works very well with Wi-Fi connectivity and 3G or even 4G networks.
Very little time required for application set up and file transfers.
The application has a simple user interface with just one screen.
Cons
Hard to remember URL. The URL could have been the application's name instead of the developer's name.
The app has issues with obscure file formats such as .cbr comic files.
Since the application sends files over the internet, it may take longer to transfer larger files as compared to the USB cable file transfer. So it is not the best solution for a large batch of files. Download may take more time on slow internet connections.
The application does not transfer files from the phone to the computer. The developers should add a feature for transferring files from the phone to PC.
Lack of cloud stored files.
Conclusion
Awesome Drop is an awesome application that transfers files from the computer to a mobile handset in an incredibly easy way. While browsing from your Android device, click on this link to download the Awesome Drop application.