AppBrain Review for Google Android
The Google Android Market is Google's centralized app management center for Android. While the Android Market is effective, it currently does have some shortcomings. It's hard to find apps, and there are no social media aspects for sharing what you like with your friends. Appbrain tries to improve some of the weak points of the Android Market.
First of all, AppBrain is not an Android Market replacement. AppBrain doesn't distribute apps, and doesn't accept payments, and doesn't replace the Market. What it does though, is attempt to enhance the overall Market experience. AppBrain allows you to search through apps at their website, install them on your phone, keep track of your purchases and installs, and share or recommend apps with your friends.
AppBrain Features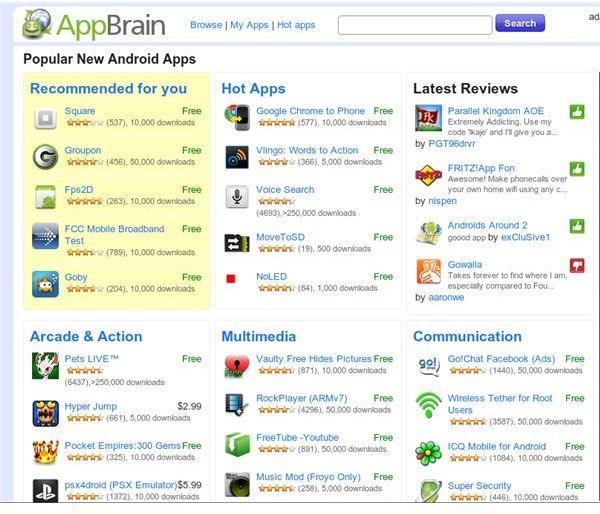 There's two parts to the AppBrain application; the website and the Android app. The website is located at https://www.appbrain.com and the app is named "AppBrain App Market". You'll need to set up your account at the website, as well as download the app, if you want to use AppBrain to it's fullest potential.
Setting up the account was easy. It uses Google Account, so you just log in with your Google credentials and you're ready to go. The same process is used for the app. Download the app, when you run it, it asks you to authenticate with Google. In the app you should also sync your apps with the site, and I'll get into this a little later. After doing these steps, you're ready to use AppBrain.
The main draw of AppBrain was the ability to more effectively search for new apps, or apps that might benefit me better. It does this in a few ways. First, the AppBrain website search is just plain better than the Android Market search. You can see more apps at once, and it's easier to navigate than the Google Android Market App on the phone. The AppBrain Android app also carries over some of these improved search abilities.
One of the improvements in AppBrain is the "Hot Apps" section. This can be reached either from the website, or from the app. What this is, is a list of the most downloaded apps in the last 24 hours, or the last week. This is a great feature, and I've found several great apps this way, as well as being one of the first people to get an app. I actually saw the B&N Nook© app on here, before they even tweeted about the release.
Social Features
Another great feature is the social media aspect. Namely the ability to see what apps somebody has installed, and the ability to recommend apps to your friends. The ability to see others apps installed is great, like if you have that friend that always seems to have the coolest apps, you can see what he has installed at anytime you want. Well, as long as your friend is using AppBrain. The My Apps page also gives a breakdown of what phone they have, how much space the apps are using, and how much money any paid apps they have installed are worth. As an example, you can see mine here: https://www.appbrain.com/user/adamhos/apps-on-the-phone . AppBrain was smart and allows you to choose to keep your app list private, if you would like. It would be nice if you could just limit it to your friends, but it's either all public or all private for now.
You can also recommend apps directly to your friends. Inside of the AppBrain App, a long press on an application will bring up the sharing prompt, and you can use any of the normal ways to share; Twitter, Facebook, SMS, etc. From the AppBrain website, you can share apps you like through the usual social sites, as well as get tags to place on your website, advertising the app.
It Gets Better
Ever say to yourself "I love Android so much already, but it would be even better if I could install applications from a website without touching my phone!". If you have, you're in luck, because AppBrain allows you to do that. Even if you've never wondered that, you might have just realized how much of a great idea it is. This does require another separate install, named "Fast Web Installer", in the Market. Download that, run it, and give it permission to install apps. Then find any apps you would like at the AppBrain site, click install, and it's then on your phone! You can even fast uninstall them too, from the website.
You don't really need this piece though, and you can still actually choose to install apps from the site without it. However, without the fast web installer, you need to manually allow the AppBrain application to install them for you. Still faster than going to the market for 10 different apps, but not as fast as having them auto installed.
Conclusion (5 out of 5)
If you haven't figured it out by now, I highly recommend this app and service. There's really no drawbacks that I can think of, and more people using it makes it even better. There's even more features here that I did not discuss, and until Google gets around to updating the Market to be up to AppBrain's level, I think everyone should be using this. The combination of ease of searching, sharing apps with your friends, and unattended installation makes AppBrain a winner in my book.