Wiggle Profile App for Google Android: Set Profiles Based On Network Connectivity
Overall Use (4 out of 5)
Wiggle is a very intuitive application with beautifully crafted menus that make using this Google Android app second to none. I particularly liked that all of the options for the program were large (finger friendly) and the programs use of short and long touches which adds more functionality to the program without bogging users down with a ton of on-screen options to choose from.
Getting started with Wiggle is simple, users will see a list of available networks in their area, this list is much like the standard list you'll see on your PC or Mac with bars displayed the signal strength and the name of each network. You can then click on a network to connect and the program will tell you what network you are connected to. You'll also notice in the screenshot below that some networks are shown as "remembered" these are options that you saved the last time you used a network in each area.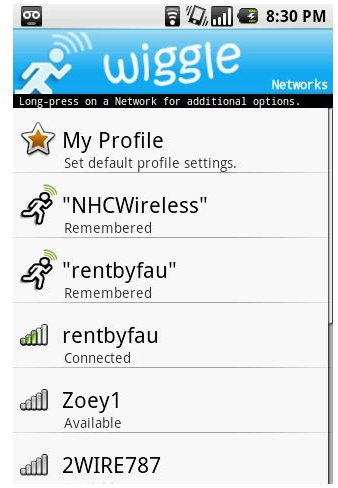 On this screen you'll also see "My Profile" this option is used to configure what options display on this page and can be used to change your remembered networks, set default profiles, etc. Profiles are also an important and simple to use part of this Android app. For example, once in the profile section users can use a long press on any profile option to set how they will be used based on the users locations, while a short press will toggle the profile options on and off at that moment and it will be remembered when it range of that network again. I actually used this screen as a way to turn on/off various profile options all at once more than to set their location based use.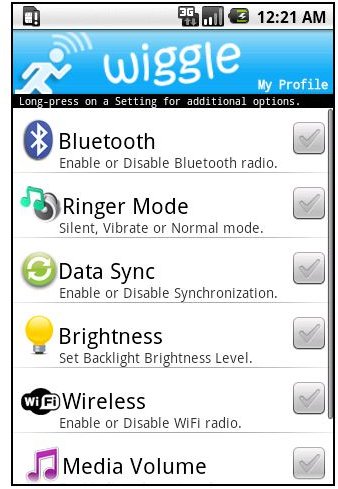 Profiles can also be easily reset to their basic levels by pressing the devices "Menu" key and then pushing on "Reset" which makes setting up new profile options easy.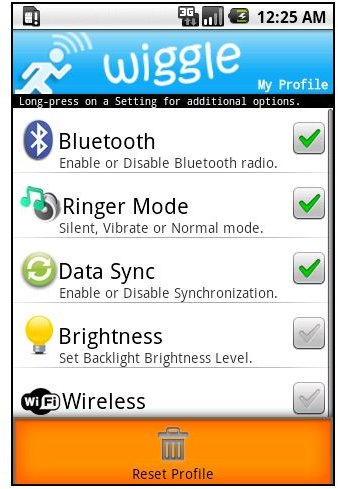 Finally, the Wiggle program does offer several "Menu" options. These options include: Add Network, Disable/Enable Monitor, Settings, Refresh, Find Wi-Fi and Help. I particularly liked the "Find Wi-Fi" option which actually uses an online service to find free publicly accessible WiFi spots around town. While the find Wi-Fi option won't do users in small towns much good, it works great in Chicago and I'm sure in other large areas where more free public WiFi spots are readily available.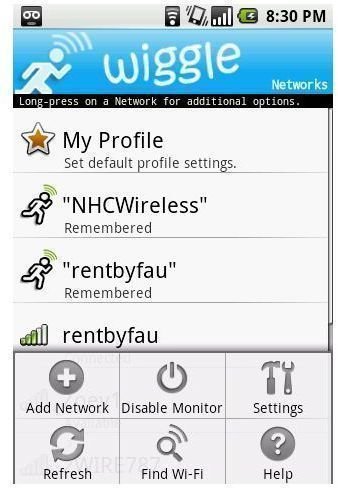 With finger friendly buttons and nice options to choose from the menu option is a nice addition to the program that once again makes navigation and option selection simple without crowding the applications menus.
Conclusion
Wiggles For Google Android is a great application for anyone who tends to travel between various locations. I really liked the profile settings option and the various navigation options which kept the programs screens "clutter free." I also really enjoyed the programs ability to reset my connections and to keep track of my favorite networks, an important consideration when an area may have various networks of varying quality.
Overall a great application that I highly recommend to Wifi intensive users.