The Top 4 Must-Have Android Music Apps
Equalizer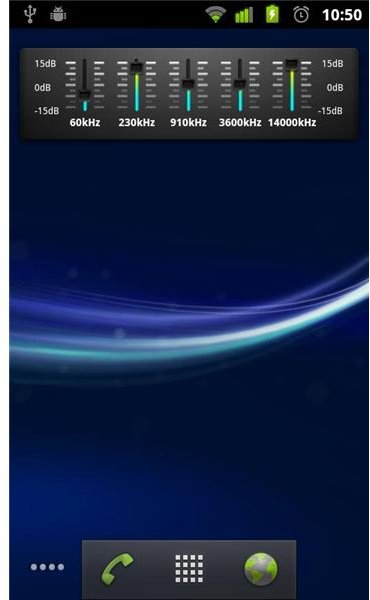 Equalizer is one of the best Android music apps for all music lovers who want to add a little bit of zing to their listening pleasure. This free 5 band equalizer application allows users to adjust sound effect levels to get the best out of their favorite music tracks. It boasts several presets based on various music genres like rock, pop, dance, jazz and even novel presets like Hip Hop, Folk and Latin, giving you ample choices to switch to your favorite genres when playing a relevant song. The app also has a customized preset controller that lets user create their own custom presets.
One of the most impressive aspects of this free application is the additional audio effects. The app's Bass Booster, Virtualizer and Reverb Presets add more depth and crispness to the songs you listen to. The app complements streaming music apps like Pandora and sports a beautiful widget for your home screen, which provides easy access to different music settings. The app also has a novel preset auto-detection feature which immediately recognizes the song genre and switches to the preset relevant to the genre. However, this feature doesn't work with some third-party music players. Of course it works perfectly well with the Android Music Player, Winamp and RealPlayer.
Shazam (4 out of 5)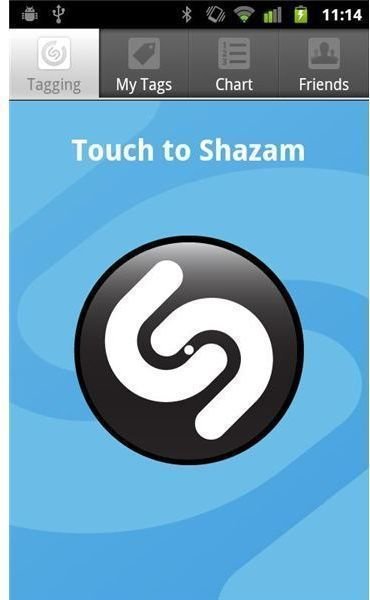 There are times when we listen to a song on the radio but miss the song or artist's name. Shazam helps us in moments like these. The application is the easiest and quickest way to get every bit of information on any song you listen to or watch on your television. All you have to do is hold your Android phone up to the song played on the radio and within a few seconds, the app will identify the song and provide all details relevant to the song, including song name, album name, artist name, full lyrics and a link to buy the song. Just make sure the song is loud enough for the app to take advantage of your phone's mic and identify the song quickly. You can also check out the music video and share the result with your friends on Facebook and Twitter.
If you want more in-depth information about the song, then do check out the album reviews and artist biography. The application also lets you tag your song discoveries via its home screen widget and share the tags with your friends on Twitter. The app has a Tag Chart feature that lets you browse tagged songs by your friends. The software is about 95% effective in my personal experience and it offers a simple record and wait interface.
TuneWiki (4 out of 5)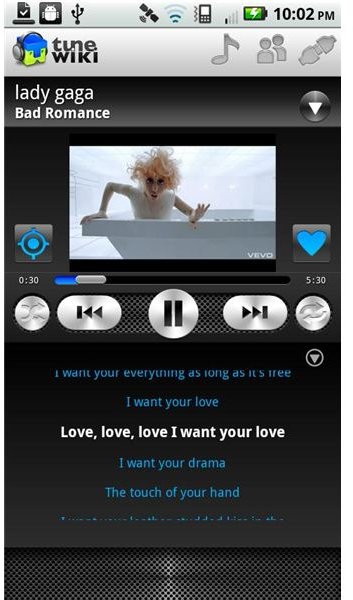 TuneWiki is a great way to replace the standard Google Android music player with a more sleek looking and advanced option. Users need an Internet connection to find lyrics for their songs, and the app quickly streams those lyrics across their device's display. It also provides advanced options, including creating top 50 lists of songs each week as found on YouTube.
I really like this program's touch screen friendly layout, sleek graphics and the ability to play songs both on your device and the memory card with fully supported features for both.
Pandora (5 out of 5)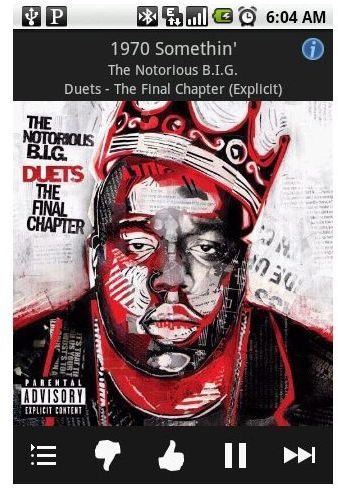 Pandora is simple to use, offers great music and is completely free to download, it's just about everything we could ask for in a music streaming application. Like the computer version, the Android version lets users choose their channels, skip songs they hate, rate songs they want to hear again and ultimately fine tune the music stations they listen to based on their own preferences. Users will notice the album artwork available for many songs and the finger-friendly (large) touch-screen icons
I love turning on Pandora and then browsing other applications while listening to music on my device. Just be warned, it can be a real battery hog when constantly in play mode. However, I overlook the battery issue when considering how quickly songs stream across my device, I've yet to experience any buffering or other issues. If you simply want to stream music to your Google Android device, this is a must-have application.
If you're looking to stream music and want to add additional sound effects and perhaps even a few videos using your Google Android mobile phone, this is a good starting place for most users needs. I've been using all four Android music apps for several months and I've found each to work flawlessly for their main functions, while properly implementing the Google Android interface and my carrier's Internet connections to create a streaming environment worth getting excited about.
References
Screenshots, courtesy of their respective developers.