HideNSeek for Google Android
Overall Use (5 out of 5)
There are various password protection applications for Google, many of which we've recommended right here at Brighthub. However, HideNSeek takes the entire process of password protection for all your "multimedia" files one step further. The app creates a fake "Flashlight" app that makes the typical user think you have a pointless program installed on your device. However, that program is really the access screen for the program.
Users can also choose to access the program more quickly than navigating to the "flashlight app" by clicking three times in a row on their devices "menu button" which will bring users to a password screen. The first time I used the menu option I was asked to create a new password, I completed that process and the program then provided a simple to follow tutorial so I would know how to get my files into the program, how to navigate the application and how to use the program to the best of its abilities.
The actual file section allowed me to store my files based on multimedia types, for example "pics", "audio", and "videos" this makes it very simple to find files on your device based on there types as they are placed in alphabetical order. I could also remove files from the program and navigate between program folders.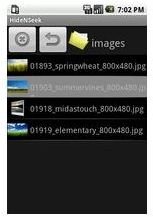 The password entry screen is also very simple to use, the program displays a virtual keyboard which users can choose, rather than having to slide open or type on their devices keyboard. The virtual keyboard is just the standard option, but it still allows for quick one handed password entry when necessary.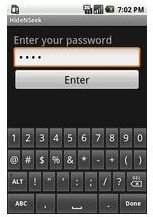 As you've probably noticed by now the actual graphics are your standard Google Android output with black backgrounds, standard fonts and standard navigation with large "finger friendly" touchscreen buttons, minus the virtual keyboard which is a bit crowded, but that isn't the developers fault.
Conclusion
HideNSeek by Andrew Schwimmer is definitely worth the $.99 download price, especially if you want to have an extra level of protection outside of your standard password protection applications. I loved the simple to use navigation, the ability to store files in various folder locations and the finger friendly output offered on the application. I also liked the simple tutorial that started the application.
If you want better password protection for your Google Android Smartphone I would recommend heading on over to the Android Market and searching for "HideNSeek" you won't be disappointed.