Trippo Mondo Voice Translator App Review for Google Android: Spoken and Written Language Translation
Overall Use - A Translator That Speaks (5 out of 5)
Trippo Mondo Voice Translator is one of the best translation services I've found, not only for a mobile phone, but in general. The program offers a very simple user interface that matches the ease of use found on many Google Android applications. Simply click on each large section to change language choice functions and use your keyboard to easily enter in sentences that require translation.
Features
The program features a nice main screen where I was able to simply choose the "Translate from" option by clicking on the down arrow and choosing my originating language, in my case English. I was then able to choose "Translate to" and I liked that languages with voice based translation services showed a volume control signaling that capability. Next, I simply typed in the text I wanted to convert then I chose "Translate" to see the translated words or "Speak" to hear the translation spoken.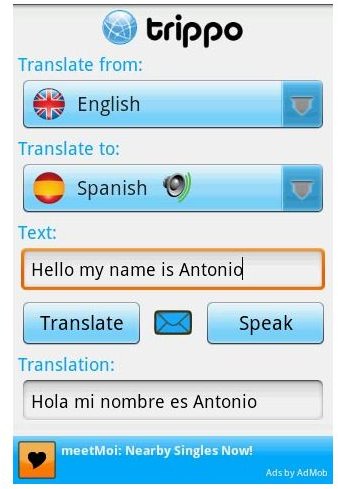 Notice that an email option is also available so I could email a translation or even send an SMS among other features.
As mentioned, I started with the From and To fields. The options encompass over 20 languages; simply click on either option and a list of languages with their countries' flags appears.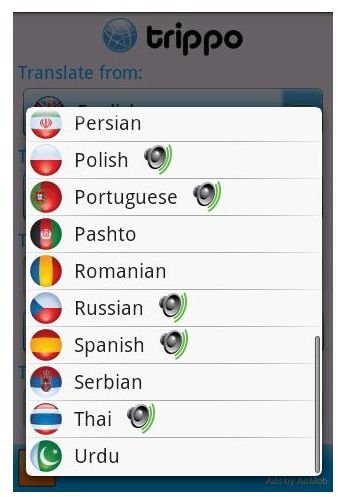 Notice the volume controls I spoke of earlier; they are all listed next to languages that support that feature.
After a translation occurred, I was then able to access the program's social networking (AKA "Share") functions in order to send my translation to a variety of services. These share options include Delicious, Facebook, Twitter, Gmail, Handcent SMS and I Tweet! Simply log into each option when prompted for your username and password and the translation will be automatically added to your status updates, SMS programs or GMail account, making it simple to share info in various languages. Again, this screen is very simple to use with large icons that are "finger friendly" via your Android based phone's display, regardless of display size.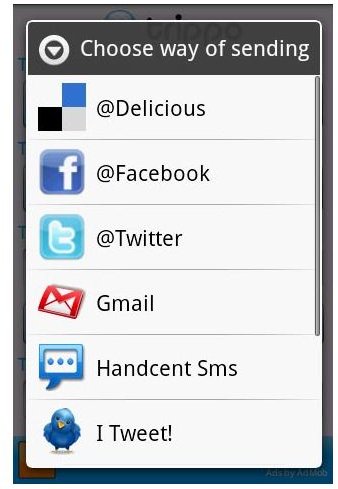 Conclusion
Trippo Mondo Voice Translator is a top notch application for both text-to-text and text-to-speech translations. I was really impressed with how clear voice translations came through while not sounding "robotic" as many services tend to do when being used. I also really enjoyed the extremely simple user interface that required no learning curve and the large number of languages supported, especially in the text-to-speech category.
Overall, a great application that Google Android users will find useful when travelling or when trying to learn a new language.
You can download Trippo Mondo Voice Translator for free from the Google Android Market and while that means AdMob adverts at the bottom of the application, you'll hardly notice them. So enjoy, and let us know what you think about the program.
References