Night Stand App Review For Google Android: A Digital Clock and Alarm for Your Smartphone
Your Wake Up Call ?
Night Stand by SpoonJuice Inc is an app that offers a digital clock for your Android phone. The digital clock displayed by this app has a clean and crisp look. The availability of an alarm clock is an added bonus.
All the features of a modern day digital clock are offered by Night Stand and it turns out to be very useful for keeping track of time in your daily routine. Additionally, the app was a bestseller on the iPhone platform.
Overview
Night Stand offers a fully featured digital clock that shows the time with hours, minutes and seconds. The day of the week and the current date is also displayed by the digital clock. The digital clock offered by this app can be seen in the screen shot below and is also offered in three color choices for the LCD display on your system: red, blue or green. I liked the fact that it gives you color options to match your taste and that each color looks great when displayed thanks to a nicely chosen number font.
You can also choose between an LCD display and flip clock. Your Android phone's accelerometer is also used by this app to view the clock on the top, bottom or on the side of the screen. Thus, basic level customization of the digital clock is possible using this program and you can make it suit your requirements.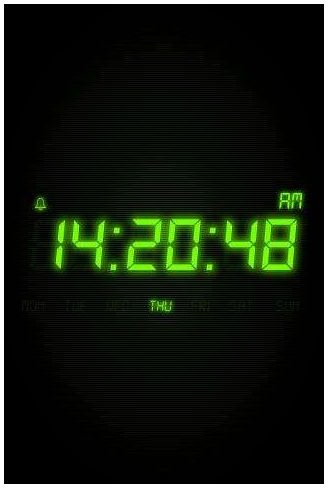 This app also provides an alarm clock. To use the alarm clock, you need to select the alarm option after clicking on the menu button on your phone. Here you can turn the alarm on or off, set the time for the alarm to ring, set a sound for the alarm and turn the snooze option on or off. You can also have the app display a simple math problem that you must solve to snooze the alarm. The inclusion of the math problem with the snooze option in the alarm clock makes this app a cut above the rest for me as it allows you to completely replace your alarm clock. The icon of the set alarm is displayed on the top left of the digital clock as seen in the screen shot.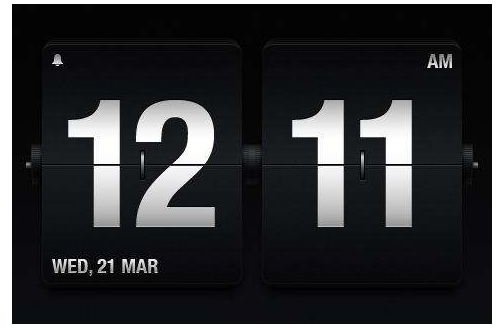 Conclusion
Night Stand works well, both as a digital clock and an alarm clock. The ability to customize the digital clock and the nifty snooze feature offered makes this app a pleasure to use. If you are looking for an app that offers a highly efficient and customizable digital clock and alarm clock, I would suggest that you try out Night Stand for your Android phone.