YourSport Pro Review: A Personal Trainer for Google Android Phone Users
The YourSport Pro Android App by MyMobiTools is an app that works as a fitness manager for your Android based phone. This app features 38 pre loaded exercises and also gives you the ability to create your own exercises. The program also has a timer and provides the facility to create several profiles to save your workout details and the workouts of your training partners. Basically, YourSport Pro serves as personal trainer for your family and friends by allowing you to create separate profiles for each person.
Overview
When the app loads you're required to create your profile. The field data entered into the profile should be accurate for this app to give you accurate results of your workout.
After you create your profile, you will be able to login and see the main menu. From this menu, you can choose an exercise, get access to the food diary, view your training statistics, edit the profile you have created and get support for the app from the help menu. I found the app well designed and the information was presented in a easily readable manner. The categories were also helpful in locating the exact exercise.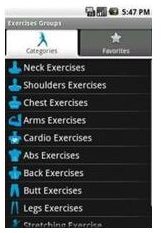 YourSport Pro offers a wide range of exercises that covers the entire body. This can be seen in the attached screen shot. For each exercise, a description along with detailed instructions for its performance are provided. A trainers voice also assists you in your exercises. This voice can be either a males or a females depending upon what you have chosen on your profile. After you finish with your exercise the app informs you about the number of calories you have burnt depending upon the information entered by you in your profile.
Complete training statistics can also be achieved with this app. While I did find the exercises listed helpful, following them was a bit difficult from the descriptions given as they were not well described in all circumstances.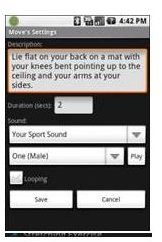 An exercise can also be repeated by pressing the start button on the repeat settings of the app. The trainer's voice will even count each repetition for you. Exercises can also be added by pressing the Add Exercise button in any of the exercise categories.
Finally this app also has a timer that times your exercises during your workout. It also allows you to create multiple profiles. In this way it works as a trainer for your friends and family as well.
Conclusion
YourSport Pro assists you well during your workouts and works effectively as a personal trainer. It also includes voice assistance that adds to the utility of this app.
The food diary is a useful addition as it allows you to monitor your diet with your exercise information. YourSport Pro is priced at $2.99. I feel that it is worth the investment as it ended up motivating me to be more active.