a Wallet for Google Android: Securely Store Your Personal Information
Overall Use (4 out of 5)
a Wallet is a very intuitive application that requires no learning curve to master. The main screen once you've setup a password is a simple "Enter Your Pin" screen with a large finger friend button that says "Let Me In."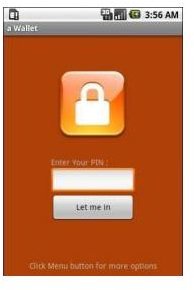 Once into the program users can choose which type of information they want to setup, this is where you enter credit card numbers and their balances, web membership information, personal information, bank account info and even notes that you want to be protected, quick tip, this is a great app for storing your christmas shopping list away from your loved ones.
I started with the Personal info screen where I could store my social security number, drivers licenses number and drivers license expiry date. Since I have my SS# memorized I just entered in my DL # and used the "Set Date" option to quickly enter in my expiry date.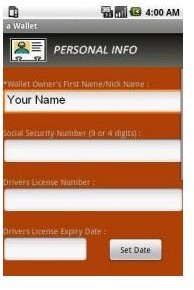 The output isn't the best when listing all of your stored information, but it's also not awful, for example the list will show the name of the listed file and it's provided on large finger friendly buttons in text format.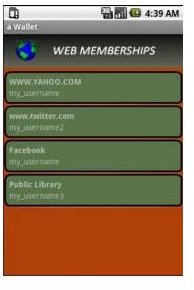 The options page for each type of data is better displayed than each single list, for example each area shows nice icons of credit cards, money for the bank account list, and other icons, while the font is easy to read for each section. Each area of choice also features large buttons making it simple to press each option.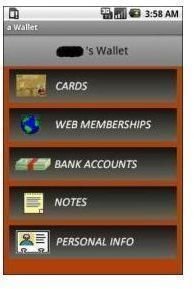 Conclusion
a Wallet is a very simple to use program that offers decent graphics, although not great and a good set of options in terms of the what type of memory can be saved.
The application is also encrypted and requires a pin number to access, thus ensuring that only you and those who know your pin can access the programs data. If you'd prefer a password over a numerical pin you can also use a password for added security.
The program is very well priced at $.99 and can be downloaded by installing Sam 3.3 on your device and searching for the program by name. If you want to securely save your data at a low price with simple, yet useful options, I would recommend you at least give this option a try.