Lock 2.0 for Google Android Reviewed
Overall Use (2 out of 5)
The Lock 2.0 application offers very simple functionality that's matched by an excellent graphical interface that most users will enjoy. The program is set up like the "Slide To Unlock" function on iPhone devices while also displaying the current time, date and even battery life remaining.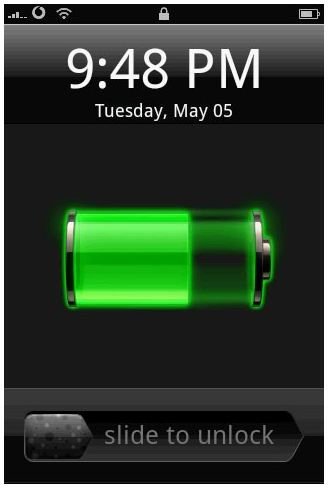 Features
As you'll notice, the slider is large, making it finger friendly for quick access. I really liked that it was just as responsive as the iPhone version while offering all of the additional screen information shown.
If you don't like the green display, the program also offers quickly downloadable skins and backgrounds for a new look. Just launch the menu option and you'll see a pop up with the "Set Background" and "Set Skins" options. Clicking on those options then allows you to change the overall look of the battery, fonts and backgrounds.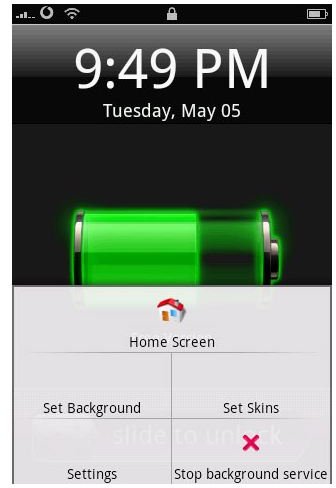 Finally, you'll notice a "Settings" option shown in the screenshot above. By clicking on that option, the program provides extra features that come in handy. These settings options include setting unlock animations, enabling unlocking sounds, turning on/off vibration abilities and even disabling/enabling the auto-lock feature. I was also able to set the program to auto start after a system reboot and disable the screen lock option. All of these options are provided with a simple checkbox setup which makes turning them on and off very simple.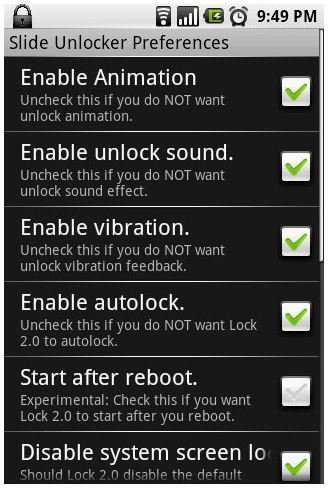 Analysis
While the program looks nice and it's simple to use, that's where the handyness of the program ends. Notifications on my device and apparently from online conversations on other users' devices were broken because of this program until I uninstalled it.
I also found on several occasions that my personal settings were ignored. For example, upon system restart, the program was initiated even though I had that option set in my settings screen.
After 3 days of use I was so fed up with the program's mysterious "breaks" that I removed it completely from my phone.
Conclusion
Lock 2.0 is a very simple to use application and I wouldn't expect any less condering the program only serves a few simple purposes. The main display offers nice real-time abilities and I particularly liked that I could set sounds, animations and other options as I saw fit.
Unfortunately, that's where the honeymoon stops: the program messed up my notifications screen and it wouldn't start on reboot as promised by the developer.
An Android Market app that's free is always welcomed, but in this case the app is more of a headache than it's worth. The developer asks for donations and you'll constantly get a "free app" notification in your notification bar, making it a big headache.
I would avoid this app for a better paid option.
References