Gasbot App Review For Google Android: Find the Lowest Gas Prices in Your Vicinity or by Address
Overall Use (4 out of 5)
When I first launched the GasBot application I immediately knew that the program would be simple to use when only two options were provided on the main screen. These included "By Location" and "By Address."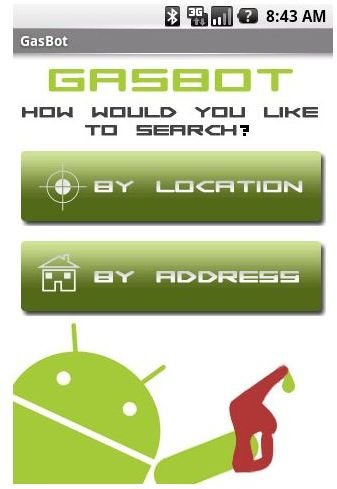 I started by clicking on "By Location" which automatically populated my screen with local gas prices from the lowest price to the highest. By clicking on any of the locations provided the screen then slid down to display all of the gas prices for that location which includes, unleaded, mid grade, premium and diesel.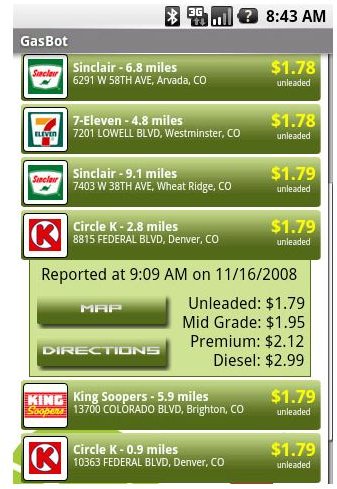 You'll then notice several options to the side of the gas prices, these are once again large touchscreen friendly buttons that can display a map to the gas stations location from your current point alongside actual turn by turn written driving directions.
I started with the written directions before moving onto the map. The directions are setup like those found on Google Maps with turn-by-turn instructions with mileage markers so you known when your next turn will occur. I really liked the black background output on the screen with nice bright white fonts and the fact that it displayed both the distance to the station and the estimated drive time.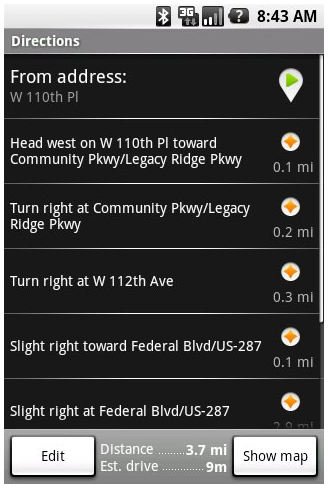 Either from the gas station info screen or from the text directions screen I could then tap on "Show Map" and Google Maps auto displayed my current point on the map alongside the stations location. As I moved along the map my location changed so I could keep track on where I was in comparison to where my final destination sat.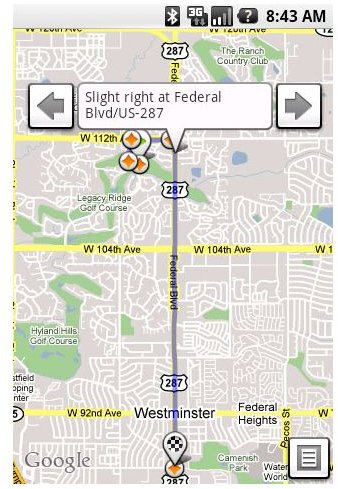 If I didn't want to use my current location or if for any reason location based services are on the fritz the program also provides the ability to search by address. Just enter in your address with street address, city and zipcode and you can find locations right in your area.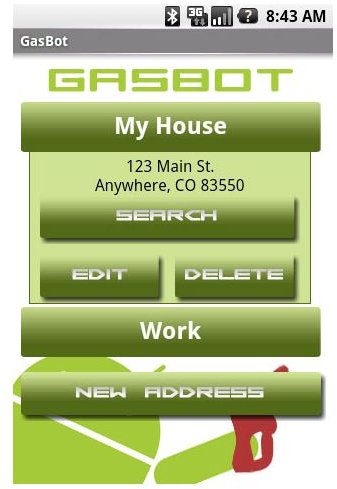 I could even pull up my typical location such as Work. However the real abilities is the option to choose the settings that the program uses for searching. For example I could tell the program only to search for unleaded fuel or diesel, then set a radius of just a few miles or more. I could also set the program to "sort by" price, set a maximum number of results and even choose a brand preference such as Conoco, Shell, BP, etc.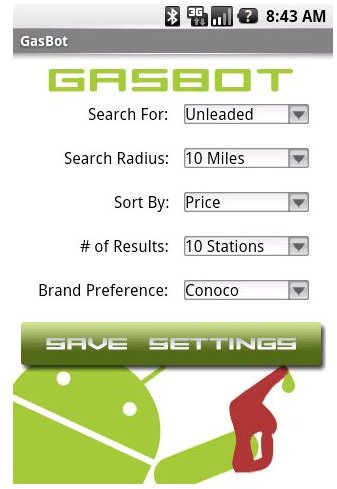 Conclusion
Gasbot for Google Android is a very competent gas finding application that's both simple to use and practical. I really enjoyed the intuitive menus on the program and there wasn't a single gas station in my areas of travel that the program didn't display.
The program does require an annual fee of $7 which helps the developer cover their costs associated with paying for the data their program mines, a small expense in my opinion given the amount of money you can save with just a few fill ups of gas with even just a $.10 price difference during price changing times.
Overall a great option I recommend to all of my frequently travelling readers and anyone else looking to save a few dollars here and there.