WordUp! For Google Android. Enjoy Boggle Style Play On Your Mobile
Overall Use (4 out of 5)
WordUp! is a very simple game to play with an intuitive interface and nice graphical choices that adds to the games overall output. If you love the original game of Boggle you'll immediately know how to play, just find adjacent letters from one another to create words. The longer the words, the more points you'll receive. The object is simple, find as many words as possible before time runs out.
I knew from the moment I launched the game that it would feature nice graphics after I saw the bubbly buttons on the main screen.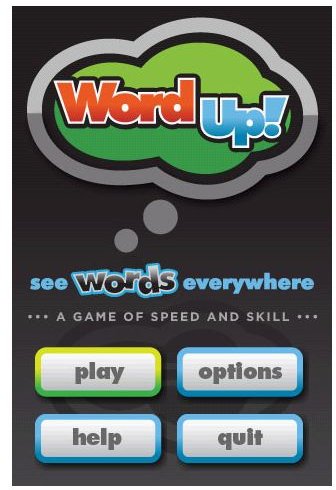 Before getting started I visited the "Options" menu to configure my gameplay. From this screen there are several variables to decide up including "Prevent Screen Sleep" so you're screen doesn't hibernate during play, "vibrate" which lets you know when your submitted word was accepted, gameboard (4×4 grid, or 5×5 grid can be used), Play Time (1,2,3,4 and 5 minutes available), minimum word length (3,4 or 5 words can be selected) and even the Cube Style, I preferred the blue style as it had the nicest appearance in my personal opinion.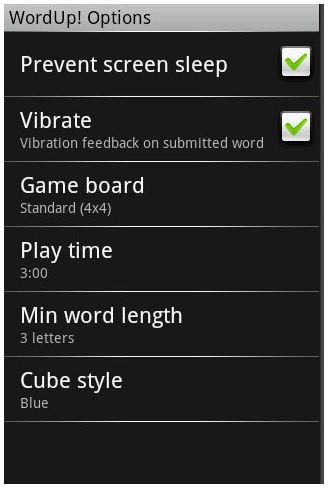 Once into the actual game it's very easy to play, just find words that are adjacent to one another and tape on each letter in the proper order, once you click on the completed word if its found in the dictionary for the game it will be accepted and displayed directly below the gameboard as a found word.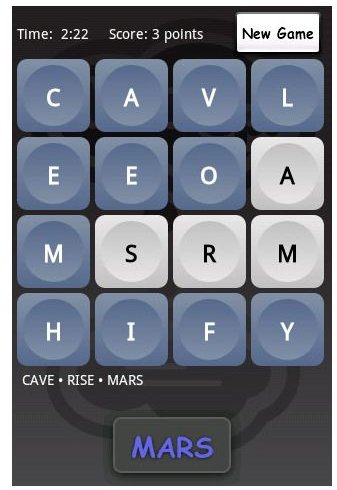 I liked how the word tiles lit up a completely different color than the board, making it easy to see which tiles I clicked, I also liked how the time and score were displayed nicely at the top of the screen, out of the way, but still within quick glancing distance. While the "New Game" option made it simple to start over.
If you're curious about the scoring system here's that info provided by the developer:
Three letters: 1 point
Four letters: 1 point
Five letters: 2 points
Six letters: 3 points
Seven letters: 5 points
Eight or more letters: 11 points
Once you end your game (time runs out) the program than displays your score and asks if you want to play again or quite.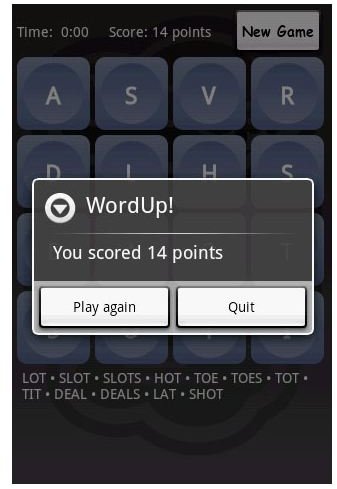 Your scores can then be sent to the global high score list if you choose to do so, this is a great way to see how your gameplay compared to others, although the top scores all tend to be close to each other or tied since finding many more words than other players can be a difficult task.
Conclusion
WordUp! For Google Android has been tagged by other users as a fun mobile version of the popular game Boggle and I couldn't agree more. The games excellent interface with great graphics choices, simple yet addicting gameplay and customizable options makes it fun, challenging and a great way to pay 1,2,3,4 or 5 minutes throughout the breaks in your day.
For $1.99 through the Android Market I would definitely recommend downloading this fun word puzzler.