AndFTP Android App Review
Overall Use (4 out of 5)
When first launching AndFTP I was pleased with the simple user interface, just like most Google Android applications the program features a black background with simple text and option input boxes. To get started users just need to login to their FTP account by entering in their FTP URL or IP Address.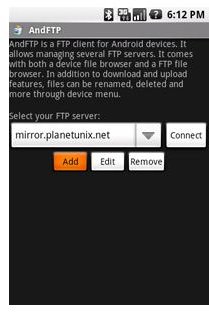 You'll notice that there is also a drop down box, this is helpful if you've added multiple FTP accounts and you don't want to continually enter in your FTP login info every time you need to access your accounts.
The setup screen for each account includes basic information such as your FTP URL, Username and Password, along with local and remote directory options.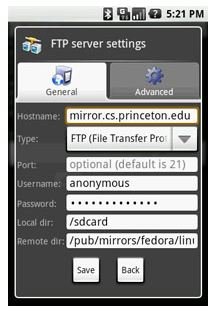 Once logged into the FTP account all of the files for that account are displayed, just as they would be on a PC or MAC FTP program. This info includes the folder and file names for each section, along with the file sizes and extension such as .jpg, .zip, etc. On this screen users can then choose to rename files, delete files, create folders within their FTP directories, copy/paste files, open files and more. Just clicking on a file and accessing the bottom options makes this navigation possible.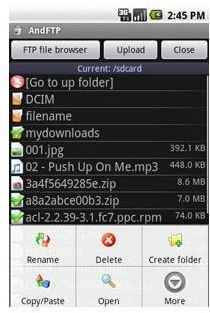 You'll also notice the large finger friendly buttons at the top of the screen which allows for quick browsing, uploading and even closing of the application. I uploaded a small 100k file found on my device and the uploading screen popped up and showed the file upload progress. While I chose only one file users can use up various files and the program will show which file is uploading and the progress for each file as they upload to the FTP server.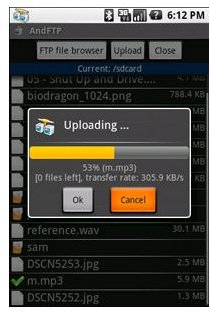 The same type of pop up screen is also found on the download section as users take files from their FTP server and place them on their phone.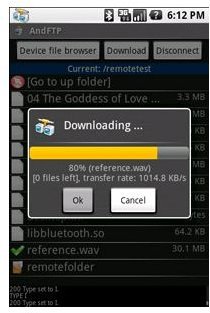 My favorite part of the AndFTP program was the ability to change file and folder permissions for group, owner and other users. If you're a webmaster and need to change a file for write permissions and you're on the road this is a great way to quickly change permissions on the go.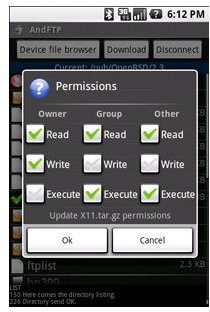 I also liked the ability to add new folders and name them as I saw fit, again this is a simple pop up box that can be utilized in a matter of seconds.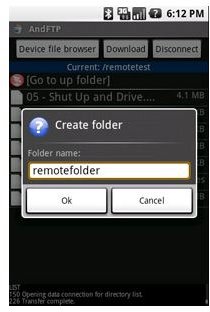 Aside from these main functions the program also offers a host of other functions including Active/Passive FTP mode support, SSH DSA private key authentication support for SFTP and English, Spanish, German, French, Chinese and Japanese language support. Plus the developers continue to add new functions during their new software build upgrades.
Conclusion
AndFTP for Google Android is a simple and effective FTP management tool for your smartphone. The program offers an excellent interface, the most important FTP functions used by most users, and most major connection and security types.
Overall a great option that webmasters should download and use for added mobile site management convenience.
References
Android Market, https://market.android.com/details?id=lysesoft.andftp