Westtek Texas Hold'Em For Google Android. Play Online Poker On Your Mobile
Introduction
Online poker has been a booming industry for quite some time now, however the game of online poker doesn't necessarily mean you have to spend a ton of money just to have a little bit of fun. By playing Westteks Texas Hold'Em game users are able to "buy-in" to various tournaments with "virtual money" and ultimately try to rise to the top of the money list.
While no real money is at stake this game is a great way to brush up on your poker skills, while at the same time attempting to prove your the best player among thousands of other users.
Keep reading for more info and to examine some screenshots from the game.
Overall Gameplay (4 out of 5)
The graphics found on this version of Texas Hold'em offer vibrant colors with easy to read cards. The back of the cards also show their own personality. I liked that the big and small blind markers were simple to read and that the table and cards all showed nice signs of shading and color choices.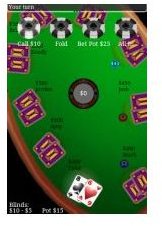 Betting is a simple process, just click on one of the finger friendly black chip options at the top of the screen. Users just like in a standard game of Texas call call a bet, fold their hand, bet the pot and call an All-In-Bet. Once bets have been made the game shows who's turn it is to make the next decision.
Above the players cards I also liked that I could see not only how much money I had left, but also how much each of the players around me had left in their banks. While below my cards I could easily see the pot size and the big and small blinds which let me put some strategy into how I was going to bet.
Westtek has also made the game very interactive, while a user can play in single player mode, the online version allows players to enter in $100 & $1000 cash buy-in tournaments which can help them mount the amount of cash they have on hand for future games. Reach the highest levels of "cash holdings" and you'll make the games high score menu among over 40,000 players. You can also click on the "You" tab to see exactly how far down the list you sit among all players. This last option is a great way to watch your progress over time.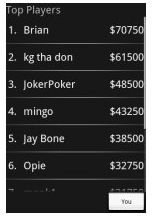 Conclusion
There's a lite version of this game that's free of charge, however you can only play three hands a day, with that being said the full version is available via the Android Market and is well worth the download.
A few additions are also added when you download the game, including the ability to change the "game speed" to make sure things move along at a faster speed, alongside various card types and varying sound effects.