GeekYouUp Battery Widget for Google Android
The Battery Widget, like most Android widgets, is a simple to use program that can be accessed directly from your Google Android homescreen. Simply look at the widget to see the percentage of battery life you have remaining and click on the widget to bring up the three most used battery consuming options: GPS, Wi-Fi and Display.
Keep reading for a few screenshots and more info from the Battery Widget.
Overall Use (4 out of 5)
The Battery Widget is simple to use and compact. The main widget area features a 1 x 1 grid which means it's compact enough to avoid taking up to much home screen space, while still large enough to easily read the "percentage" of remaining battery power.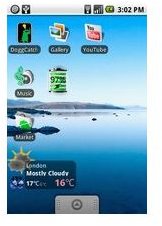 While monitoring your Google Android phones battery power remaining is a nice feature, this widget also allows you to create less battery drain. Simple click on the homescreen widget and three options will appear. These options include GPS, WiFi and Screen options.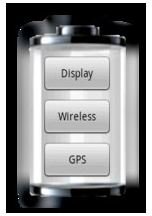 Clicking on any of those three options then allows users to turn off and on those options. I chose to take down my screens brightness and to turn off GPS when I wasn't using it.
I've written in the past about Curvefish widgets which offer separate Display, Wireless and GPS toggle switches for each piece of hardware, now with this widget you can take up less homescreen space in order to shut down power consuming steps with a few quick presses of your Google Android display.
Conclusion
The GeekYouUp Battery Widget is a very simple application for Google Android based devices. I liked that I could easily change my GPS, WiFi and Display settings by clicking on the widget and I found the 1 x 1 widget area to be acceptable for quickly glancing at my devices remaining battery power.
Currently you can find the program for searching in the Android Market for "Battery Widget" and the best part? It's 100% free to download and use.
Give Battery Widget a try today and you'll no longer have a guess game to play with your remaining battery life.
References
Android Market, https://market.android.com/details?id=com.geekyouup.android.widgets.battery