Wikitude World Browser Android App Review
Wikitude is a very simple program to use; just turn on the app and then point your phone's camera in any general direction. If Wikipedia or Qype information is available for any buildings, memorials or other objects in the view of your camera, they'll appear with a marker that displays that object's information. Users can also use Google Map based information to find over 100 million points of interest from outside the viewing area of their camera's lens.
Let's take a closer look at Wikitude with some supporting screenshots.
Overall Use (4 out of 5)
Obviously, this program can get a little bit crowded. For example, if you examine a view of New York City from the Empire State Building, you'll have thousands of information markers to choose from. However, from a street view, you may only have 5 or 6 markers that show off various stores or other popular locations. Here's a look at a shot of the Golden Gate Bridge: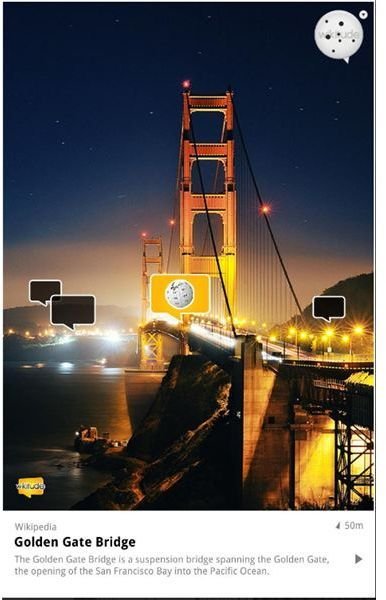 The radar option also shows areas behind and beside you. This is a great option if you're just looking for general area info; just turn to face a different direction and you'll find new information. The more you move around your camera, the more various markers for information about those areas pop up for easy reading.
I like to think of augmented reality as a walking tutorial of the areas I visit. Forget just reading the plaques at historic sites; you can learn about the immediate area you're standing at and other local information that may pertain to the area without having to travel around looking for more info.
As the developer explains it, "What you see is an annotated landscape, mountain names, landmark descriptions, and interesting stories: Augmented-reality for everyday use."
Features
The program offers over 100 million different areas of interest from around the world and even allows users to use a "Screen Capture" option to take a picture of their augmented reality screen and save it for later use or send it to a friend.
You can choose to find info for "your area" or a specific area; just choose your area and the distance from that area you are willing to see information from.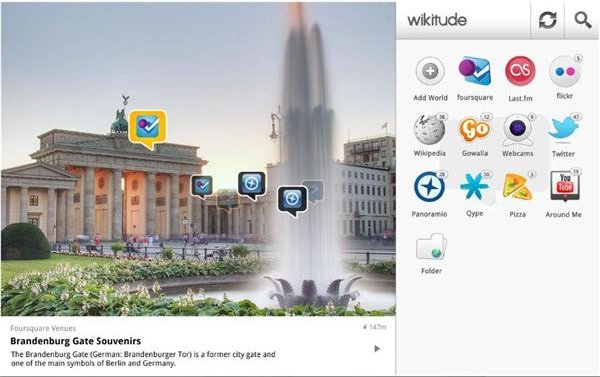 The information you want displayed will then show up on Google Maps with markers. This "Location" based search option is great for finding landmarks and other areas of interest before you even get to your final destination.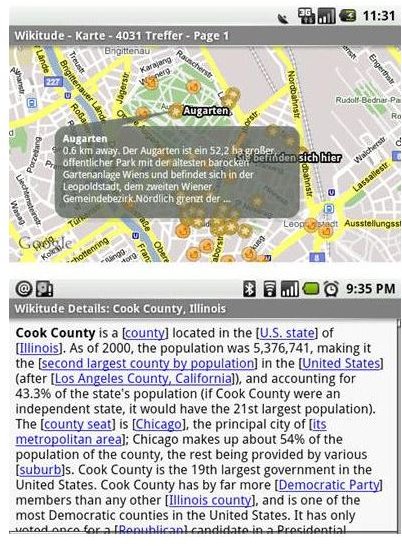 The developers keep adding new uses to the Wikitude application which is helping extend the application's everyday use. The screen photo capture was an added feature. Other new features include the ability to get mobile coupons for nearby stores and shops right to your phone and the ability to search through content and points of interest from YouTube, Twitter, Flickr and Wikipedia. Users can now even find the local Starbucks, BestBuy or Walmart using the "Worlds" feature. Stay tuned for more features in the future!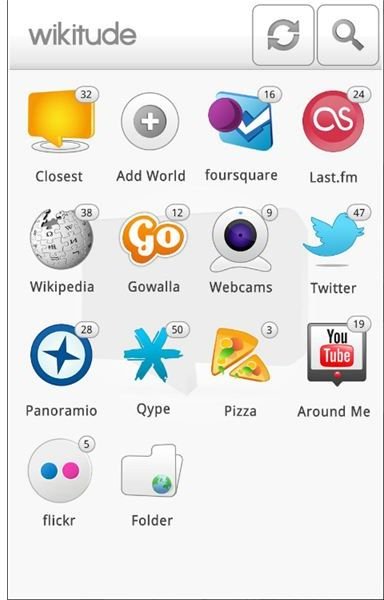 Conclusion
Wikitude is an excellent augmented reality browser that quickly pulls up fun and useful content. The program offers great "Cam Views" for the augmented reality side of the application while also making it easy to find local area information via mapping and list formats.
Whether you're already in an area you want to find locations for or you're about to head off to a new location, this is a great application that can complement your well planned trips by filling in your free time with extra places to visit and attractions to see.
Give it a try today. It's currently free via the Android Market and is well worth the download.
References