CurveFish Brightness Level App for Google Android: An Effective Home Screen Widget Utility
Overall Use (4 out of 5)
Mobile devices have become so complex in nature these days that I often find myself wanting to step back and figure out ways to more easily use my phone. When those moments of simplicity arise I have lately been turning to CurveFish, a programming group that creates some of the most simplistic widgets I've found to date for Google Android.
Today I decided to download Brightness Level, an Android widget that allows users to quickly change their displays brightness levels based on percentages and a sliding bar, both of which are extremely simple to use.
Once installed the widget takes up one home screen cell space and displays the current brigthness level percentage. It's just a small widget but the numbers for the percentage are easy to read and the dark background offers a vibrant setup, even for such a small package.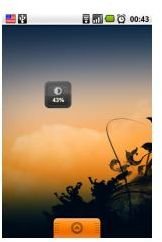 Once the widget is clicked one time the program then displays a group of percentages which can be implemented to change the brightness, these options include 25% intervals starting at 0% and increasing to 25%, 50%, 75% and 100%. Thankfully all of the buttons are displayed with large icons making finger friendly level changing a breeze.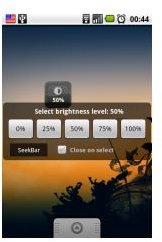 If you'd rather use a slider mechanism to change the percentage to a number outside of a standard percentage increment of 25% levels you can click on the "SeekBar" icon shown in the screenshot above, this then launches the finger friendly slider option which can be toggled from left to right with your finger on the screen, while showing current percentage levels as they increase and decrease.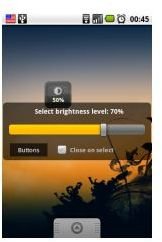 From the Seekbar just click on the "buttons" icon to move back to the standard 25% level buttons.
Conclusion (4 out of 5)
While Brightness Levels may be a very simple application to use it actually serves a worthwhile purpose. Just think about it, how many times have you walked from inside to outside and had to change your devices brightness levels, or how many times has the sun popped out from behind a bunch of clouds only to destroy your screens levels.
Now you can quickly change your Google Android based phones levels with just a few clicks on your screen, no more navigating through a ton of menus to perform a simple task.
Overall an excellent and free application available in the Android Market. Give it a try and you'll find that your device all of a sudden is always easier on your eyes.